The 8 Best Places to Go Tubing in Florida 2023: The warm weather and abundance of opportunities for outdoor recreation make the summer months in Florida ideal for lazing around on an inner tube.
One of the most relaxing ways to take in Florida's natural splendor is to go on a tubing excursion, during which you may dangle your toes in the water of a natural spring or an enticing state park, and take in your verdant surroundings.
This activity is one of the most popular ways to explore Florida's state parks. Keep reading to learn about some of the most beautiful spots in Florida where you can go tubing to cool off from the summer heat.
8 Best Places to Go Tubing in Florida 2023
1. Ichetucknee Springs State Park, Fort White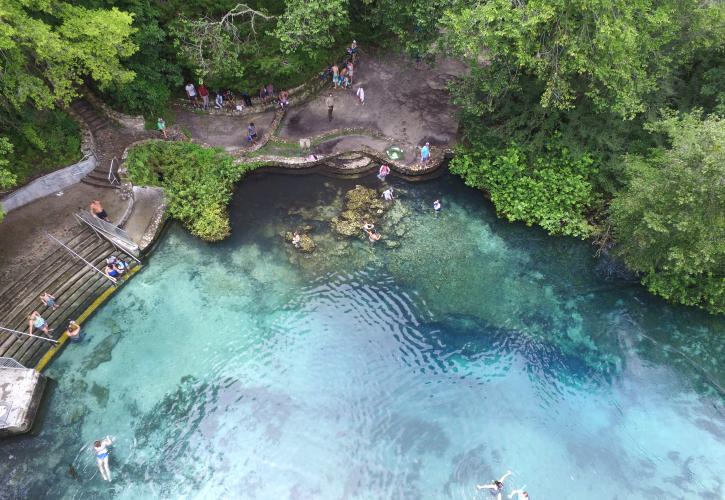 The six miles of opulent joy that can be found in Ichetucknee Springs State Park are the best of the best when it comes to tubing in Florida. You won't want to leave this park until you've done it at least once.
You'll feel the tension melting away as you relax and take in the incredible view, which is complemented by waters that are fed by crystal clear springs and a canopy of lush green surrounds.
This park is popular for a reason, and as a result, it becomes crowded very fast; if you want to participate in any of the world-famous tubing activity, you should get there as early as possible.
The area is rich in a variety of wildlife, such as white-tailed deer and great blue herons, and also features picnic tables that are ideal for families with young children.
2. Blue Spring State Park, Orange City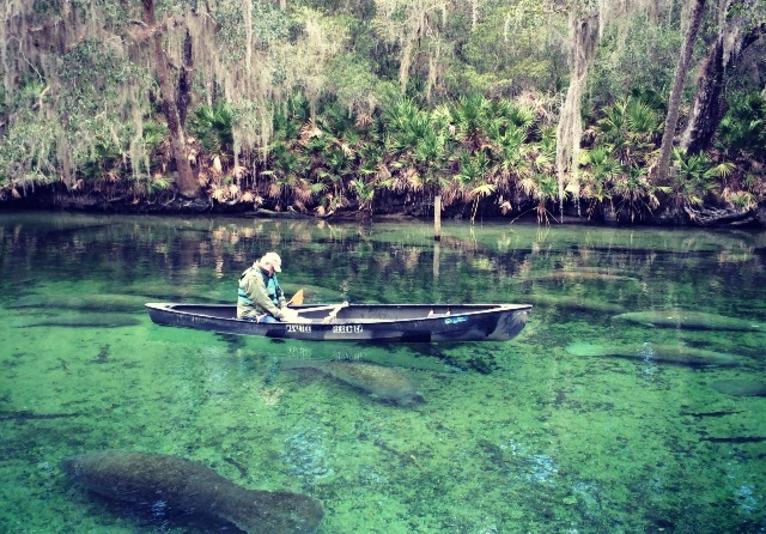 Blue Spring State Park in Orange City is located less than an hour's drive from Orlando, and it is home to the largest spring that can be found on the St. John's River.
This park, which is 2,600 acres in size, is a popular spring among residents and is ideal for floating in the summers.
The area is well known as a protected manatee habitat. It may be the smallest tube run on the list, with just an eighth of a mile to explore; but, the fact that the water is 73 degrees and perfectly clear makes it well worth the journey.
This location, which provides access to the primary swimming dock of the park, is ideal for those who like to combine a day of tubing with swimming at the park.
3. Rainbow Springs State Park, Dunnellon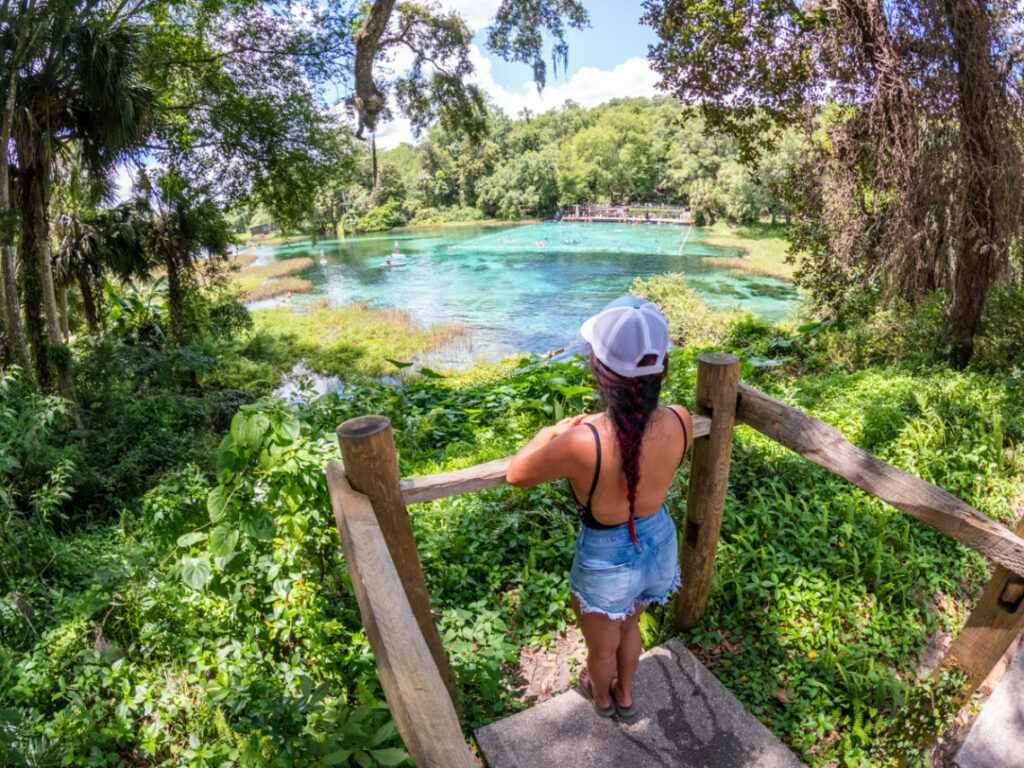 The main "head springs" entry, the tubing entrance, and the campsite are the three sections that make up Rainbow Springs State Park, which is located approximately 30 minutes by car from Ocala.
This ancient spring has a rich history that dates back approximately 10,000 years, and it has been a magnificent getaway from the heat of Florida's climate since the 1800s.
The man-made course here winds for almost to six miles and is surrounded by thick flora. It is the ideal location to soak in the peaceful magnificence of this oasis and spend an afternoon unwinding on a languid river ride due to the course's meandering nature and lush surroundings.
4. Madison Blue Spring State Park, Lee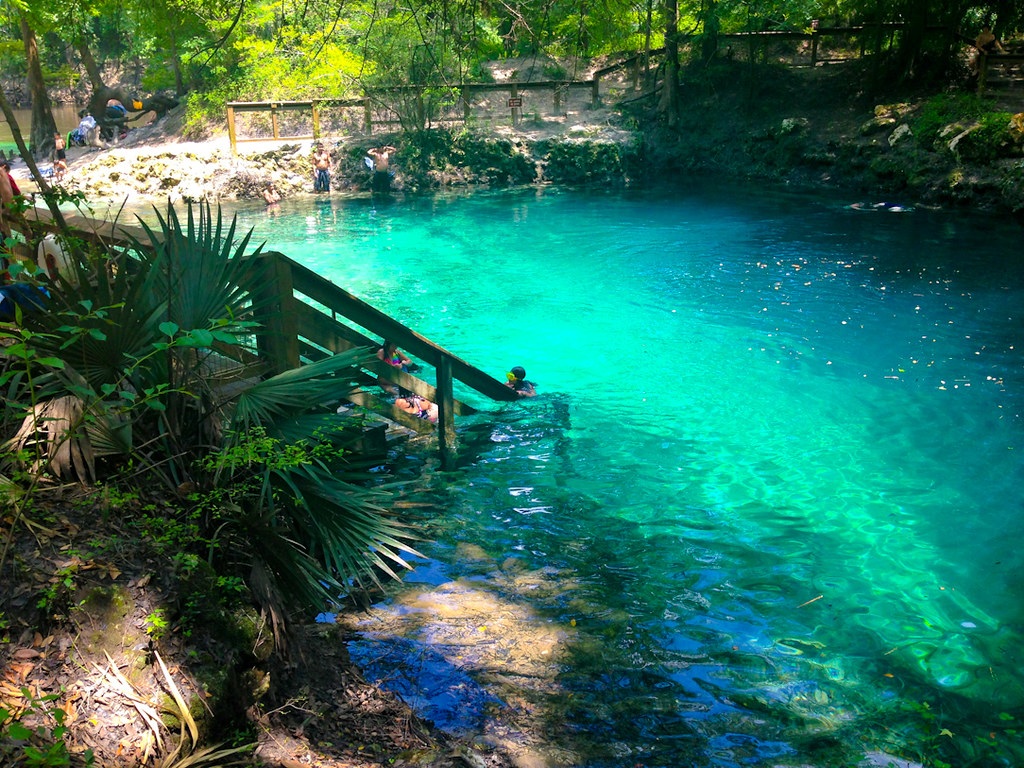 The Madison Blue Spring State Park is one of the newest state parks in Florida and can be found between the cities of Jacksonville and Tallahassee. Along the western side of the Withlacoochee River is where you'll find a limestone basin that is home to a first magnitude spring.
This spring is 82 feet broad and 25 feet deep, and it has no bottom. You are welcome to bring your own inflatables and tubes in the spring, or you may purchase a float from a local seller at the park.
This park offers a lovely backdrop that was built for a day of tubing. Bring the whole family to this location, which is only open on the weekends from May till September, to enjoy paddling, picnicking, and watching animals.
5. Rock Springs Run at Kelly Park, Apopka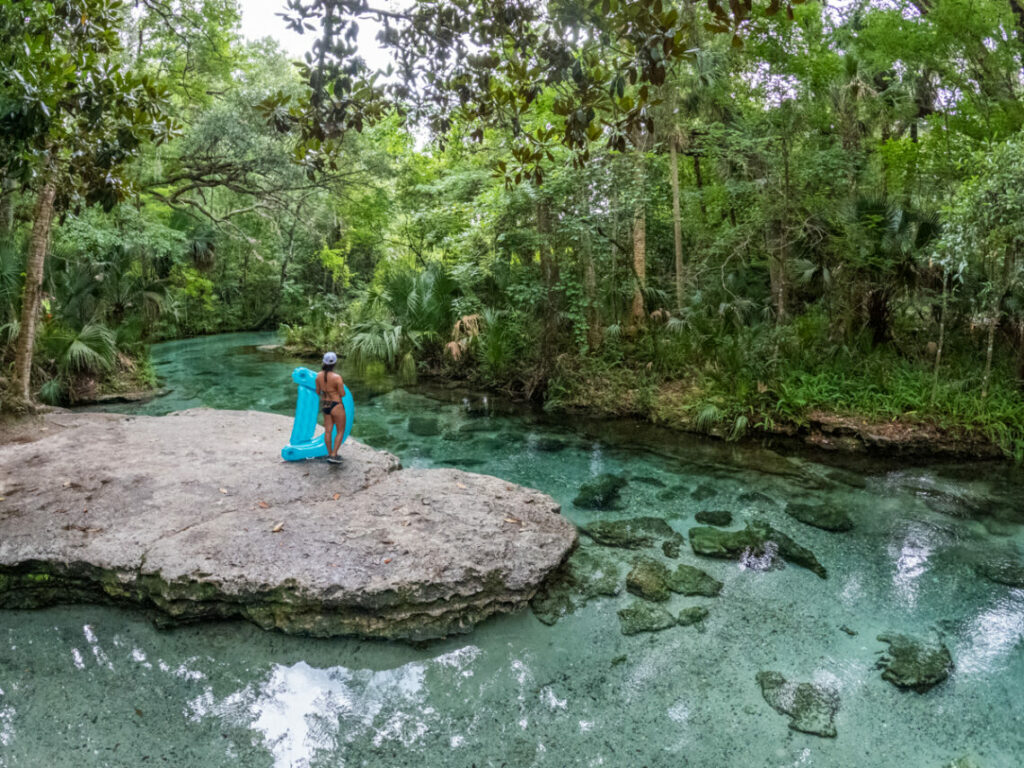 Rock Springs Run at Kelly Park may just be a quarter of a mile long, but it delivers a heck of a punch considering how short it is.
The 248-acre gorgeous lagoon is located less than an hour away from Orlando, and it provides visitors with the ideal opportunity to enjoy tubing and swimming on the same day.
The crystal clear springs form a slow-moving stream that eventually blooms into a succession of lagoons and pools that serve as the crown gem of the park.
This stream was created by the lazy river that the springs generate. In addition to being suitable for floaters of any age, the region has a network of boardwalks that may be used to exit the water and begin paddling again in a hurry.
6. Ginnie Springs, High Springs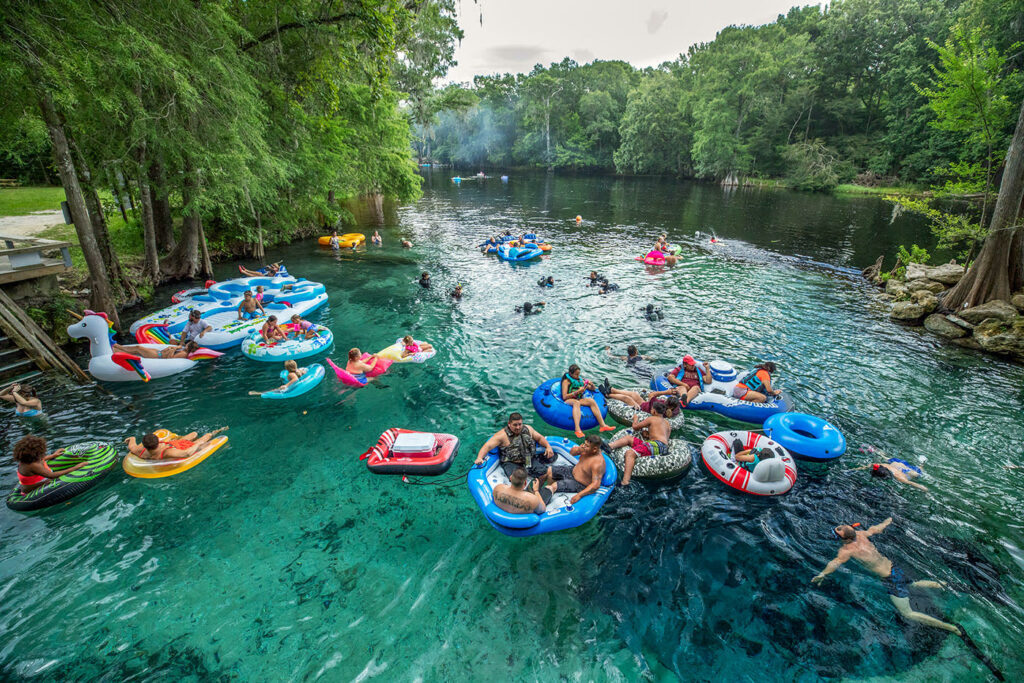 Ginnie Springs has been a local favorite for a very long time since it gives visitors the opportunity to float down the Santa Fe River for one whole hour. The Devil's Spring may be found near High Springs, which is located just outside of Gainesville.
The majority of visitors enter the water at the Devil's Spring with a tube or float, and then spend the day dozing off while floating in the calm waters.
When you get off at Twin Spring, it won't take you more than a quarter of an hour to walk back to the springs via the tube route.
There is no need to worry if your float is becoming a bit low on air because there are plenty of free air stations conveniently located around the park.
7. Gilchrist Blue Springs State Park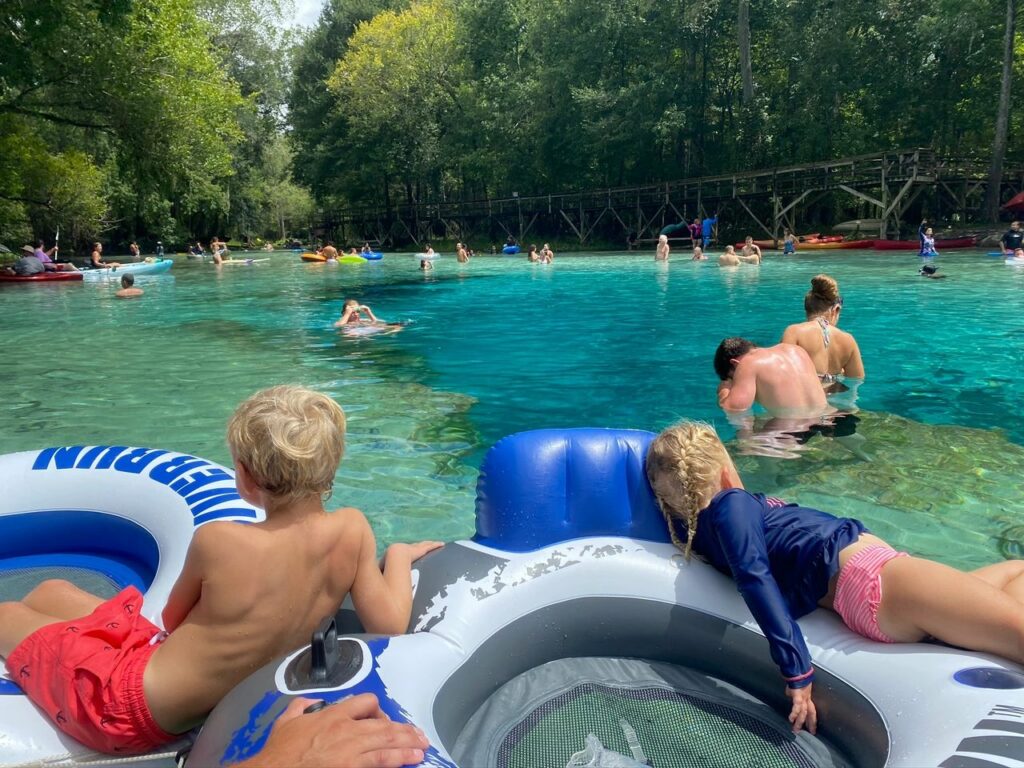 Gilchrist Blue Springs State Park, which was once known as Blue Springs but should not be confused with Blue Spring State Park, is located in a serene rural location approximately four miles to the west of High Springs.
You'll discover water that stays at 72 degrees all year long across these 250 acres. Bring your own tube or rent one at the park, and spend the afternoon gliding over the calm waters of the spring while basking in the cool shade cast by the towering oak trees that surround the park.
When you've worked up an appetite, there is a concession stand that serves beverages and snacks, and there are open-air pavilions that are perfect for families.
8. Blackwater River State Park, Holt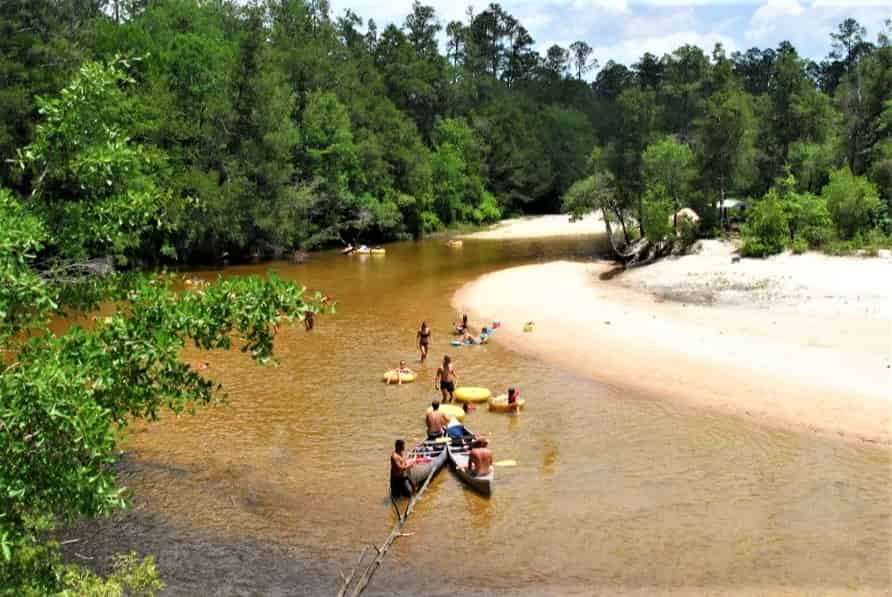 It takes less than an hour to drive from Pensacola to Blackwater River State Park, which is in the Panhandle of Florida and is located near Holt.
This state park provides a fantastic respite for anyone who enjoy being outside, and it also provides the ideal setting for a day of tubing.
Blackwater River is home to one of the cleanest sand-bottom rivers in the country, and the surrounding area features 600 acres of unspoiled natural beauty.
Because it has sand bars made of white sand, you can spend as much time as you like because there are lots of places where you can get out and stretch your legs or go for a little swim. A length of water that is four miles long, guests often spend between three and five hours exploring the natural sceneries.
8 Best Places to Go Tubing in Florida 2023 – Newshub360.net
Related Post

Credit : www.Newshub360.net