The 12 Best Hotels Near Disney World with Free Shuttles 2023: There are a number of hotels in the vicinity of Disney World that either charge for shuttle service or don't provide it at all; however, there are also several nice alternatives that give this convenience free of charge.
You will be able to forget about the stress of traveling, sitting in traffic, and finding a parking spot, allowing you to focus on just enjoying your day.
When you book a stay at one of these hotels or resorts close to Disney World, you'll have a range of options to choose from, depending on your budget and level of comfort.
Best Hotels Near Disney World with Free Shuttles 2023
1. Hyatt Regency Grand Cypress Resort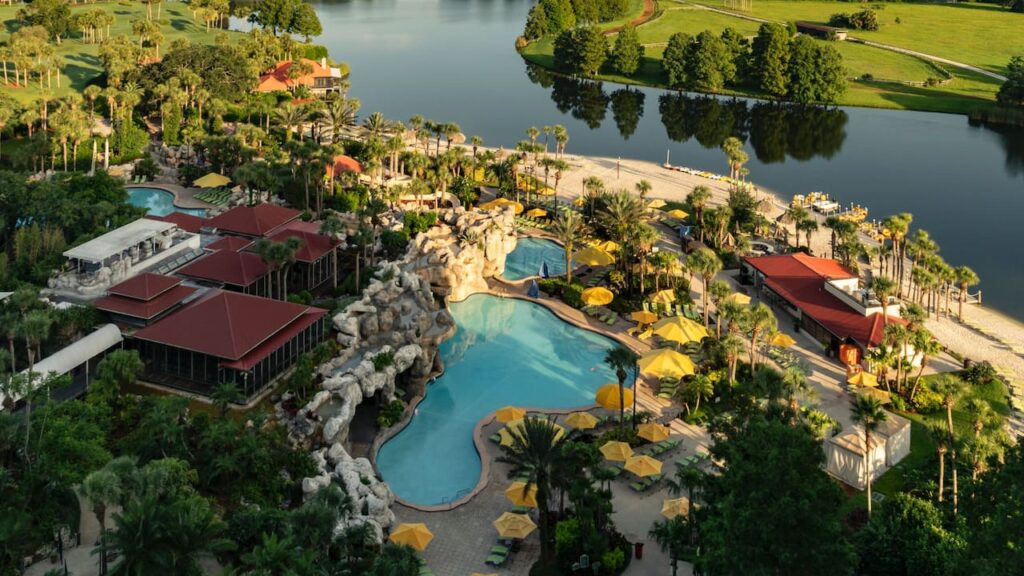 The Hyatt Regency Grand Cypress is a luxurious haven that caters to couples and families who are looking for a location that is convenient to the park.
It not only provides a free shuttle to Disney, but it also provides enough of its own, so if you want to spend the day resting somewhere other than the park, you can.
The expansive grounds include a total area of 1,500 acres and feature a private lake with a white sandy beach that is ideal for water sports, a colossal swimming pool that features waterfalls, man-made caverns, and a waterslide, as well as four different golf courses.
Parents who are in need of a vacation can take advantage of the Camp Hyatt program, which provides kid-friendly activities such as hiking and arts and crafts for participants to participate in.
There are a number of restaurants to choose from, and each of the more than 800 guest rooms has a balcony with a view of the nightly fireworks display at Epcot or Magic Kingdom.
Key Amenities:
Free shuttle to Disney
Nightly views of Disney fireworks
Four golf courses
2. Wyndham Lake Buena Vista Disney Springs Resort Area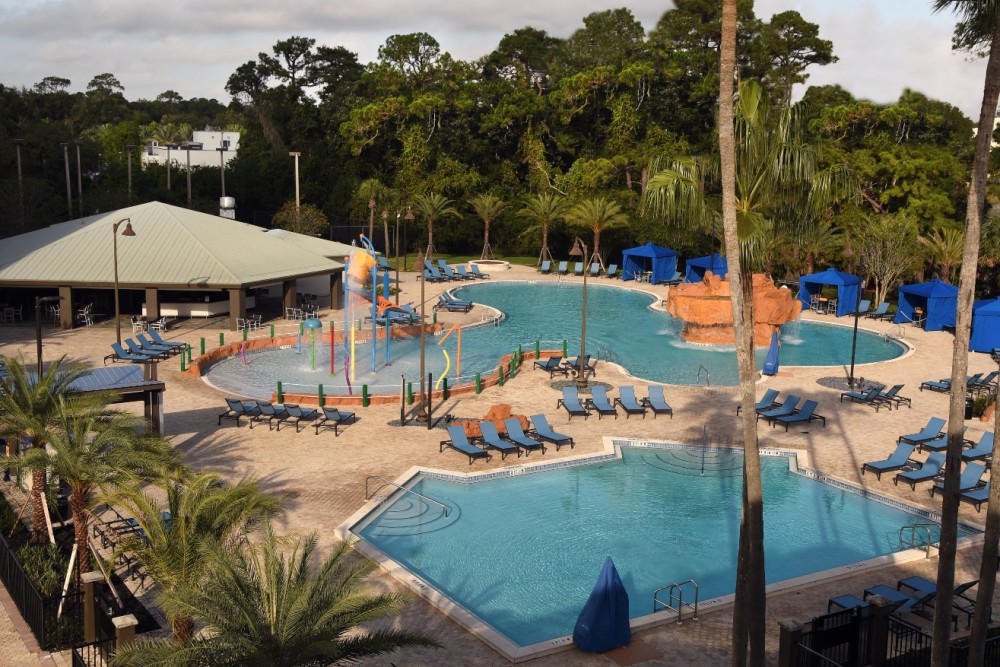 The Wyndham Lake Buena Vista Disney Springs Resort Area is an excellent choice for families because it provides a free shuttle to Disney parks and also has appearances by Disney characters on three days out of the week.
This five-star resort is located not far from Disney World, and it boasts a large pool area that comes complete with a number of different water elements, such as a waterfall and a splash pad.
These amenities provide the ideal way to cool down on a warm Florida day.
If you book a Disney View Room, in addition to having a clean and pleasant room, it will also have all of the essentials, and if you do so, you will also be able to enjoy nightly views of the Disney fireworks show.
Key Amenities:
Free shuttle service to and from Disney
Disney View Rooms available to book for nightly fireworks displays
Visits by Disney characters three days each week
Huge pool with water features and splash pad
3. Animal Kingdom Lodge in Disney's Animal Kingdom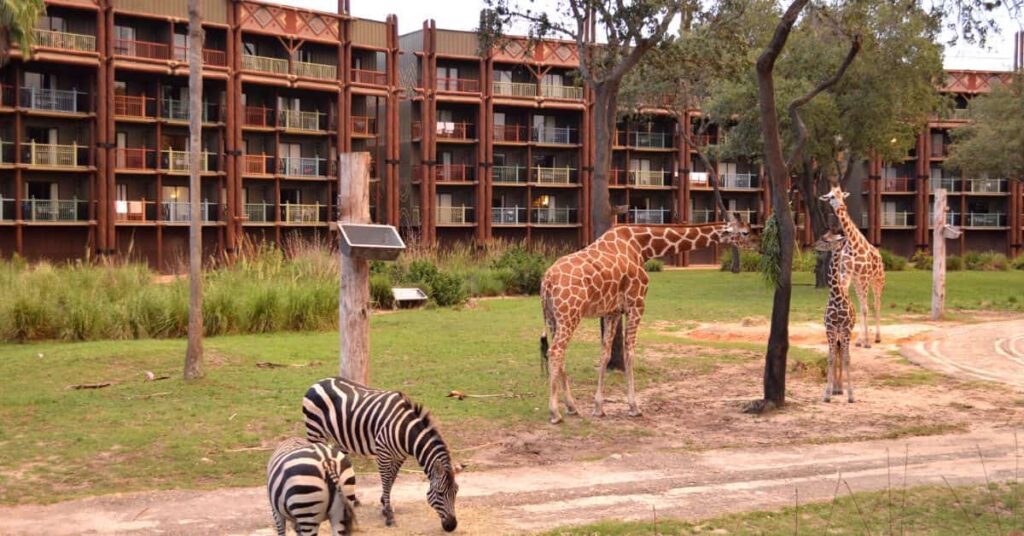 Even though the majority of Disney's attractions are a 10-minute drive away from Disney's Animal Kingdom Lodge, the resort offers complimentary shuttle service to and from these locations.
In the heart of Orlando, you can get a taste of Africa while surrounded by four savannas that are home to more than 30 different species of African animals.
The Animal Kingdom Lodge is one of the most popular hotels in Disney World. It features Savanna View Rooms, which are equipped with balconies and offer guests with a front-row seat to the animals.
If you are able to purchase the upgrade, you will have the opportunity to see the animals, including giraffes and ostriches, at any time of the day or night.
All are decorated in a manner that is authentically African and include ornate wooden headboards that have been carved with tribal symbols and mosquito nets that are reminiscent of those found in tented camps in Africa.
Guests get the opportunity to participate in an authentic safari, feast on traditional cuisine from Africa, and also experience the Festival of the Lion King. In addition to that, there is a huge pool on the property that has a waterslide attached to it.
Key Amenities:
Free shuttle to all Walt Disney World parks
African-inspired dining is award winning
Views of 4 lush savannas home to hundreds of animals
4. Disney's Grand Floridian Resort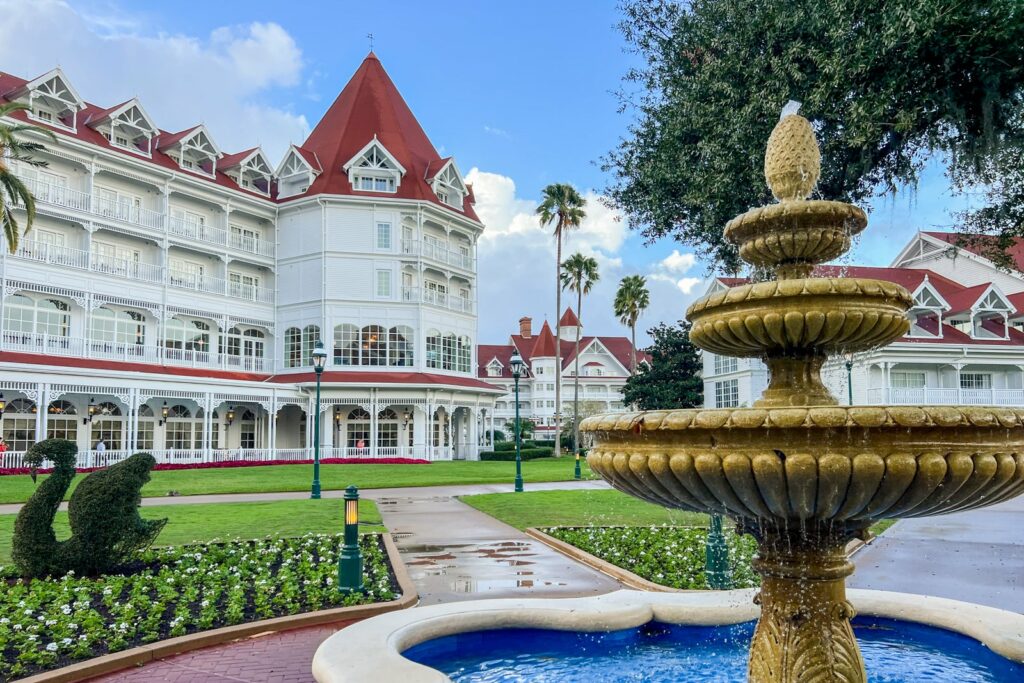 The Grand Floridian Resort, which has won several awards, is located only a boat ride away from Disney's Magic Kingdom, making it one of the most opulent lodging options available to guests of the theme park.
It also boasts the most spacious accommodations of any Disney resort, with each room featuring a private balcony, a flat-screen television, a mini-refrigerator, and a Keurig coffeemaker.
The Park View Rooms in the Magic Kingdom provide guests views of the nighttime fireworks show.
There are two swimming pools, a children's splash zone, many stores selling Disney souvenirs and various other items, a game room decorated in the manner of a Disney arcade, as well as outdoor grilling and picnicking places.
Key Amenities:
Five minute boat ride to the park
Nightly views of Disney fireworks when you book a Park View Room
Splash zone for kids
Arcade-style game room
5. Parc Suites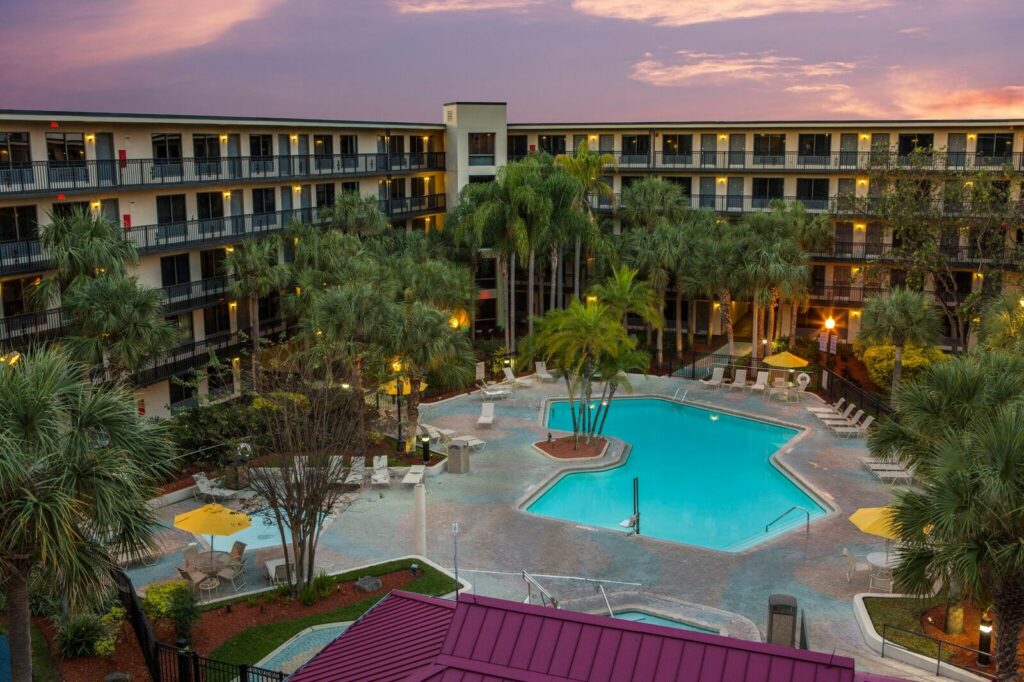 The Royale Parc Suites are located just one mile from Walt Disney World and provide its guests with the option to make use of a complimentary shuttle service.
Guests also have the ability to arrange the shuttle service in advance. Spend your time away from the amusement park relaxing in the outdoor atrium pool, letting the kids burn off some energy in the gaming room, or exploring the playground area.
In addition to the on-site Cajun Quarter Restaurant and Perky's Pizza, which both serve lunch and supper, there is an outdoor bar by the pool that serves tropical beverages and light nibbles and features daily happy hour specials.
There are a number of rooms and suites that have the capacity to accommodate up to six guests and come equipped with kitchenettes, making the accommodations more suitable for families.
Key Amenities:
Free shuttle to Walt Disney World parks
Pet-friendly
Breakfast is on the house every day.
Free coin-operated washing machines
6. Best Western Orlando Gateway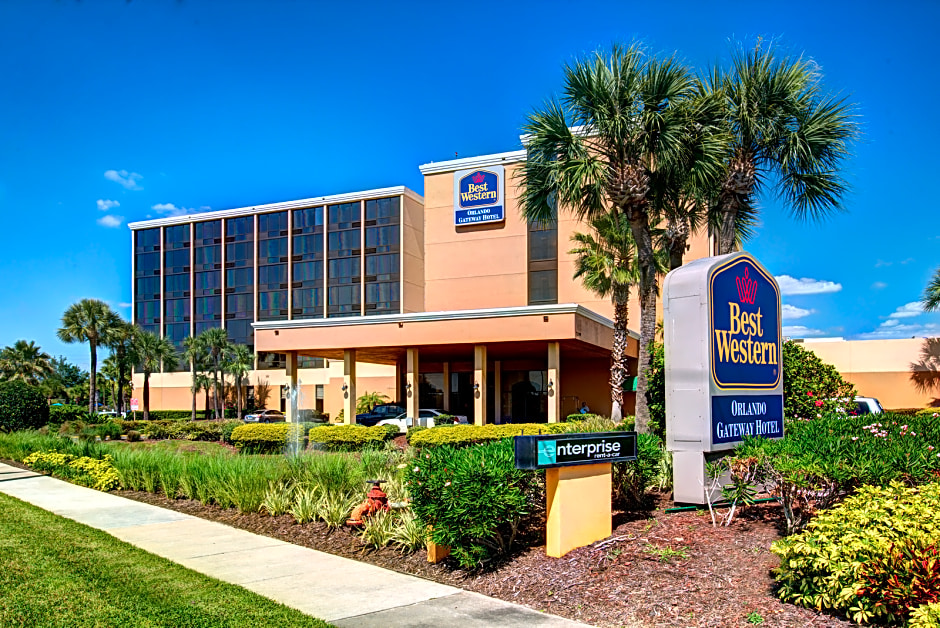 The Best Western Orlando Gateway is an alternative that is friendlier on one's wallet and provides complimentary scheduled shuttle service to the Walt Disney World theme parks.
The rooms are spotless and comfortable, and they are equipped with flat-screen televisions, microwaves, and mini-fridges.
There is an outdoor swimming pool with two hot tubs, as well as a poolside cabana bar that serves nibbles, beers, and drinks during the appropriate seasons.
In addition, there is a sundeck, gaming room, fitness center, and sports court, as well as a few of eating alternatives that are open throughout the year.
These include Sharky & Jack's Bar & Grille and a deli in the manner of New York.
Key Amenities:
Free shuttle to Walt Disney World parks
Game room
7. Hilton Garden Inn Lake Buena Vista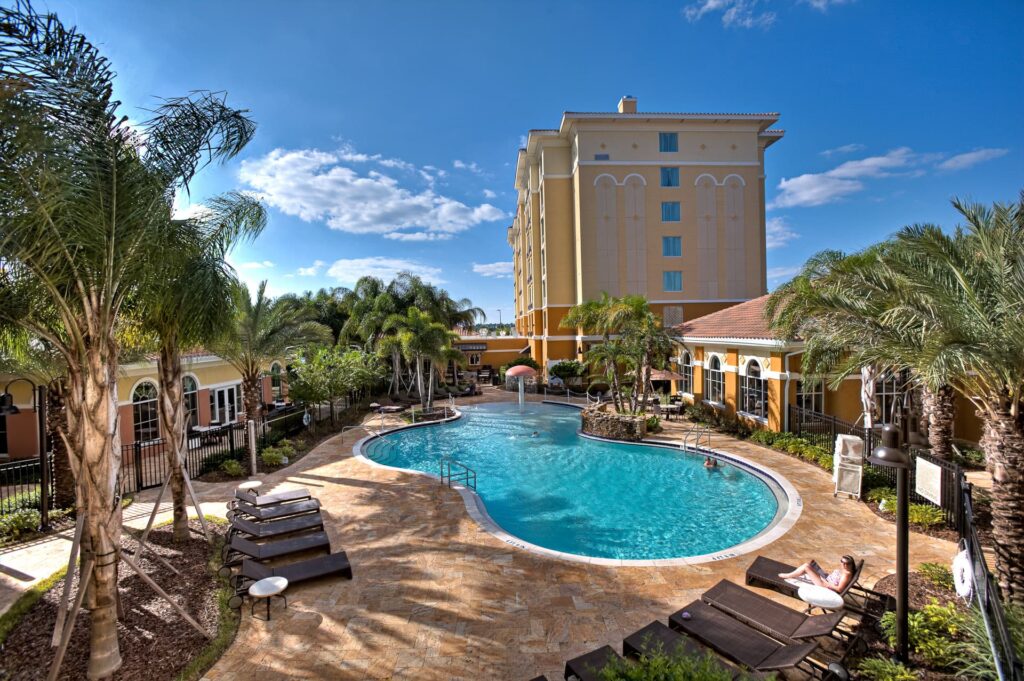 The Hilton Garden Inn Lake Buena Vista is located just one mile from Disney World and provides free shuttle service to the theme park in addition to rooms that come equipped with microwaves, mini-fridges, coffeemakers, flat-screen TVs, and free wireless internet access.
Some of them also provide views of the fireworks show at Epcot. It may be beneficial for families or parties to reserve a suite, as these accommodations provide distinct living spaces, each with couch beds and extra flat-screen televisions.
In addition, there is an outdoor pool, a fitness facility, a restaurant, and a bar on the premises.
Key Amenities:
Free shuttle to Walt Disney World parks
Views of Epcot fireworks in some rooms
8. Fantasy World Resort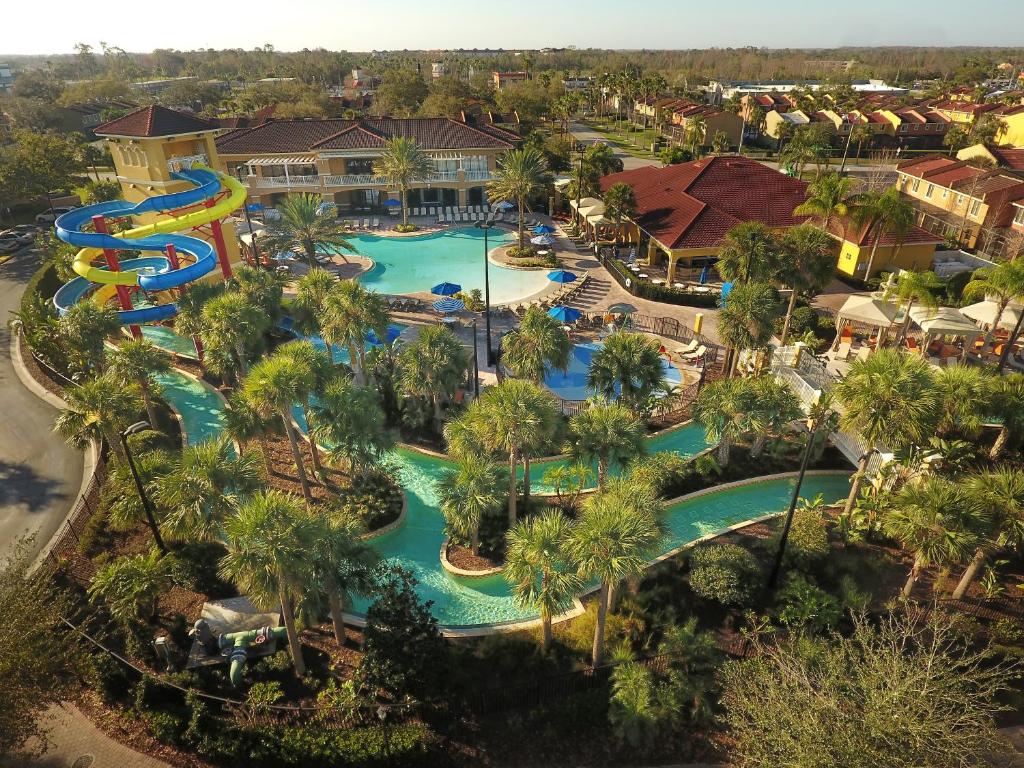 Although it doesn't run all the time, Fantasy World Resort does provide free shuttle service to both Disney World and the Lake Buena Vista Factory Stores. However, the service only operates on a limited basis.
Visit us for accommodations that are decorated in a Mediterranean style and have townhouse villas with two bedrooms, two stories, complete kitchens, washers and dryers, separate living and dining spaces, and flat-screen televisions.
In addition, there is a sizable outdoor pool area that features a lazy river, two waterslides, two hot tubs, and a splash area specifically designed for children.
Key Amenities:
Free shuttle to Walt Disney World parks available on a limited schedule
Large pool area with lazy river and waterslides
Children's splash area
9. Floridays Resort Orlando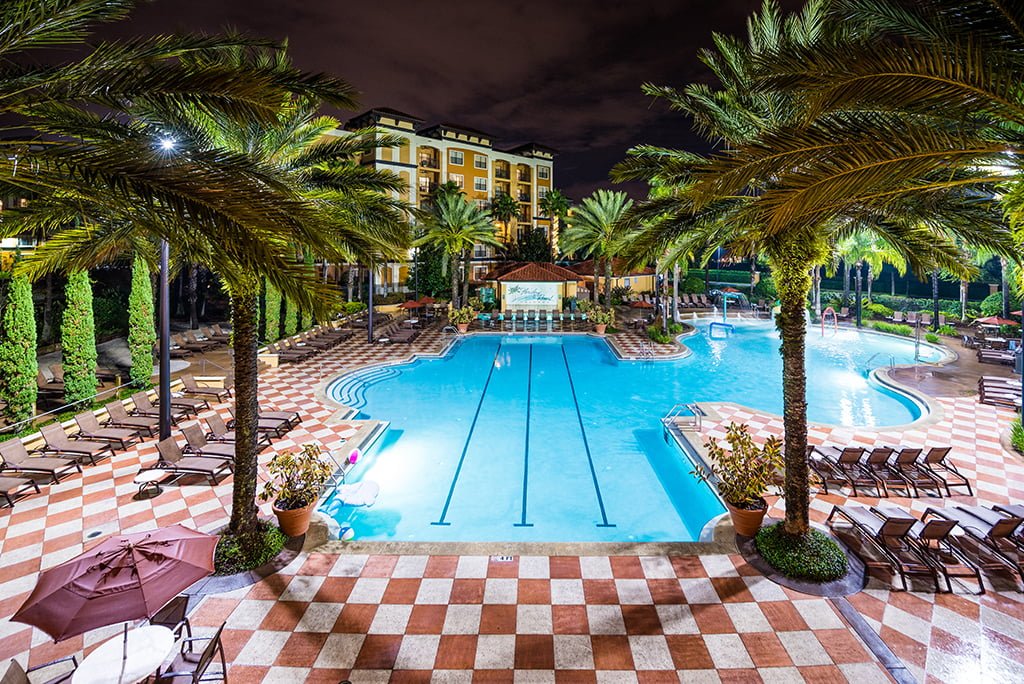 The Floridays Resort Orlando is one of the greatest hotels in Orlando, and it provides a wonderful bargain for families that want to enjoy the park with condo units that come with fully-stocked kitchens and washers and dryers.
These condos can be found at Floridays Resort Orlando. In addition, there is a free shuttle service, a gorgeous pool, and unique events such as movie evenings, arts & crafts, and live music.
Key Amenities:
Free shuttle to Walt Disney World parks
10. JW Marriott Orlando, Grande Lakes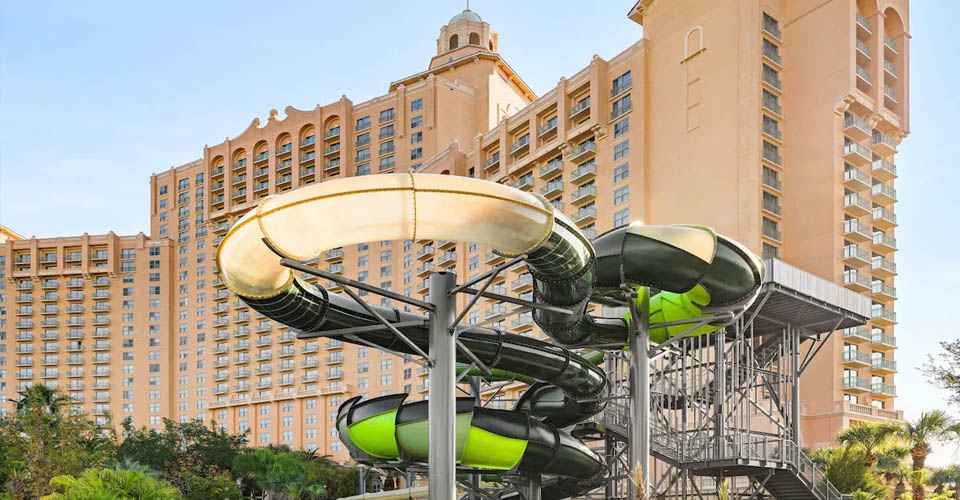 Although it's not technically free, the shuttle that the JW Marriott Orlando provides to the theme park is included in the daily resort charge, so you might as well take use of it! Guests are transported to Epcot as well as the Ticket and Transportation Center using the service.
You will board the monorail from that station onward. Make sure you make your bookings by the previous night at 10 p.m. at the very latest.
During your stay at the resort, you'll have access to a wide variety of attractions, such as a golf course, a stunning outdoor pool, and one of the most enjoyable lazy rivers in the state of Florida.
On the lake, guests have the opportunity to engage in a variety of water activities such as kayaking, canoeing, and more. There is a spa where you may get treatments to help you relax, in addition to many other services.
The rooms have conventional amenities such as 65-inch Smart TVs, iPod docks, and coffeemakers that only create one cup at a time. Some offer views of the lake or the pool.
Key Amenities:
Shuttle to Disney included with daily resort fee
Lazy River
Water sports on the lake
Golf Course
Spa
11. Four Seasons Resort Walt Disney World Orlando
The lakefront Four Seasons Resort Orlando at Walt Disney World® Resort is a five-star property that can be found immediately within the park's entrance gates.
It has more of a residential feel along with many impressive amenities such as a five-acre water park, a free kids' camp, and nightly babysitting services so that parents can enjoy a break by doing things like playing a round of golf, relaxing in the adults-only pool area, or enjoying treatments at the 13,000 square foot spa.
There are other Disney experiences available, such as having breakfast with the characters, and a complimentary shuttle service that runs every hour and picks up and drops off guests at all four of the theme parks.
Key Amenities:
Free shuttle to all four Walt Disney World parks
Located inside the gates of the park
Five-acre water park
Separate adults-only pool area
Golf course
Breakfast with the characters
12. Holiday Inn Resort Orlando Lake Buena Vista, an IHG Hotel
The Holiday Inn Orlando-Disney Springs® Area is a wonderful alternative for anybody who is going to Disney on a budget.
It provides family-friendly accommodations that are pleasant and include balconies from which guests can see the fireworks.
There are even some that provide bunk beds for the children. In spite of the low room prices, it has a variety of amenities, such as a huge pool, arcade, and fitness center, in addition to a grab-and-go store where guests may purchase snacks on the move.
You only need to make your bookings at least 48 hours in advance, and everything is included, including a free shuttle to all of the amusement parks that runs every hour.
Key Amenities:
Free shuttle to Disney
Nightly views of Disney fireworks
Arcade
Best Hotels Near Disney World with Free Shuttles –Newshub360.net
Related Post
Credit : www.Newshub360.net