The 14 Best Beachfront Restaurants in Florida 2023: Being a native Floridian, I am well aware that there is nothing that can compare to the attraction of dining in a setting that overlooks the ocean.
If you can view the water, the food seems to taste better in some mysterious way. It's one of the aspects of the Sunshine State that I adore.
Our beachside eating destinations in Florida are particularly noteworthy since no other place has the ideal blend of picture-perfect beaches, year-round sunlight, restaurants with laid-back ambiance, and a broad choice of fresh seafood.
In reality, there is a sizable list of eateries that capitalize on that winning formula to offer a seductive atmosphere that attracts both locals and tourists.
Here are some of Florida's top eateries where you can enjoy delectable cuisine and stunning seaside views.
The Top 14 Beachfront Dining Options in Florida for 2023
1. Caddy's Treasure Island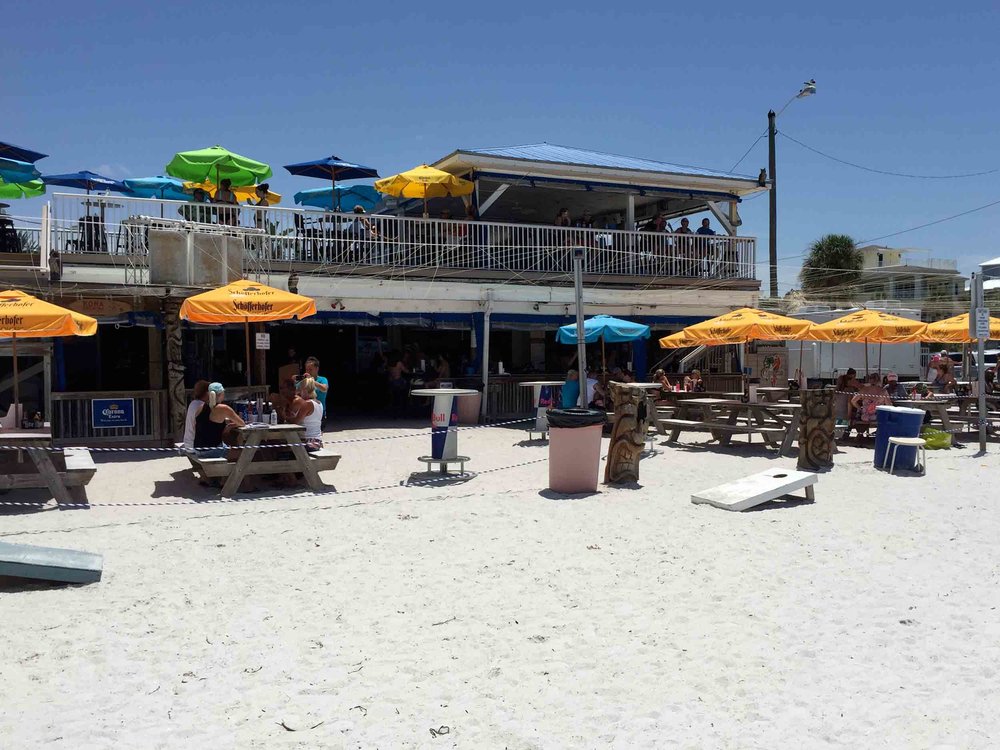 Caddy's Treasure Island has a lively, welcoming atmosphere. With a direct beachfront location, you can take in great music, delicious food, and free beachside amenities while watching the surf from the Gulf of Mexico wash up.
The culinary menu is also a standout, with appetizers like Smoked Fish Spread, Southwest Nachos, and Housemade Crab Cakes. The tropical scenery and beach-inspired frozen cocktails might be enough to attract your attention.
Also popular are grouper burgers, sandwiches, fish and chips, seafood mac & cheese, and seafood platters. Book one of the beachfront cabanas (free with a minimum purchase on food, drink, or shopping) for a private beachfront experience.
While the original Caddy's is located at Treasure Island, Florida also has numerous waterfront establishments.
2. Oceanside Beach Bar & Grill, Flagler Beach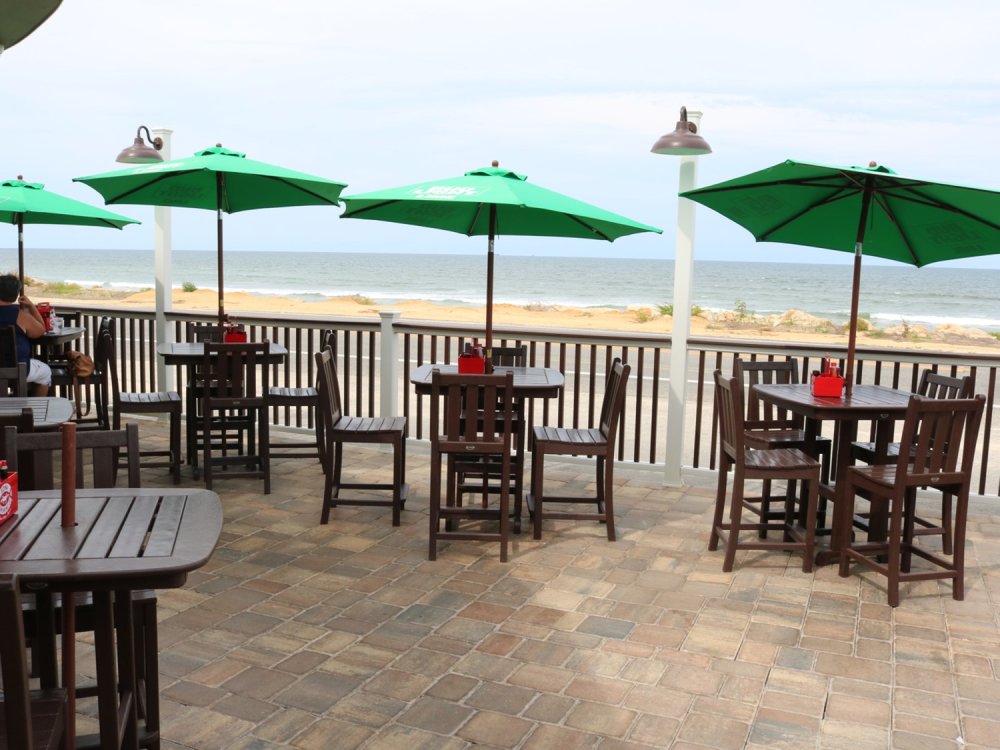 Oceanside Beach is a favorite among visitors to Flagler Beach because of its hearty fare, welcoming staff, and stunning coastal views.
It boasts a lengthy list of fan favorites, including Fish & Chips and Margherita Pasta, and is well-known for its outstanding service, cuisine, and stunning seaside views.
You should sample the Flaming Cheese, which is a pan-fried Kazzari cheese that is lit on fire at the table, as well as the Flagler Punch, which is made with fine spirits and freshly squeezed fruit juices.
3. S3 Restaurant Sun-Surf-Sand, Fort Lauderdale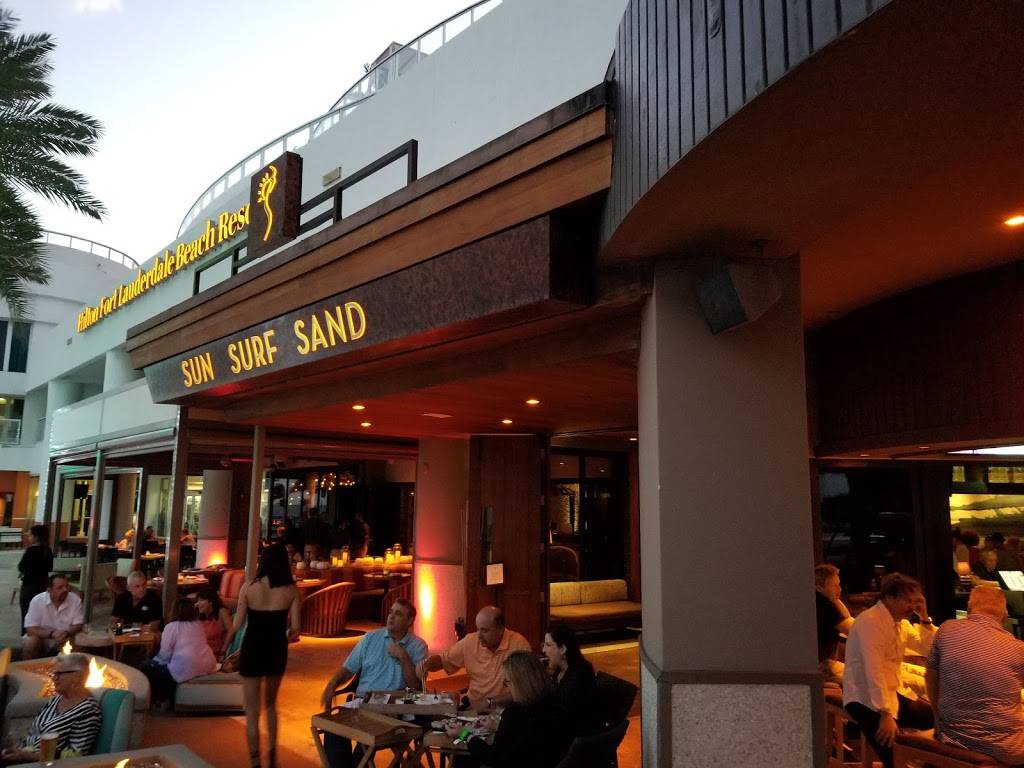 S3 Restaurant in Fort Lauderdale offers locally sourced products, craft cocktails, and a menu of steak, seafood, and sushi if you're wanting coastal views.
This seaside restaurant is an elegant, casual stylish location with a laid-back environment where Sun, Surf, and Sand mix.
It offers indoor and outdoor seating, views of the Atlantic and Fort Lauderdale beaches, and a menu of coastal cuisine—everything you could ask for in a beachside restaurant.
They offer the finest daily catches, premium cuts of meat, a one-of-a-kind sushi bar, and freshest seafood. The Happy Hour deals are available Monday through Friday; don't miss them.
4. Palm Pavilion Beachside Grill & Bar, Clearwater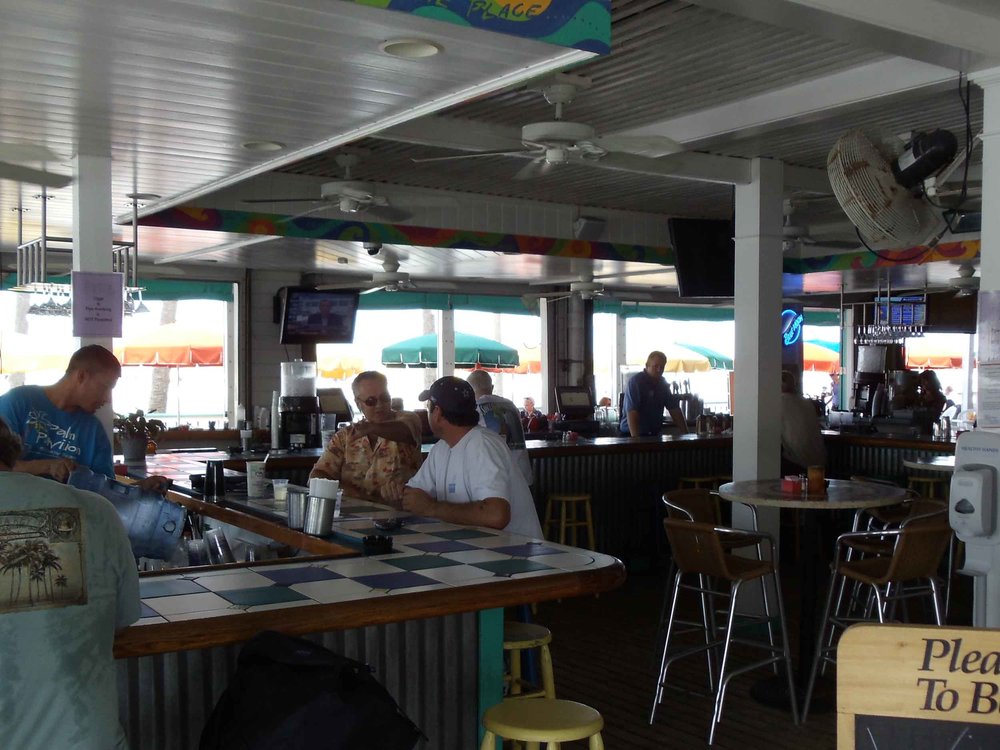 A Clearwater landmark since 1926, Palm Pavilion Beachside Grill & Bar is situated on one of Florida's most well-known Gulf Coast beaches.
On their roomy outside terrace, you may eat seafood, beach burgers, sizzling steak, chicken, and smoked ribs while listening to live music and taking in the scenery.
The beach is right outside the front door, with a view of the Gulf of Mexico, and the sunsets are spectacular.
The ancient beauty of this restaurant, which has been preserved down to the hardwood floors that open to the sand beach below and the aroma of lingering coconut oil, will draw you in in addition to the breathtaking view of Clearwater Beach.
5. The SandBar Restaurant, Anna Maria Island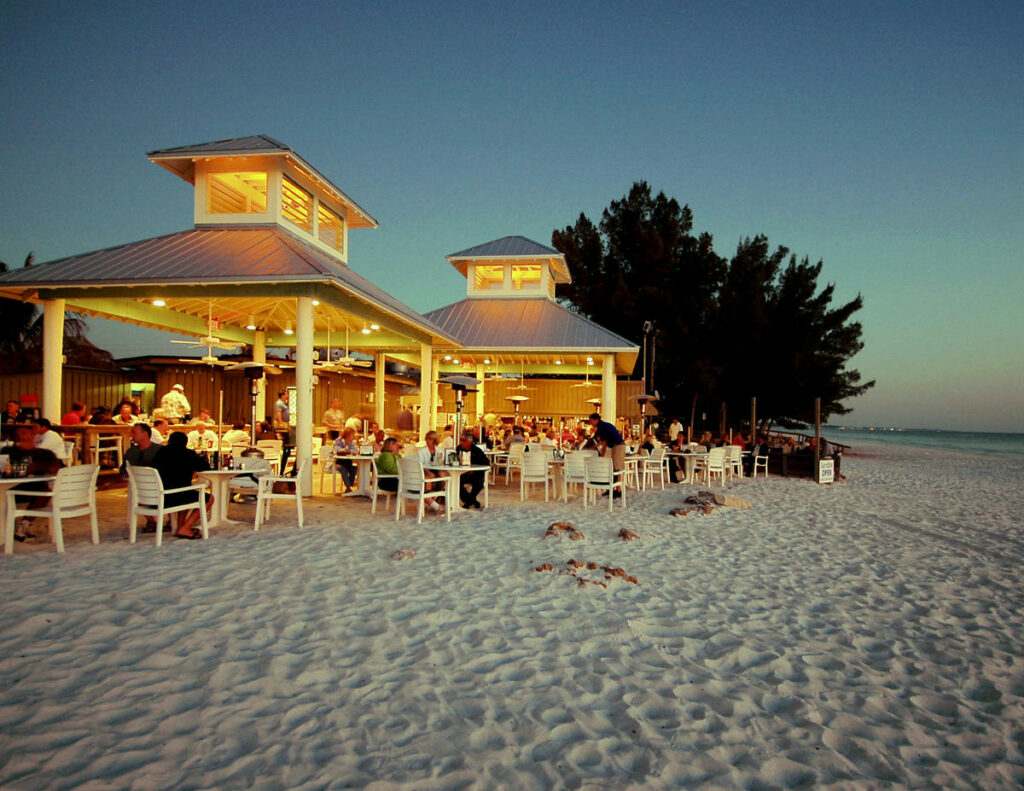 Florida's top choice for a beachfront supper is The SandBar Restaurant in Anna Maria Island, which boasts a family vibe and a toes-in-the-sand setting.
At this Old Florida restaurant, which serves dishes made with sustainable and regional ingredients, you can watch the sun set. Start your dinner with the Calamari with honey sambal aioli, Two Docks Clams, or Sandbar Smoked Fish Dip.
The chef's choice Whole Fish, Stuffed Shrimp, and New York Strip are among the main dishes, and handheld favorites including burgers, fish tacos, and fish sandwiches are available.
6. Benny's On The Beach, Lake Worth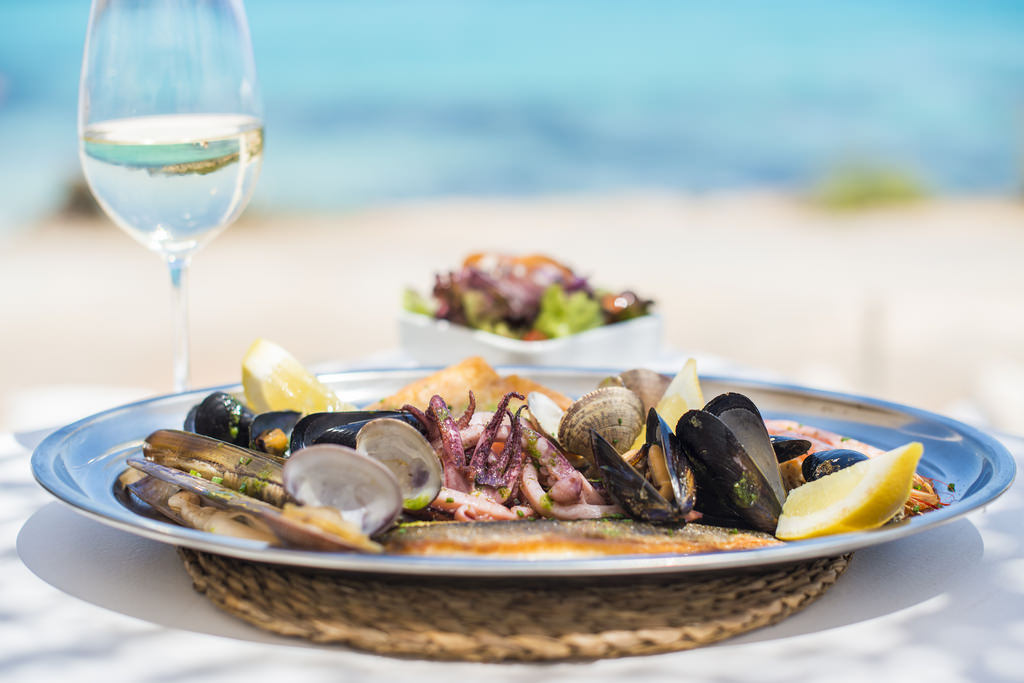 Benny's On The Beach, a Lake Worth institution since 1986, now includes locations on the Pier and Oceanwalk. Both offer breathtaking views and delectable food, and with a tagline like "Where Every Day is a Vacation," it's impossible not to enjoy it.
You can enjoy the seafood market favorites while gazing out at the Atlantic Ocean, or you can come for brunch and order the Beachside Benedict with lobster and Bloody Marys.
If you're really hungry, get the Seafood Bake, which also includes lobster, middle-neck clams, huge shrimp, and clusters of Gulf snow crab. It also comes with corn on the cob, baby red potatoes, and andouille sausage.
7. Beach Walk Cafe, Destin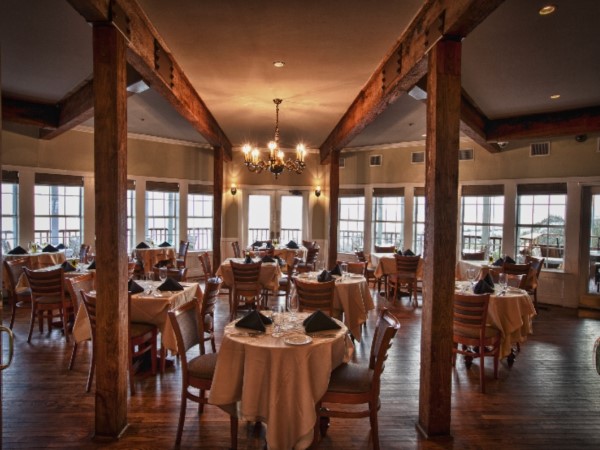 Beach Walk Cafe is a high-end eatery with stunning views of Florida's Emerald Coast that is housed in Destin's Henderson Park Inn. It is an award-winning fine dining establishment and the only one you'll find right on the Gulf of Mexico.
Fresh local ingredients are served beside breathtaking sunsets along the beach. For the ultimate date night, you can even book a VIP Toes in the Sand dining experience, which includes dinner, dessert, and drinks with a dedicated server at a private table right on the sand.
Enjoy delectable Sesame Crusted Ahi Tuna Steak, Apalachicola Gulf Shrimp Scampi, or Rosemary Buttermilk Fried Chicken while soaking up the salty Gulf breeze.
8. Caretta On The Gulf, Clearwater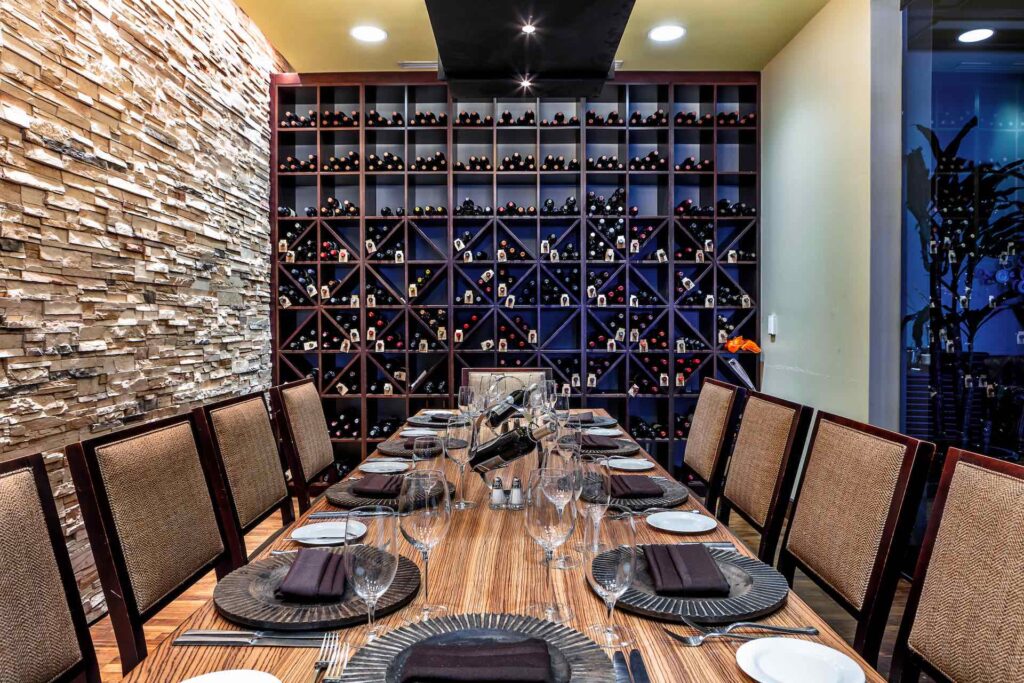 Caretta On The Gulf is an elegant eatery with stunning views of the Gulf of Mexico and is one of Clearwater's top restaurants.
This restaurant, which takes its name from the loggerhead sea turtles that frequent Clearwater's coastlines, is the ideal spot to enjoy seasonal cuisine while watching the sun set.
It is the only AAA Four-Diamond restaurant in Clearwater and offers both a conventional menu and an all-natural, organic menu that is complemented with organic wines.
Choose the chef's supper tasting menu with dessert and wine pairings chosen by trained sommeliers if you want to go all out. You might be shocked to learn that this hospitable eatery requires jackets, and there are indoor and outdoor sitting options.
9. Beach House Waterfront Restaurant, Bradenton Beach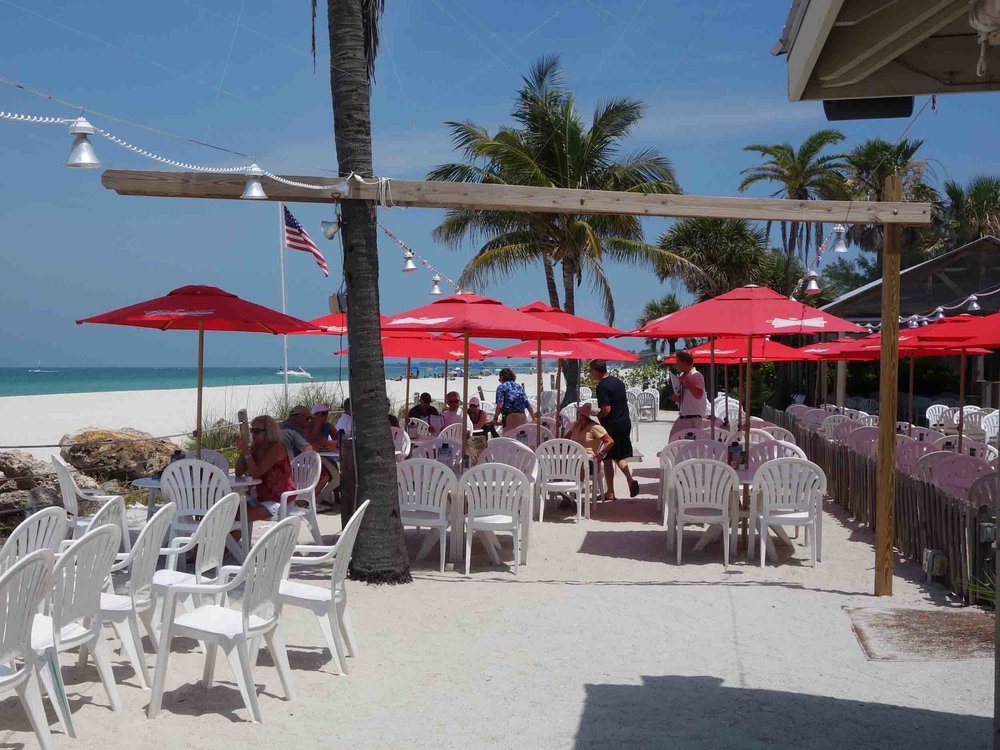 Beach House Waterfront Restaurant in Bradenton Beach is the best place to unwind with friends and family because of its excellent fusion of informal and classy.
The restaurant's climate-controlled balcony overlooking the ocean and the breathtaking sunsets are the cherry on top.
The best part is that you'll be eating well thanks to the restaurant's menu, which features seasonal dishes with a Mediterranean flair and farm-to-fork sustainable ingredients.
The zingy Watermelon & Feta salad, filling Beach House Burger, or freshly marinated Gulf Fish Tacos are all excellent choices.
10. Doc's Beach House, Bonita Beach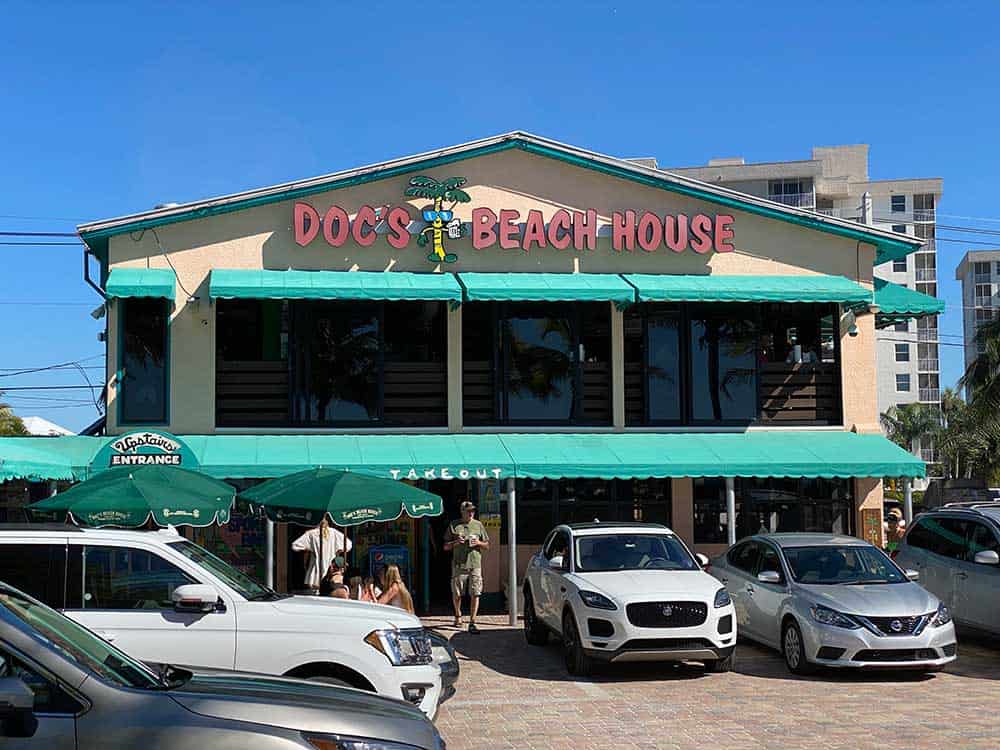 Doc's is a beach-level restaurant with an outside patio and one of the top waterfront restaurants in Florida. The bar upstairs offers a more private atmosphere with stunning views of the Gulf of Mexico; during sporting events, it transforms into a buzzing sports bar.
Opt for a table with an umbrella near the beach if you'd rather sink your toes into the sand. Additionally, a souvenir shop offers beverages and hot dogs.
11. Kyle G's Prime Seafood & Steaks, Jensen Beach
The casual seafood-focused restaurant Kyle G's Prime Seafood & Steaks is situated in Jensen Beach. Choose the three-course dinner option, which includes an appetizer, an entrée, and a dessert, if you plan to arrive hungry.
There is a large amount of outside, oceanfront seating where you can take in the view while indulging in other regular menu favorites like freshly shucked oysters, rainbow trout, lobster Mac carbonara, and a wide selection of specialty cocktails.
For information on weekly events, such as Wine Tuesday, Sunday Brunch, and Happy Hour with discounted cocktails, see their website.
12. Casablanca Cafe, Fort Lauderdale
Casablanca Cafe, a two-story seaside restaurant, is situated in Fort Lauderdale Beach's oldest building and is only a crosswalk away from the sand.
It is housed in a two-story structure constructed in 1927 and has stunning Mediterranean Revival architecture with touches of Spanish and Middle Eastern design.
Try the Blue Crab Crusted Mahi Mahi, Lime Cilantro Fish Tacos, or Moroccan Lamb Shank while you enjoy live music from the restaurant's enormous wrap-around bar.
The menu is also excellent. The Pink Sunset Paloma, #NoSleep Martini, and Beach Bonfire Old-Fashioned go well with the ocean vistas if you're in the mood to celebrate.
13. Ocean Deck Restaurant & Beach Bar, Daytona Beach
A Florida landmark is the Ocean Deck Restaurant & Beach Bar in Daytona Beach. It offers a vibrant, lively, and welcoming beachside ambiance, and is regarded as a need when visiting this coastal town.
They feature a comprehensive calendar of events throughout the year, including live music performed both day and night by regional bands, and a varied drink menu that will please all members of the family.
Along with burgers, award-winning chowder, sizzling chicken wings, and sandwiches, they provide popular seafood dishes like crab legs, shrimp, and lobster. Most visitors arrive for the meals and the views of the beach but stay for the warm ambiance.
14. Salute! Key West's beach, on
Salute! is a beachside gem in Key West, ideal for a post-swim lunch or romantic sunset dinner.
This well-liked eatery, which is situated on the picture-perfect Higgs Beach between White Street Pier and Casa Marina, will put you in the holiday mood.
Sit on the porch area outside while enjoying the Caribbean-inspired versions of Italian classics for the greatest views.
Be sure to try the spaghetti with mussels, grouper cakes, and calamari in marinara sauce before rewarding your taste buds with a slice of Blue Heaven key lime pie.
14 Best Beachfront Restaurants in Florida 2023 – Newshub360.net
Related Post

Credit: www.Newshub360.net