The 15 Most Affordable Beach Resorts in Hawaii 2023: For many tourists, Hawaii represents the ideal vacation because of its sparkling ocean waters, golden sand, hikes up volcanoes, and constantly ideal weather.
But if you don't take precautions, this utopia can become quite expensive. It's simple to get carried away by Hawaii's breathtaking scenery, but that doesn't mean you have to blow your travel budget.
These are some of Hawaii's most reachable and reasonably priced beach resorts, whether you're planning a trip there for the first time or returning every year.
15 Most Affordable Beach Resorts in Hawaii 2023
1. Marriott's Kaua'i Beach Club – Kauai, Hawaii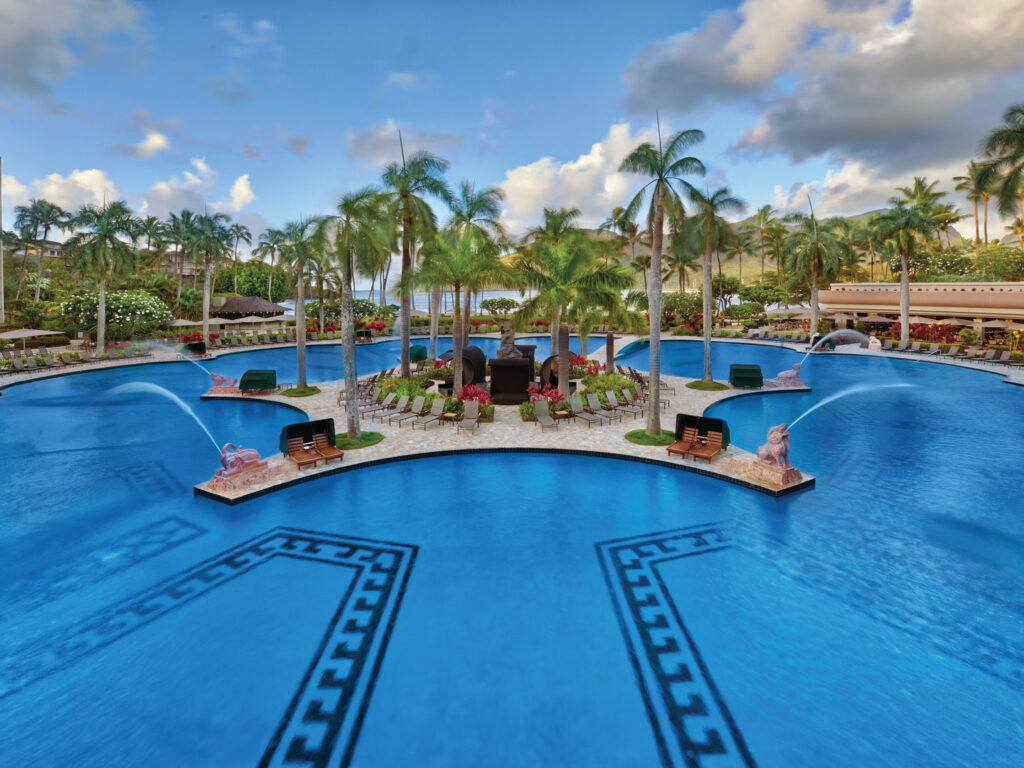 This resort, which ranks among the best hotels in Kauai, is a fantastic and reasonably priced choice. Along the picturesque Kalapaki Beach, the Marriott Kauai Resort and Beach Club is shaped like a regal Hawaiian house.
On-site features include a 26,000-square-foot swimming pool, a day spa, a fitness centre, and golf.
Due to its availability of eight meeting rooms, event planners, a fax/printer service, and an overnight messenger service, this resort is also well-liked for business conferences.
Key Amenities:
Golf course, day spa and fitness center
Outdoor pool and children's pool
Access to Kalapaki Beach
2. Hyatt Regency Maui Resort and Spa – Lahaina, Maui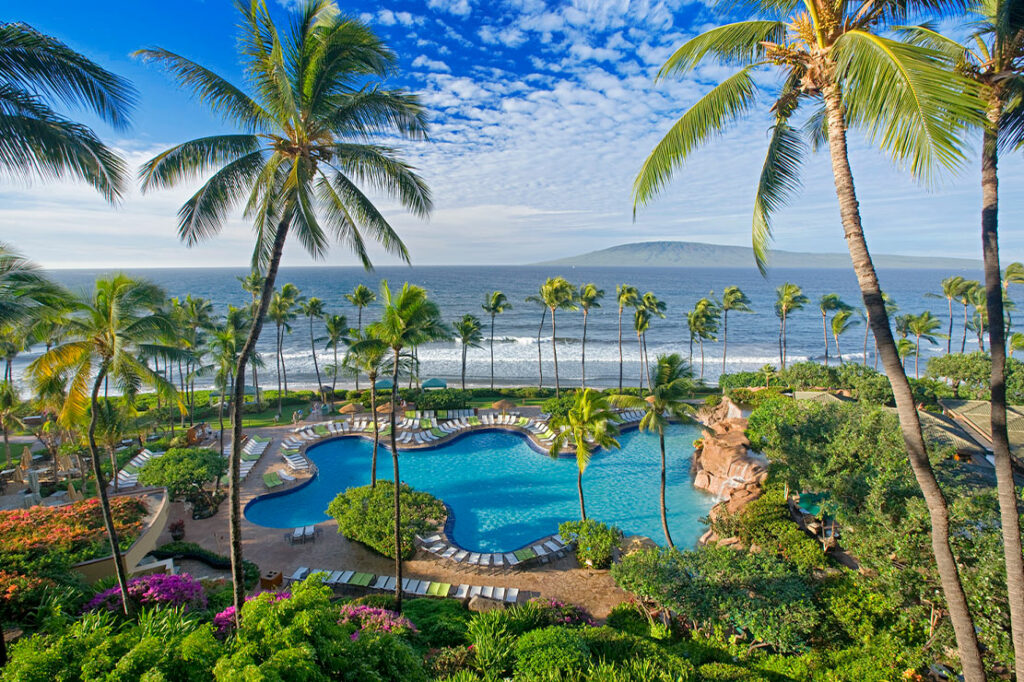 The Hyatt Regency is one of the best places to stay in Maui, and when you use online deals and promotions to get free nights, it becomes even more reasonable.
Six free-form pools with waterfalls, hotel shops, a full-service spa, and other amenities are available here. Ocean views and balconies can be seen in many of the guest accommodations.
Flat-screen TVs, minibars, and complementary robes are amenities in every guest room. Due to the abundance of restaurants, bars, and resort activities on-site, you won't need to travel far from your hotel to discover amusement.
Key Amenities:
Six pools with waterfalls and kids water playground
On-site spa, golf nightly luau and water activities
Packages and promotions for discounted rates
3. Marriott's Maui Ocean Club – Lahaina, Maui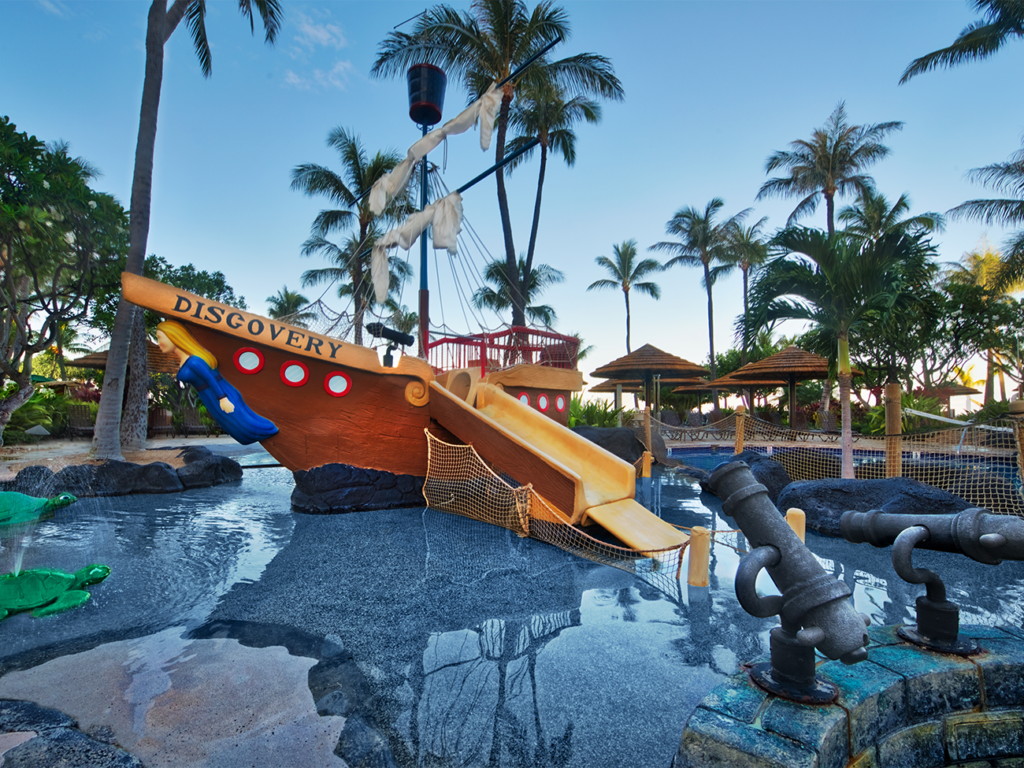 The Maui Ocean Club by Marriott is another budget-friendly beach resort in Hawaii. In addition to a kitchenette, washers and dryers, and balconies or patios with beach views, guests will appreciate resort facilities.
On-site, there is a sizable 3.5-acre pool with slides, a kids' play area, and a spa. Visit the on-site restaurants at Beach Walk Market, Lokelani Pool Bar, and Longhi's Restaurant on leisurely days.
This Lahaina beach resort on Maui is conveniently accessible to Front Street, Whalers Village, and Lahaina Cannery Mall, among other Lahaina landmarks.
Key Amenities:
Villas with full kitchenettes, washer/dyers and balconies or patios
3.5-acre pool with slides and children's play area
On-site spa and fitness center
4. Twin Fin Hotel – Honolulu, Oahu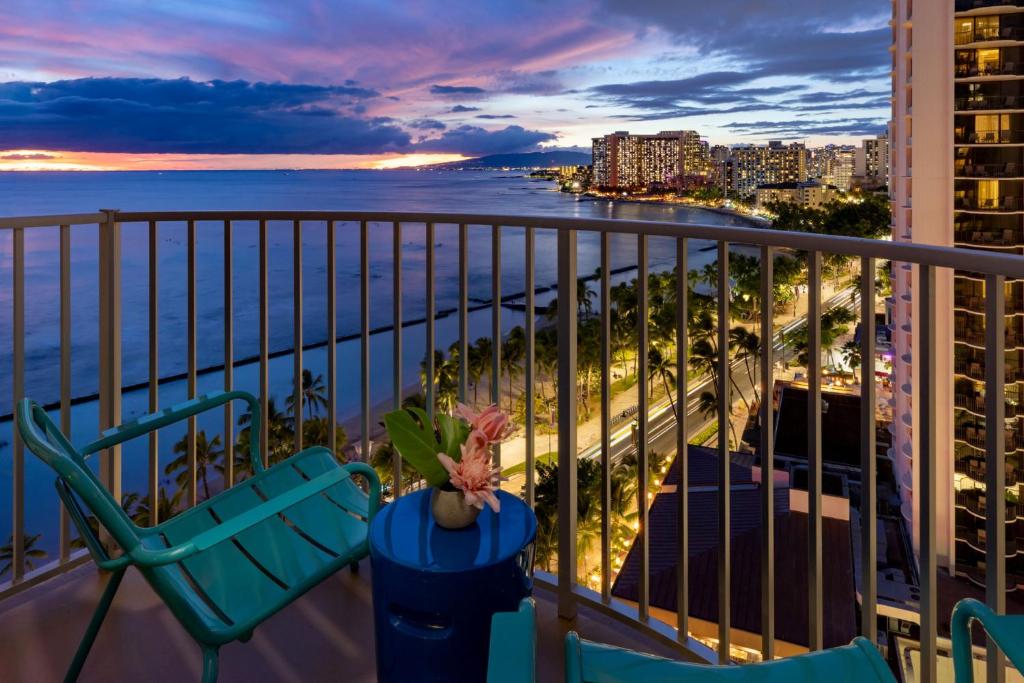 One of the nicest places you could ever want for is at the recently restored Twin Fin Hotel in Honolulu. The majority of the hotel's rooms have stunning ocean views due to its beachfront location.
This hotel is a favourite in Waikiki and a perfect choice for families visiting Hawaii because it is located to the Kuhio district, which is regarded as one of the most family-friendly neighbourhoods.
Private balconies, mini-fridges, big flat-screen TVs and the on-site Tiki's Grill & Bar are all available to guests.
Key Amenities:
Family-friendly and located near Kuhio section
Rooms with private balconies and ocean views
Beach access, pool and on-site restaurants
5. Hilo Hawaiian Resort – Hilo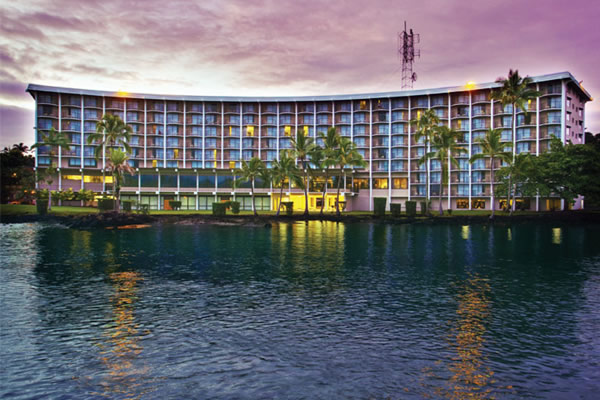 The Hilo Hawaiian Resort in Hawaii offers hotel rooms, suites, and meeting space as another inexpensive lodging alternative.
Instead of the one-bedroom oceanview suites, pick one of the regular rooms for a more economical stay. The only steakhouse in Hawaii is located at this hotel.
It offers views of both Mauna Kea and the ocean. All of the rooms have flat-screen TVs, refrigerators, and coffeemakers.
The majority of the rooms also have private lanais.To find out about current offers, visit the hotel's website's specials & discounts page.
Key Amenities:
Suites with private lanais and kitchenettes
Oceanfront swimming pool
Live music and on-site activities
6. Molokai Shores Resort – Molokai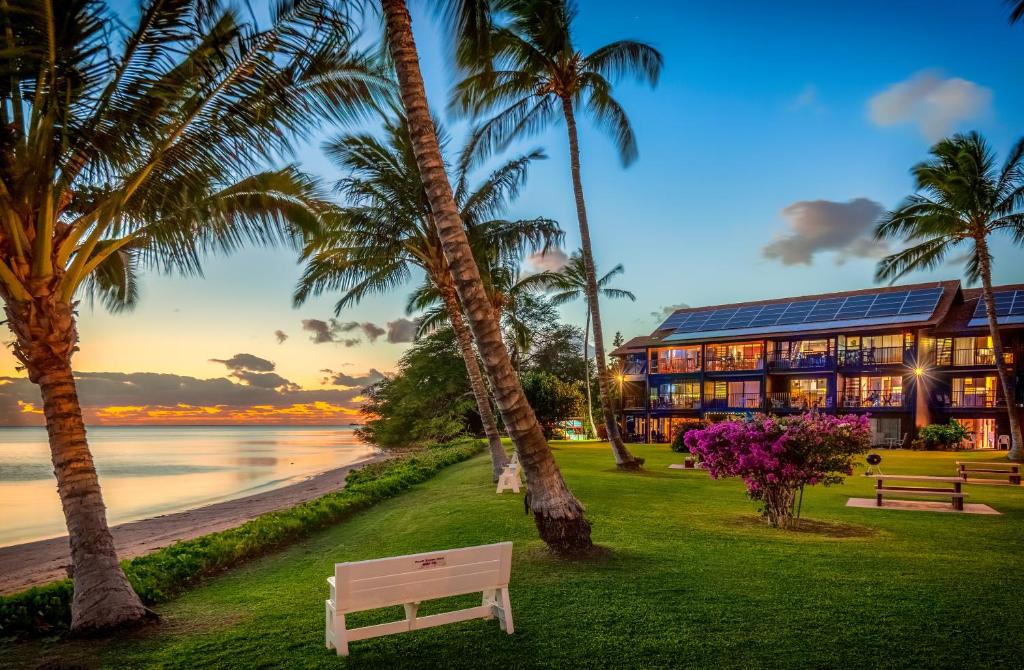 You can affordably enjoy Molokai's charm at the Molokai Shores Resort. It is located in the South End and enables you to truly connect with nature as well as discover the history and culture of the area.
You can get a one- or two-bedroom suite at the resort. The resort is only a half-mile from the Kaunakakai Town Centre.
You can park for free when you stay at this resort with modern design and Old Hawaii charm.
Key Amenities:
Oceanfront pool and barbecue area
One- and two-bedroom condos with kitchens and private balconies
Beach access with free parking
7. Maui Coast Hotel – Maui, Hawaii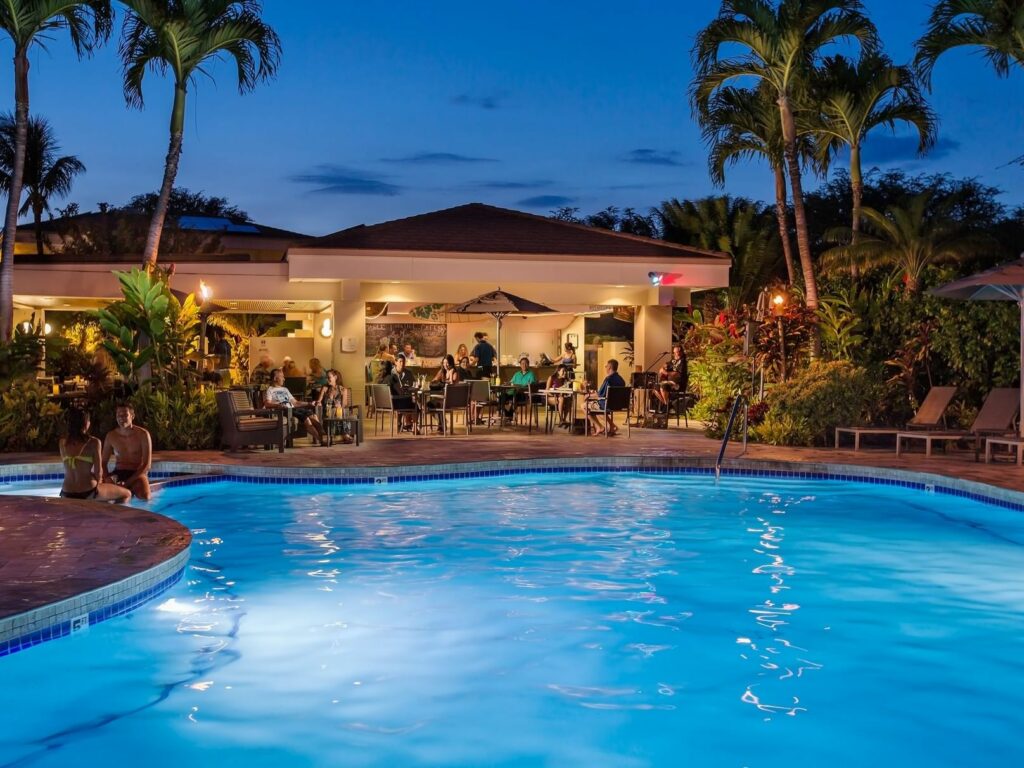 The Maui Coast Hotel, one of the greatest cheap hotels in the country, is a few miles from more expensive lodgings and situated close to a few other cheap hotels and resorts.
While there are several eateries close by, it only takes five minutes to walk from the Maui Coast Hotel to the beach.
This hotel offers generously sized rooms with contemporary decor, flat-screen TVs, and complimentary laundry services.
When live musicians start playing at night, the pool and the poolside bar are entertaining spots to hang out.
Key Amenities:
Pool and poolside bar with live music
Walking distance to award-winning beach
Free laundry facilities and hotel shuttle
8. Kaimana Beach Hotel – Honolulu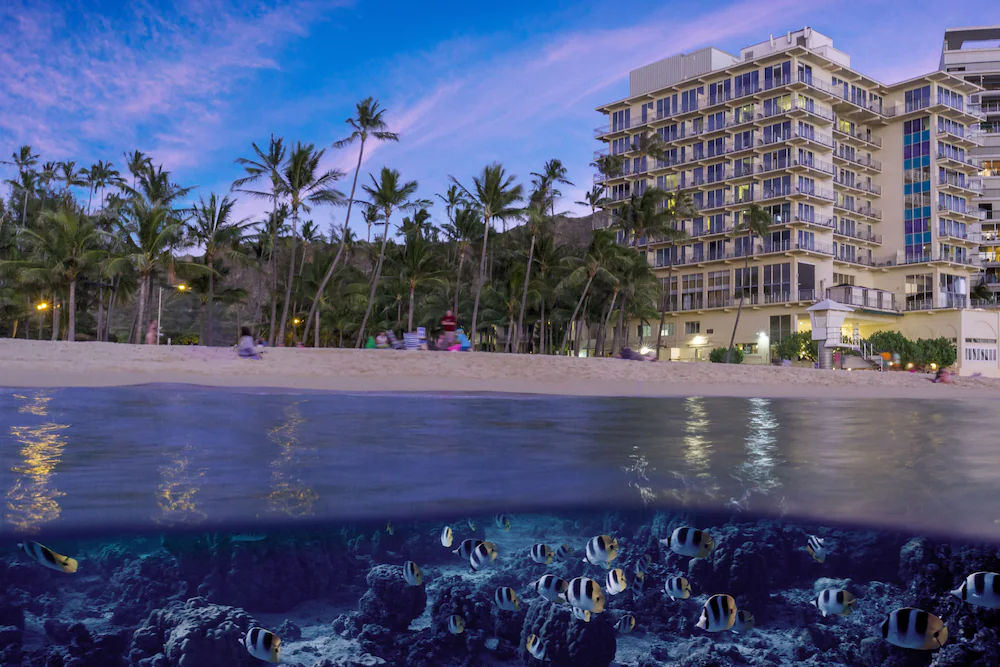 Booking a hotel at the Kaimana Beach Hotel will allow you to travel on a budget while in Hawaii. The Pacific Ocean and Diamond Head meet just in front of this hotel.
It's simple to lead an island lifestyle and completely unwind thanks to its distinctive oceanfront position. Here, there is a place called Hau Tree that serves up casual food with a beach theme.
You can take advantage of current discounts by visiting the hotel's website, which has exclusive specials.
You may enjoy beach club services, in-room privileges, and exclusive activities like cruiser bikes, surfboard rentals, wellness courses, and cultural offerings by purchasing a Kaimana Club Pass for $25 per day.
Key Amenities:
Beachfront location
Club pass for daily fee includes beach club services and activities
On-site casual restaurant
9. Royal Kona Resort – Kailua-Kona, Big Island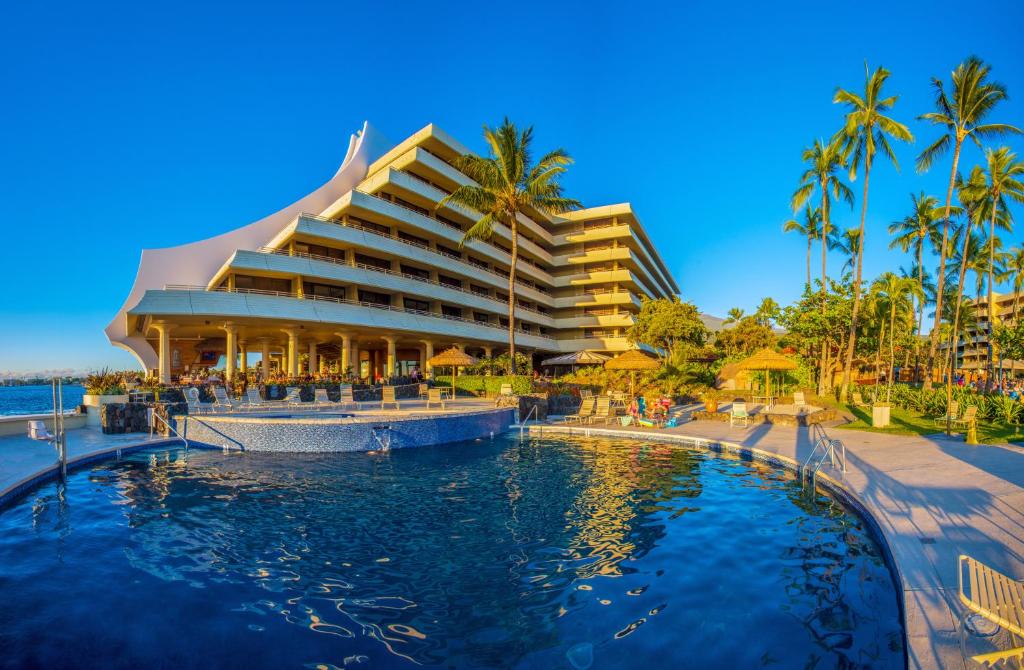 Royal Kona Resort may be the ideal choice if you're searching for a cheap hotel in a memorable and practical location. Both the grounds and the views are exquisite.
During your visit, make use of the tennis court, saltwater lagoon, massage and spa facilities, and fitness centre. The Kona Town activities, dining, and shopping can all be reached on foot from this resort.
Make sure to go to a Hawaiian luau, which includes a fire dance finale, an unlimited meal, an open bar with drinks and a traditional underground oven display.
Key Amenities:
Saltwater lagoon and pool
On-site spa and tennis club
Luau with buffet and complimentary drinks
10. Hotel Renew – Honolulu, Oahu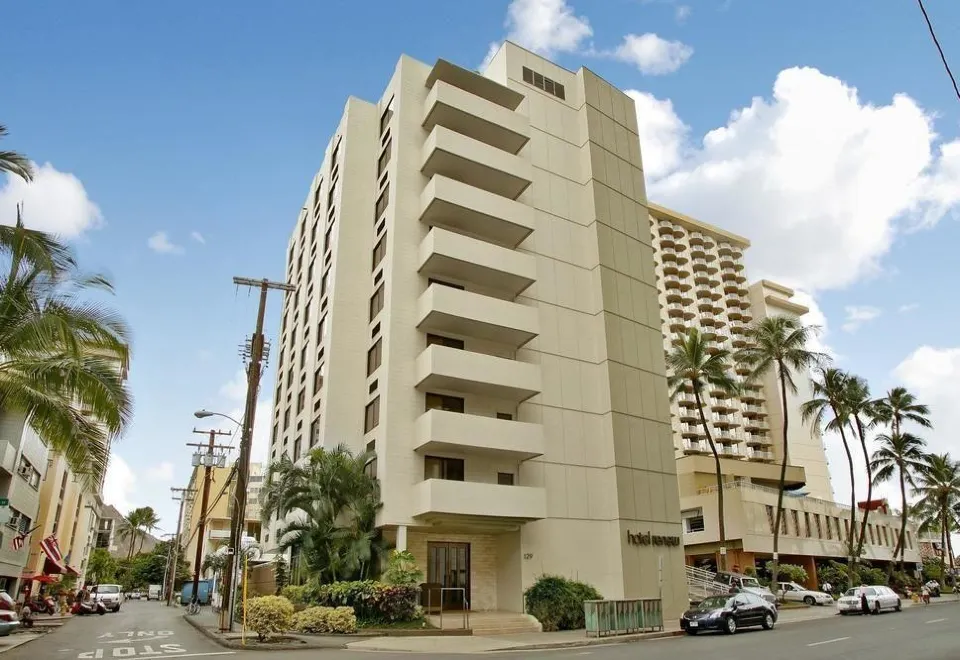 A boutique hotel with a designer aesthetic and a reasonable price is The Hotel Renew. It's simple to find your zen in the serene rooms, which have mid-century furnishings, fitness equipment, and beverage coolers and give soothing ocean views of Waikiki.
Start your day with a cup of Kona coffee, and if you're heading out for an experience like yoga in the park, take advantage of the grab-and-go alternatives in the lobby.
At reFresh, you can relax with local Hawaiian artisan beers, exotic drinks, or the "Coconut Water Colada." The amenity fee also covers beach supplies and toys.
Key Amenities:
Beach gear included in amenity fee
Dog-friendly rooms with ocean views
Free yoga in the park and in-room fitness equipment
11. Kahana Sunset – Lahaina, Maui
At this genuine Hawaiian resort with oceanfront condos and a secluded sandy beach, you may swim, snorkel, and unwind.
If you want to see wildlife, Kahana Sunset is an excellent place to stay because it's close to prominent wildlife viewing spots like those for whales and sea turtles.
A daily cleaning service, a fully furnished kitchen, a washer/dryer, and cable TV are available at this resort.
The resort has heated swimming pools where you can unwind while cooking up a tasty dinner on the adjoining gas grills next to inviting lounge chairs.
Key Amenities:
Oceanfront condos with full kitchens
Private sandy beach
Resort pools on property
12. Outrigger Kona Resort & Spa – Kailua-Kona
This oceanfront hotel is situated on Hawaii's Kona Coast and provides a cheap haven for the soul.
You may find oceanfront rooms and suites on 22 acres of Kona coastline at Outrigger Kona Resort & Spa, which is poised above the lava cliffs below.
This resort offers luau packages, live entertainment, on-site dining, and the chance to swim with manta rays. If you want to treat yourself to some pampering, this resort has a spa.
The resort's golf package includes your stay and daily breakfast as well as two games of golf at the nearby Kona Country Club.
Key Amenities:
Multi-level pool with water slide
Luau packages and live music
On-site spa
13. Waikiki Resort Hotel – Honolulu
The Waikiki Resort Hotel, which is only a short stroll from Waikiki Beach, is a reasonably priced and highly regarded option in Honolulu.
There are discounts available for stays of five nights or longer, as well as a military rate, an advance booking promotion, and upgrades with hot breakfasts.
The accommodations include 49-inch TVs, coffee and tea makers, and other conveniences. The resort also features a sun deck and an outdoor pool.
Key Amenities:
Free breakfasts included
Outdoor pool and sun deck
One minute walk to Waikiki Beach
14. The ISO – Kapaʻa
Private lanais in each guest room at the Kapaa boutique hotel The ISO provide views of the Pacific Ocean.
There is also the Bull Shed Restaurant, which serves steak, seafood, and tropical cocktails with live entertainment and sitting by the ocean.
Daily grab-and-go breakfast is also included with your stay. Flat-screen TVs, Hawaiian coffee, air conditioning, and pillowtop beds are included in the hotel rooms here.
If you prepay or are a member of the military, discounts are offered on the hotel website.
Key Amenities:
Oceanfront rooms with private lanais
Daily breakfast included with stay
Deals available for prepay and military
15. The Modern Honolulu – Honolulu
One of the most reasonably priced hotels in the region is the modern luxury The Modern Honolulu.
The hotel is well-regarded and has two swimming pools for guests to cool off in, exercise centres for guests to keep healthy and on-site eating at The Grove Restaurant & Bar.
The resort features a full-service spa as well. Rooms and suites with ocean, partial ocean, or city views are available.
On the hotel's website, special offers are made available for residents planning a staycation, veterans, and more to help you stick to your travel budget.
Key Amenities:
One family pool and one adults-only pool
Full-service spa on-site
Deals available for locals, military/veterans and more.
15 Most Affordable Beach Resorts in Hawaii 2023 – Newshub360.net
Related Post

Credit: www.Newshub360.net