The 9 Oceanfront Hotels in Pensacola Beach 2023: On the western coast of Florida, on the Gulf side of the state, you'll find the popular beach location of Pensacola Beach.
There is a beachfront property on Pensacola Beach that is suitable for every kind of tourist, from those on a budget to those looking for the height of luxury in their accommodations.
When you book a room at one of these top hotels in Pensacola Beach, you can experience the beauty of Florida's Panhandle and have the chance to feel the sand between your toes while listening to the sound of the waves.
Top 9 Oceanfront Hotels in Pensacola Beach 2023
1. Hilton Pensacola Beach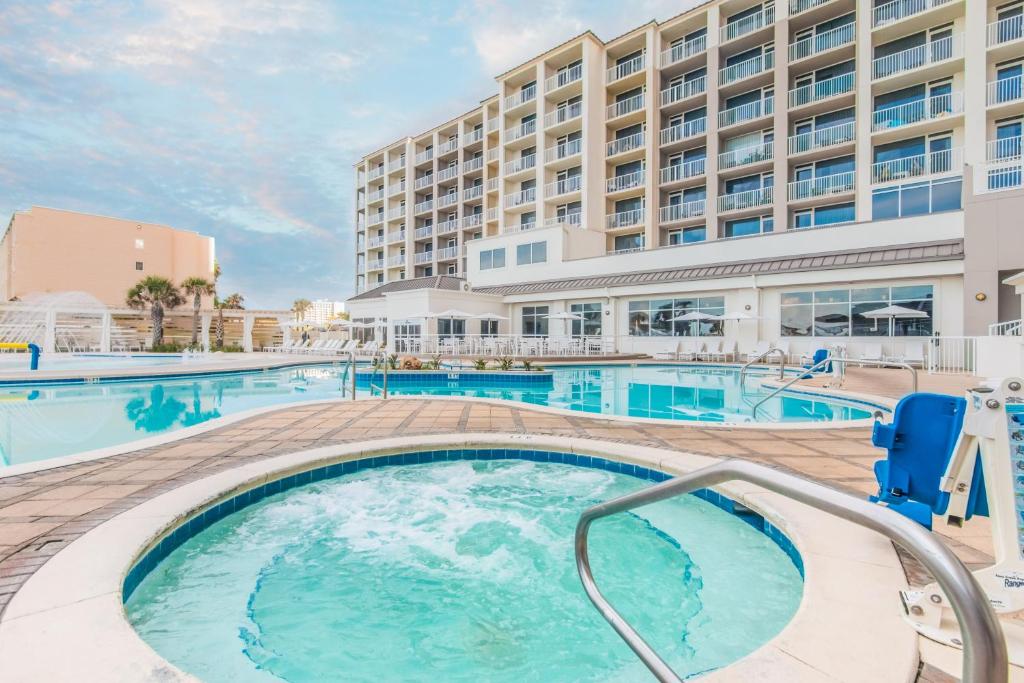 The Hilton Pensacola Beach is consistently ranked as one of the highest-rated and most desirable alternatives for luxury resort stays on Pensacola Beach.
The rooms and suites at this hotel, which is located on a hill overlooking the Gulf of Mexico, are rather big.
Guests who choose to stay at this Hilton location may take advantage of the oceanfront pool, the on-site grill and restaurant, and the beach chair service.
The Hilton Pensacola Beach is an excellent choice for families because it has a children's water play area and often conducts activities for young guests.
Key Amenities:
Beachfront pool with beach chair service
On-site grill, lounge and spacious rooms
Kids' programs and water play area
2. Holiday Inn Resort Pensacola Beach Gulf Front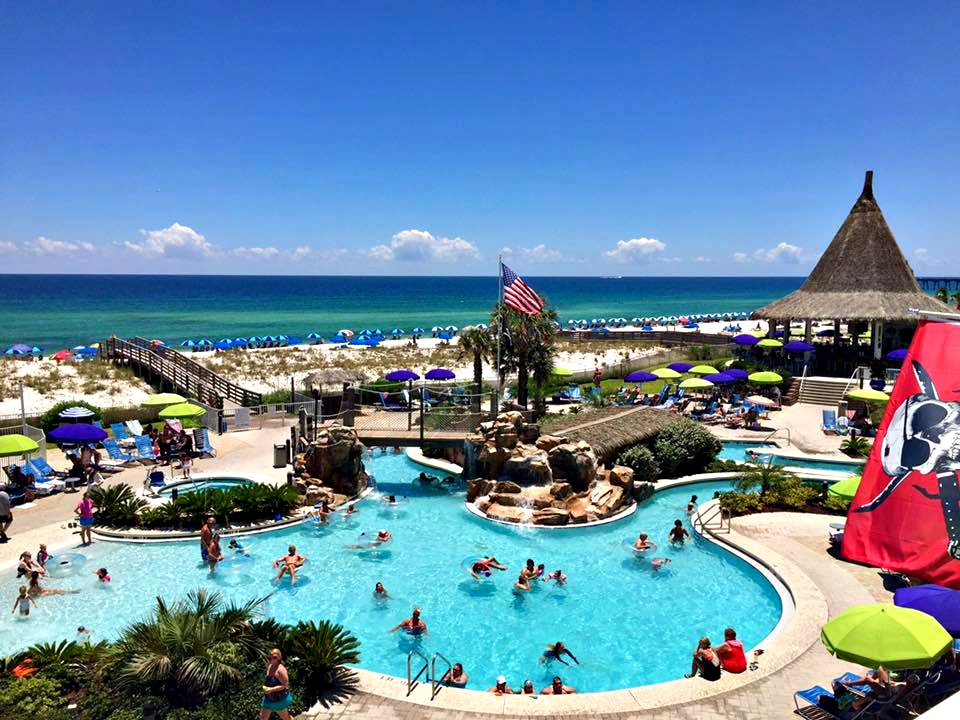 Sunbathers continue to be drawn to the Holiday Inn Resort Pensacola Beach Gulf Front due to the hotel's fantastic location as well as the hotel's 250-foot lazy river.
This Holiday Inn location really features one of the greatest pools out of the beachfront hotels located in Pensacola and is considered to be one of the top beachfront hotels along the Gulf Coast of Florida.
Featuring a tiki bar and waterfalls, it's possible you'll never want to leave this place. If you do decide to leave the resort, however, you will be in close proximity to a variety of restaurants, pubs, and water activities that are all accessible on foot.
Key Amenities:
250-foot lazy river and waterfalls
A tiki bar
Great location close to dining and water activities
3. Hampton Inn Pensacola Beach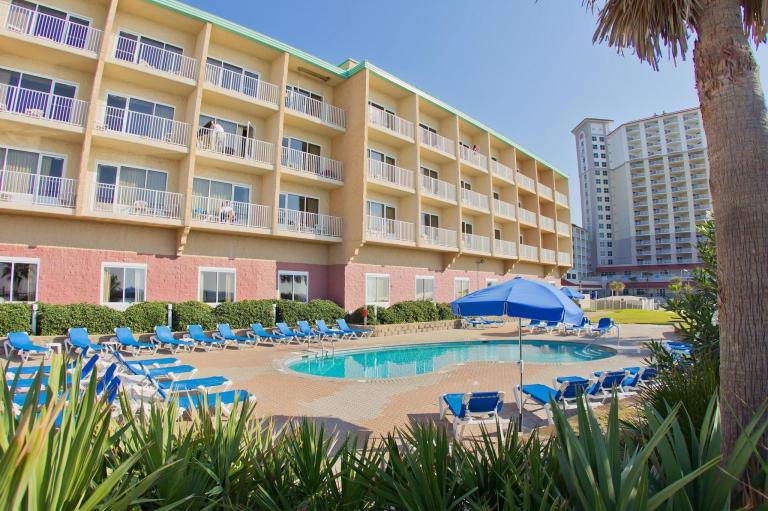 When you book a hotel at the Hampton Inn Pensacola Beach, you can take advantage of a room that comes equipped with its own balcony.
Make the most of your time here by taking advantage of the complimentary breakfast and the beachside pool, which are two of the attractions that are the most well-liked and appreciated by visitors that stay here.
Grab a drink at the tiki bar or unwind in the hot tub as you relax by the pool. Both are conveniently located nearby.
The Hampton Inn Pensacola is certainly among the top beachfront hotels in this region due to its excellent location as well as its competitive room rates in comparison to those of other hotels in the neighborhood.
Key Amenities:
Complimentary daily breakfast
Tiki bar, hot tub and beachfront pool
Affordable rooms with private balconies
4. Holiday Inn Express Pensacola Beach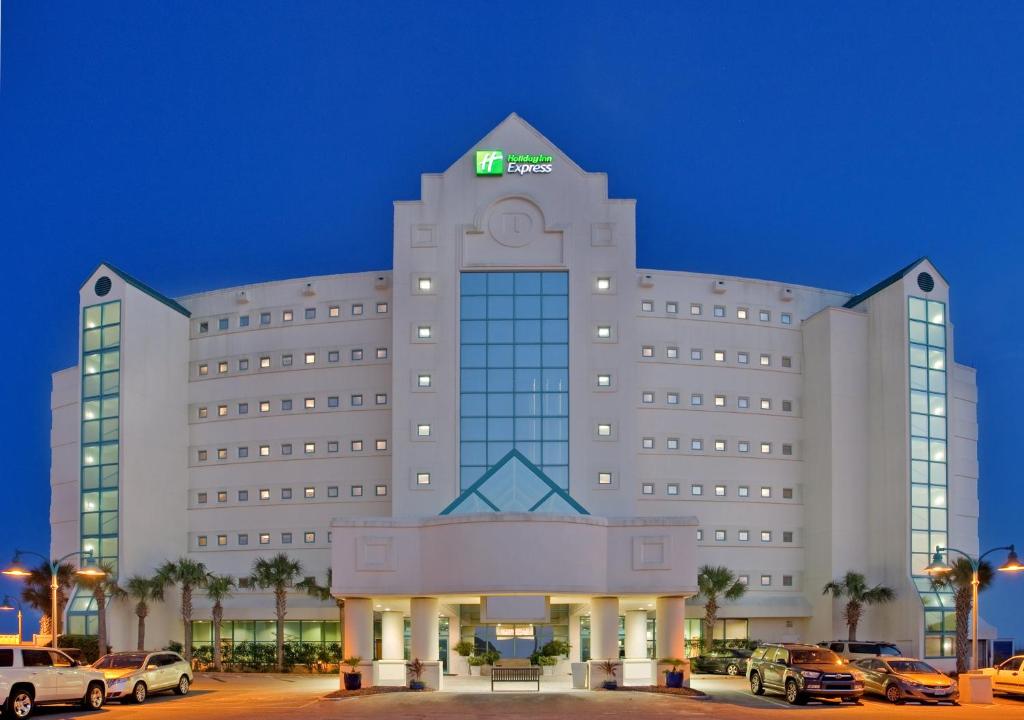 The Holiday Inn Express Pensacola Beach has reasonably priced suites that are ideal for big groups as well as families. Each of the guest rooms at this property features a kitchenette as well as a balcony.
On the other hand, the rooms aren't really what bring in families to this location. This Holiday Inn Express location is ideal for a family vacation as it features an outstanding pool area and is a great place to base yourself while on vacation.
Take advantage of the complementary breakfast, the on-site restaurant that offers free meals to children under the age of 12, and the beachfront location that makes accessing the beach a breeze.
Key Amenities:
Affordable suites with kitchenettes, balconies
Impressive pool area
Free breakfast and meals for kids 12 and under
Accessible beachfront location
5. Portofino Island Resort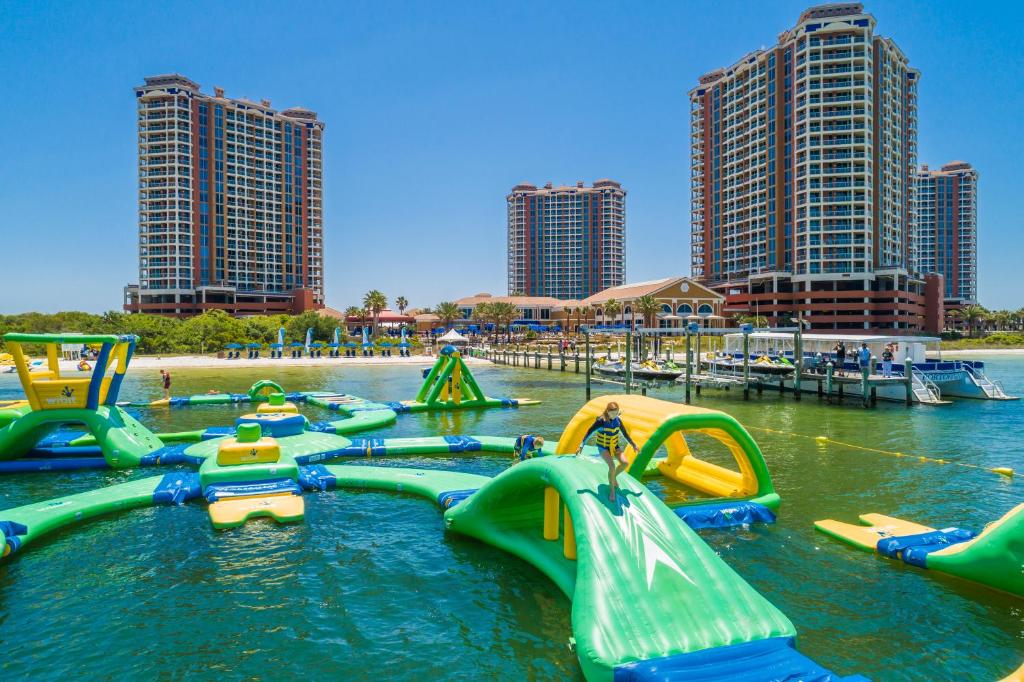 Since Portofino Island Resort provides condo and apartment-style accommodations rather than traditional hotel rooms and suites, it is ideal for vacationers who want more square footage than what is available in a standard room or suite.
Each of these apartments features a fully-equipped kitchen, as well as a washer and dryer in the unit. This hotel is located very near to the beach, despite the fact that Portofino Island does not provide direct access to the sand.
Spend some time at the spa, one of the three restaurants, the outdoor pools, or the water park while you're here, or take advantage of the complimentary dolphin cruise. All of these amenities are located on-site.
Key Amenities:
Condo and apartment-style accommodations
Units all equipped with full kitchen, washer and dryer
On-site spa and multiple restaurants
Pools, water park and free dolphin cruise
6. SpringHill Suites by Marriott Pensacola Beach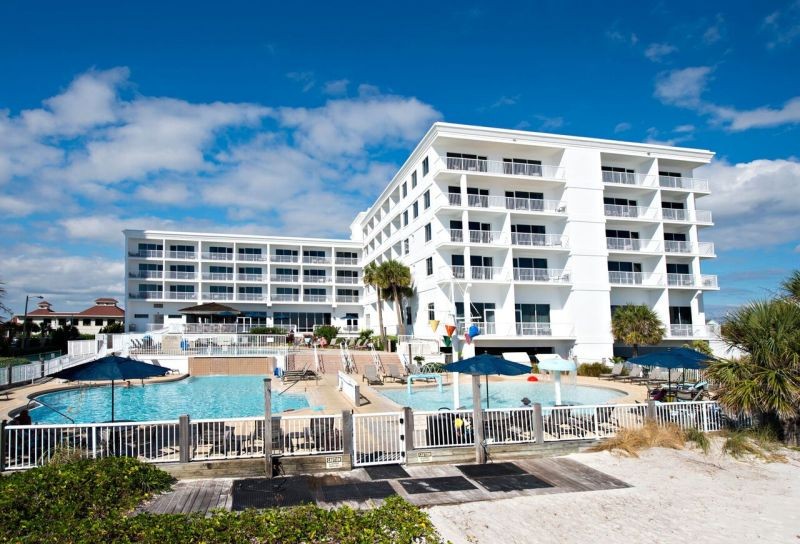 If it is crucial to you to stay in close proximity to the beach at a price that is within your budget, then SpringHill Suites is the perfect accommodation choice for you.
The SpringHill Suites by Marriott Pensacola Beach features three outdoor pools, in addition to a sandwich shop and bar that are located directly on the beach.
A stay in any of these rooms comes with a free breakfast, and there is no shortage of useful amenities in any of them.
Key Amenities:
Three pools
Oceanfront dining
Stay includes daily breakfast
7. Surf & Sand Hotel
The Surf & Sand Hotel in Pensacola Beach is a well-liked and reasonably priced beach hotel that is situated in the heart of all the action.
The hotel is located within walking distance of a number of restaurants and bars, and it features a number of attractions on-site, such as an outdoor pool and the Little Sabine Bay in its rear, to keep guests engaged.
The hotel provides guests with a complimentary breakfast, as well as free use of paddle boards, kayaks, and beach cruisers, in addition to complimentary floats in the shapes of doughnuts, pizza, and swans.
In addition, for an added price, they provide accommodations that are suitable for traveling with pets.
Key Amenities:
Walking distance to restaurants and bars
Free breakfast, paddle boards, kayaks and floats
Pet-friendly rooms
8. The Pensacola Beach Resort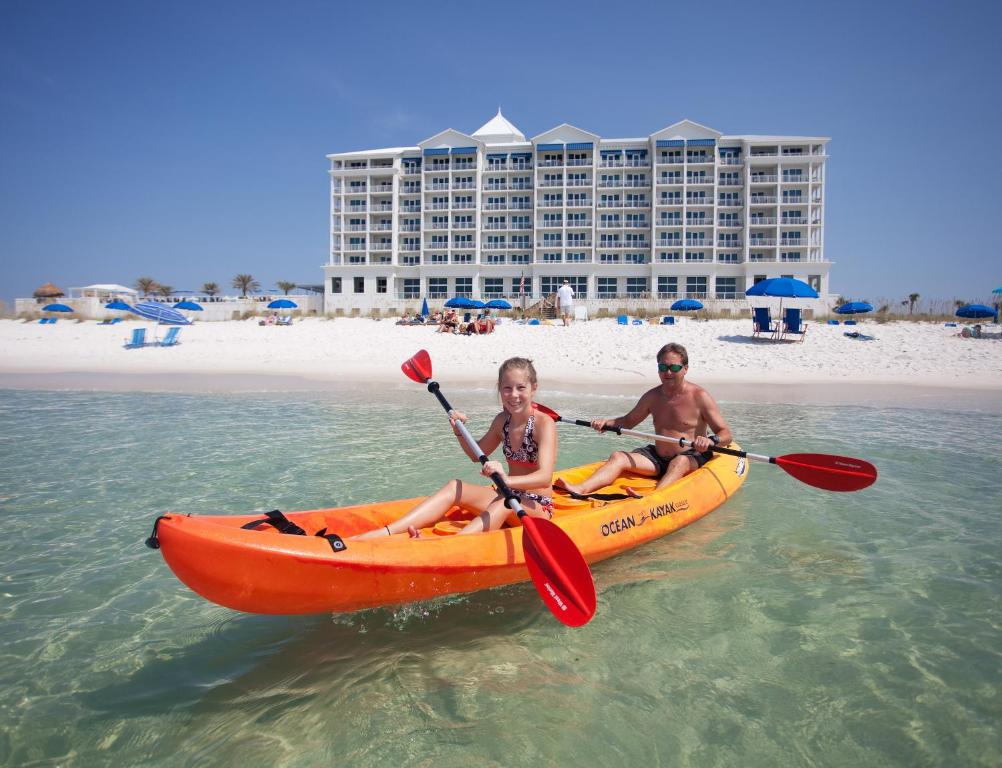 The Pensacola Beach Resort is located on the Emerald Coast of Florida and features accommodations that take their design cues from the surrounding coastal environment.
Find a room in the upgraded category that has a private balcony and a view of the ocean if you want the finest possible panorama. At the on-site restaurant Windrose, you can start your day with avocado toast or French breakfast.
Meanwhile, the Tiki Bar, which is positioned poolside and serves exotic tropical cocktails, is a great place to grab a drink. Alternately, you may go to The Salty Rose and choose from their selection of fresh salads, fish sandwiches, and loaded nachos in between games of volleyball and stretches of relaxation in the hammocks.
Key Amenities:
Upgraded rooms with beachfront views
Multiple on-site restaurants
A poolside tiki bar
9. Holiday Inn Express & Suites Gulf Breeze – Pensacola Area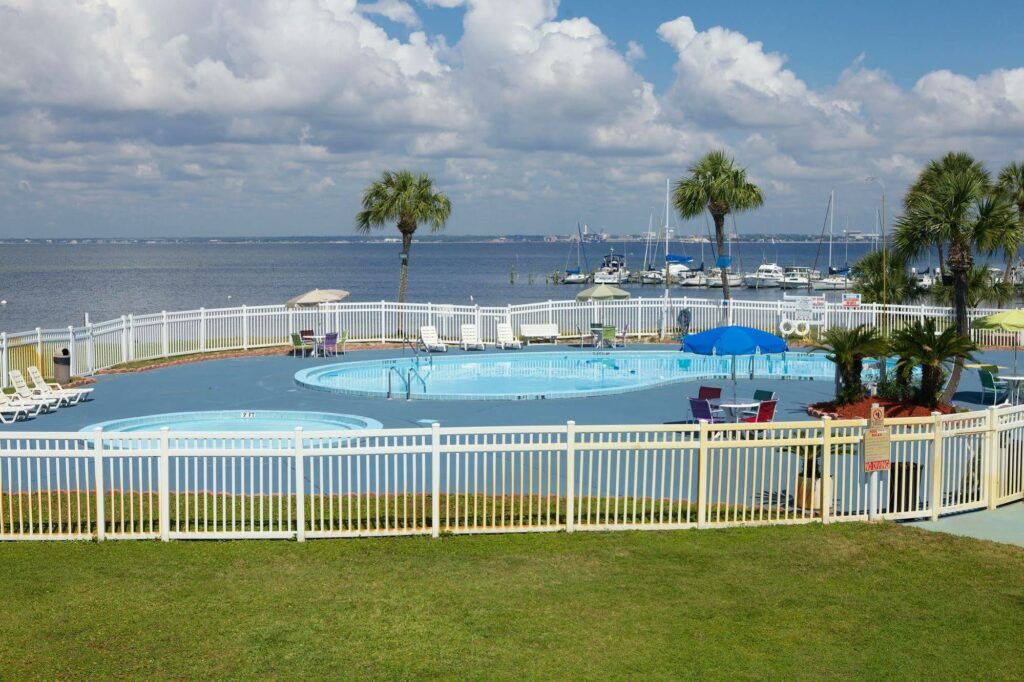 Holiday Inn Express & Suites Gulf Breeze – Pensacola Area is located approximately two miles from the sugary white sand coastline that Pensacola Beach is famous for, despite the fact that the hotel does not have a beachfront location.
The Gulf Islands National Seashore, the Gulf Breeze Zoo, and Fort Pickens State Park are just a short drive away from this family-friendly hotel, so there are lots of reasons to stay at the hotel rather than exploring the surrounding area.
You are welcome to take advantage of the daily hot breakfast bar, and thereafter, you can unwind in the outdoor pool area, which comes equipped with barbecue grills and a fire pit.
The rooms are equipped with convenient amenities such as mini-refrigerators, blackout drapes, and air conditioning.
Key Amenities:
Two miles to beach
Daily hot breakfast bar
Pool area with grills and fire pit
The 9 Oceanfront Hotels in Pensacola Beach 2023 – Newshub360.net
Related Post

Credit: www.Newshub360.net