The 14 Best Cabin Rentals in New Mexico 2023: New Mexico is home to several beautiful woods that are ideal for a trip in the outdoors, contrary to popular belief among those who have never visited the state.
To make matters even better, there are some incredible Airbnbs located all across the state that you can reserve to experience a rural atmosphere while yet being secure and comfy.
The following are some of the most recommended vacation rentals for cabins in New Mexico, where you may take in the breathtaking scenery of the Southwest.
14 Best Cabin Rentals in New Mexico 2023
1. Great Sierra Blanca View Cabin – Ruidoso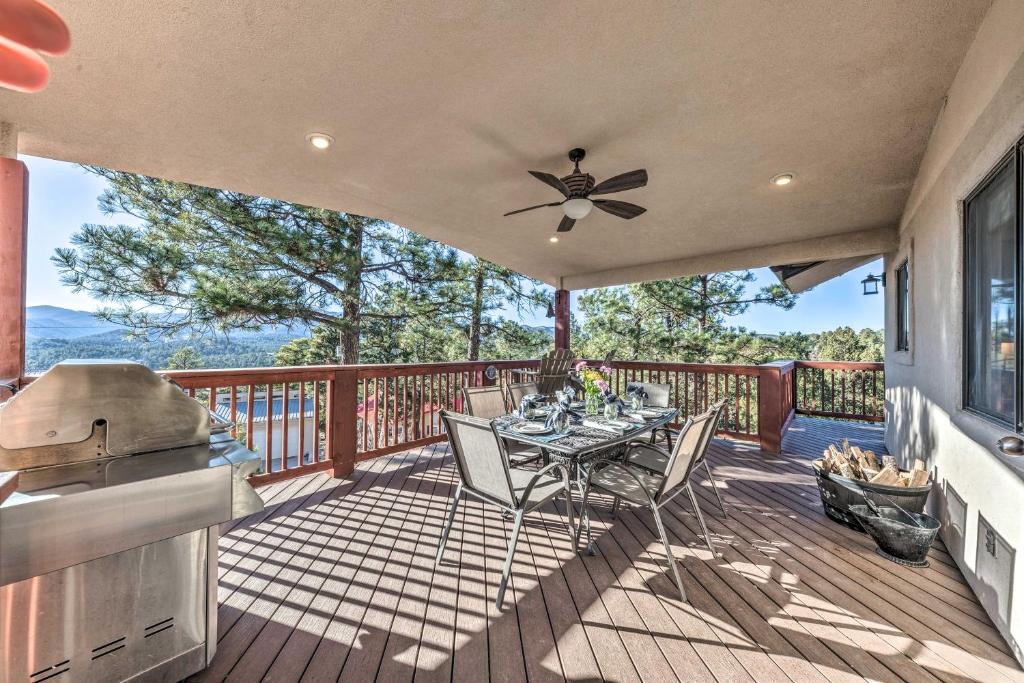 Make a reservation at this Vrbo cabin to take advantage of one of the most desirable settings in the entire town of Ruidoso.
The cabin features a total of three bedrooms, two bathrooms, a hot tub, and rustic furnishings; it can accommodate a total of eight people.
You'll appreciate the peace and quiet of this location at a height of 7,300 feet, as well as the views of the Sierra Blanca.
In addition, there is a hiking route that leads directly off the redwood deck, which is 600 square feet in size and has a partial roof over it. There is a cost of $75 per pet, with a maximum of two permitted.
2. Carson Cabin: Updated Home, Deck with Mountain View, Fireplace – Red River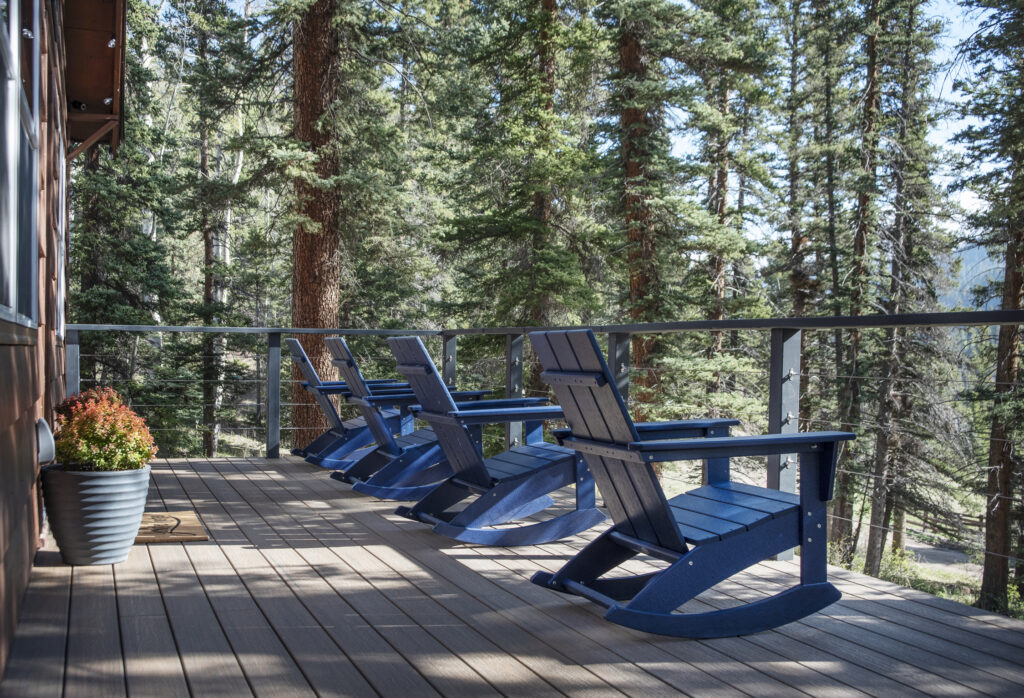 This stunning home, which has three bedrooms and was named Carson Cabin after the nearby Carson National Forest, is a paradise for anyone who enjoys spending time outside.
In addition to offering breathtaking panoramas of the mountains that surround the Upper Red River Valley, this property also comes equipped with a fully supplied kitchen, a comfortable living room with a fireplace, as well as an outside barbecue grill and picnic tables for accommodating large groups.
After you have had some time to relax and take in the natural mountain air from the terrace, you may visit the adjacent town of Red River to go eating and shopping.
You'll be able to participate in a wide variety of outdoor activities throughout the whole year, from hiking, fishing, and bicycling in the spring, summer, and fall to snow sports in the winter.
3. Love Shack II – Santa Fe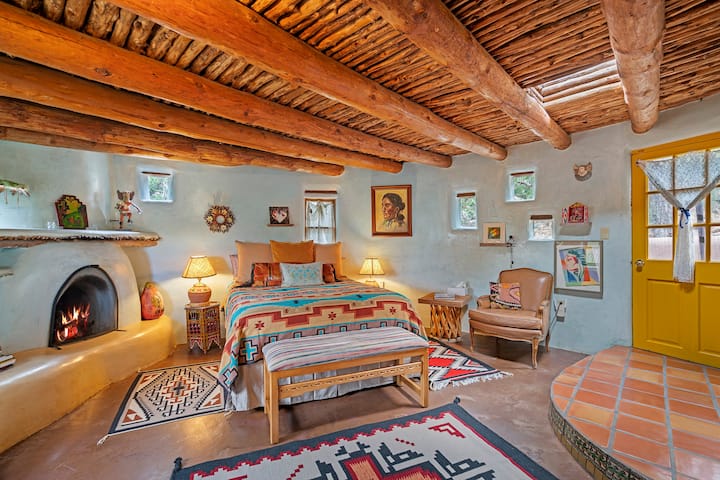 This Airbnb cottage is located in a semi-rural hamlet and is only 15 minutes away from the heart of Santa Fe. It is quite popular. It has two bedrooms and one bathroom, so it can accommodate five people.
In this location, you'll enjoy your very own deck, in addition to miles of trails for hiking and riding. It is a two-story residence designed in the manner of a casita and is located close to the main house of the host.
It is located in a dark-sky location, so there are no streetlights nearby, and it comes with a fully equipped kitchen. This will allow you to better appreciate the beautiful night sky and the stars overhead.
Included in the list of amenities are a continental breakfast, coin-operated laundry facilities, wireless internet access, and free parking. There is a one-time fee of $50 that must be paid in order to bring your pet here.
4. A Mountain Escape with Endless Views Cedar Crest, close to Albuquerque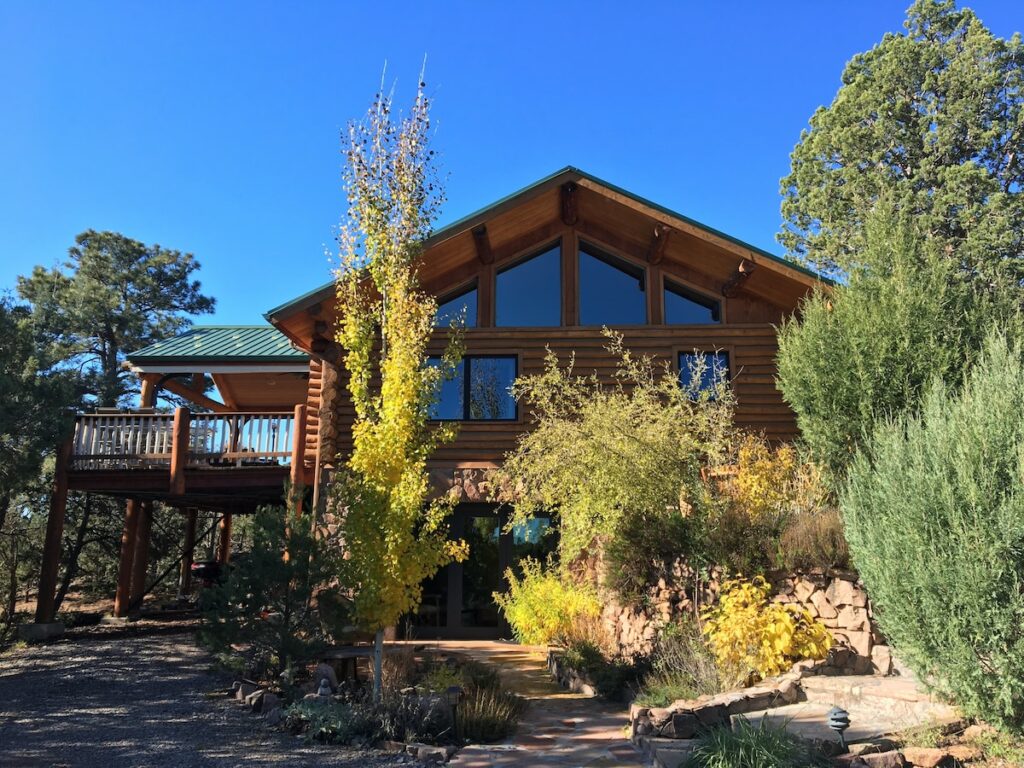 Make a reservation at this large cabin rental, which is located only ten minutes outside of east Albuquerque and boasts a layout with four bedrooms.
The A-frame gem is tucked away in the picture-perfect Sandia Mountains, and it features a wrap-around balcony, an outdoor hot tub, and a fireplace, in addition to the magnificent views of the surrounding natural scenery.
Relax in the bubbling spa or take a nap in the hammock after a day filled with exciting activities like sight seeing and outdoor exploration.
5. Pet-Friendly Sprucewood Cabin in the Upper Canyon – Ruidoso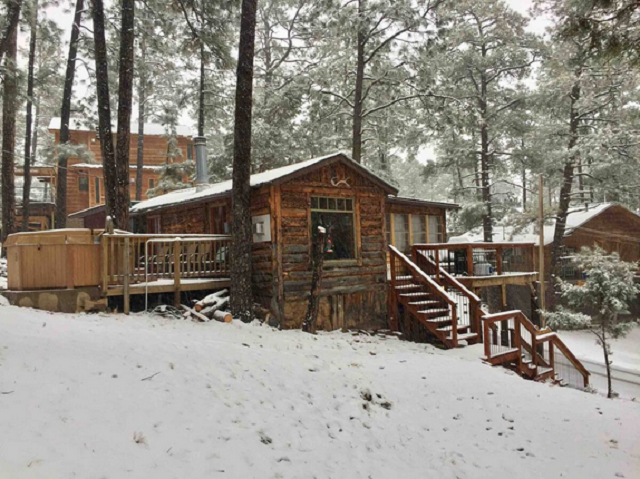 This rustic log cabin was built in the 1940s and is located in the forested Upper Canyon section of Ruidoso. It can comfortably accommodate up to six people.
It is situated on a hilltop with a view of the surrounding mountains, forests, and cottages, and it has a contemporary yet rustic appearance. The yard is regularly visited by deer, which may be attributed to the proximity of the river.
Wi-Fi, a television with cable, and a recently renovated gas fireplace are among the contemporary elements. The trailhead for Perk Canyon is a quarter of a mile away, and both restaurants and stores can be reached in about five minutes by vehicle.
Perk Canyon can be reached in just two minutes by automobile. This property has all the makings of a relaxing mountain retreat, replete with a hot tub and furnishings reminiscent of a ski lodge.
Because this is a rental that allows pets, you may bring your canine companion along for the ride.
6. Cabin with Hot Tub & Mountain Views – Ruidoso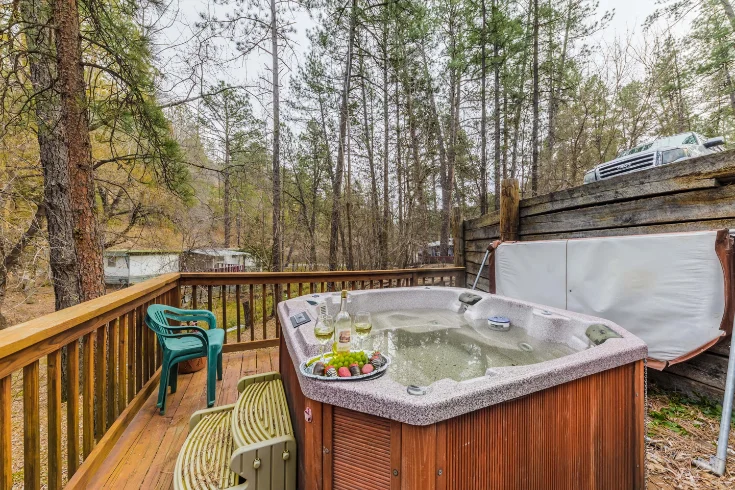 A vacation in a remote cabin is a great way to experience all that Ruidoso has to offer, and one particular property in the area can accommodate up to five guests.
In the middle of the Sacramento Mountains, this home features two bedrooms and one and a half bathrooms. The property includes around 1,100 square feet of living space, a deck with a gas grill and a private hot tub, and magnificent views of the surrounding mountains.
In addition to that, it has wireless internet access, cable television, a gas fireplace, and several windows that create an open concept inside.
During the winter, you can also go skiing or snowboarding at the Ski Apache Resort, which is located within a drive of about 15 miles.
7. Beautiful Cabin Near Angel Fire and Red River – Eagle Nest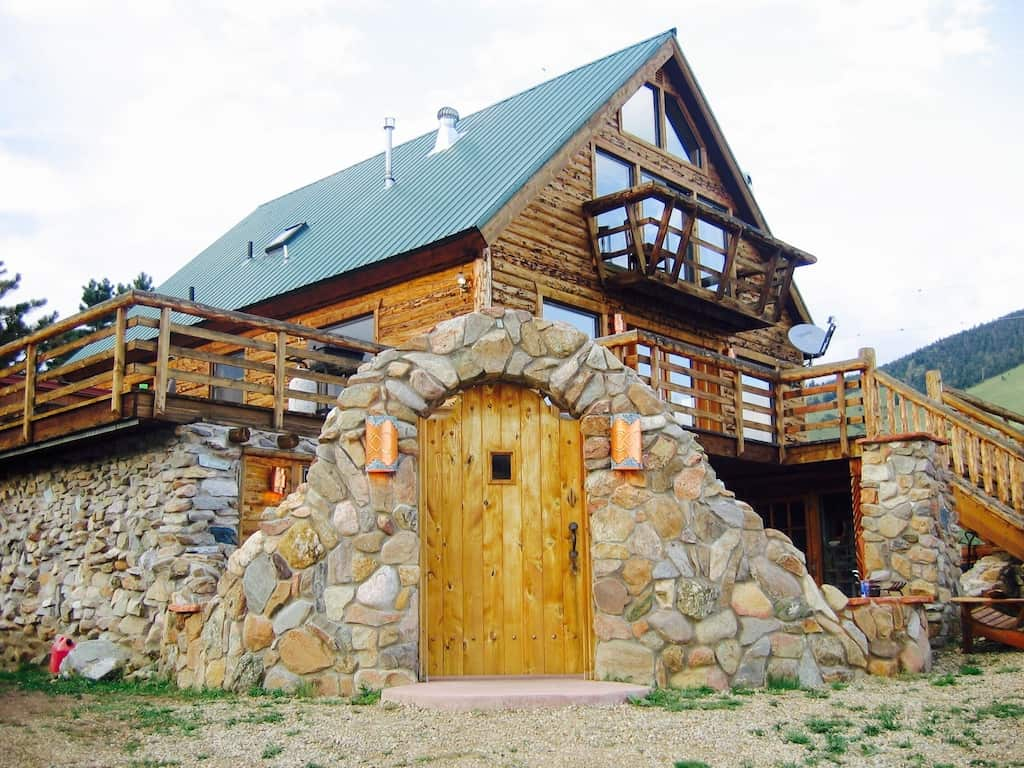 This magnificent cabin features six bedrooms and five bathrooms, making it ideal for accommodating large parties of up to 14 guests at a time.
On a secluded 100-acre ranch next to Moreno Creek, it has been meticulously cleaned and sanitized for the benefit of the visitors.
You'll be close to Eagle Nest to the north, and the ski slopes of Angel Fire and Red River will be only 15 minutes away.
The cabin is a three-story residence that features a deck that goes all the way around the structure, two master bedrooms, two living rooms, a kitchen, and a kitchenette on the bottom level.
This cabin rental is popular among many people as a location for multi-family gatherings, family reunions, and corporate retreats.
8. Modern Cabin in the Woods – Glorieta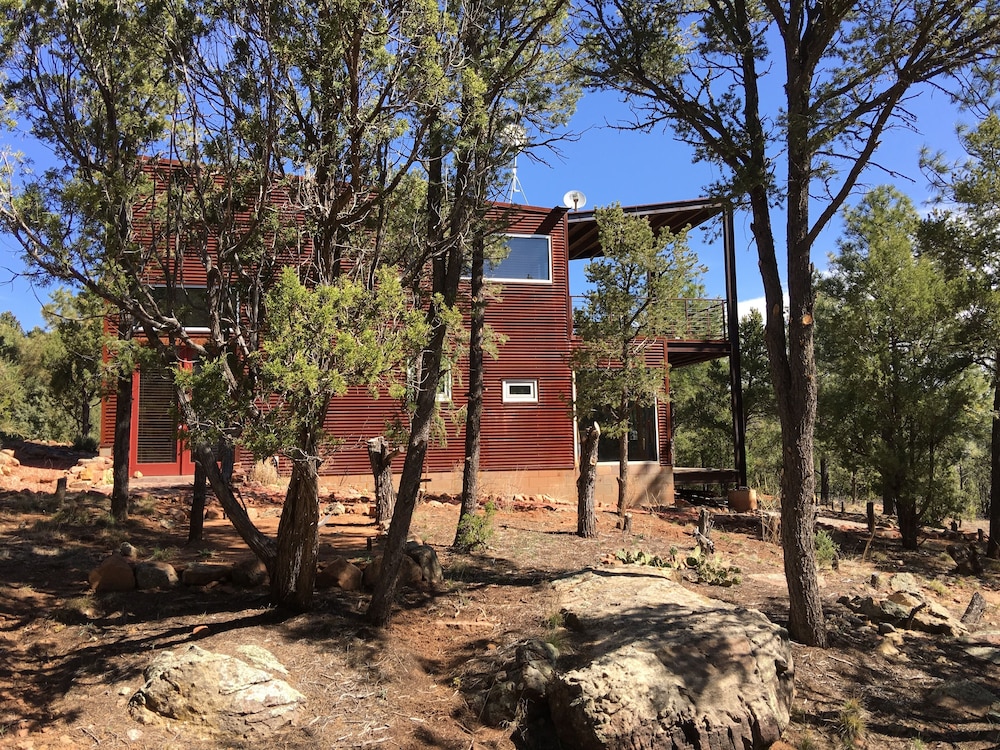 Couples who are vacationing in New Mexico often choose to stay in this little cabin, which has one bedroom and one bathroom and is located just east of Santa Fe.
You will have access to a lot of wildlife as well as seclusion with this 900-square-foot cottage that is situated on six acres of pine trees.
The home features two levels, a full kitchen, a full bathroom, laundry machines, a queen-size bed, and a loft that can be utilized as either an office area or additional sleeping space for children.
While you are here, you will have access to the Pecos Wilderness, as well as the river and the national historic park.
Additionally, there are six other ski resorts that may be reached within a couple of hours' drive. You can make arrangements with the host to have groceries purchased before your arrival or to have an on-site massage for an additional cost.
9. Cozy Cabin by the Wild Brazos – Los Ojos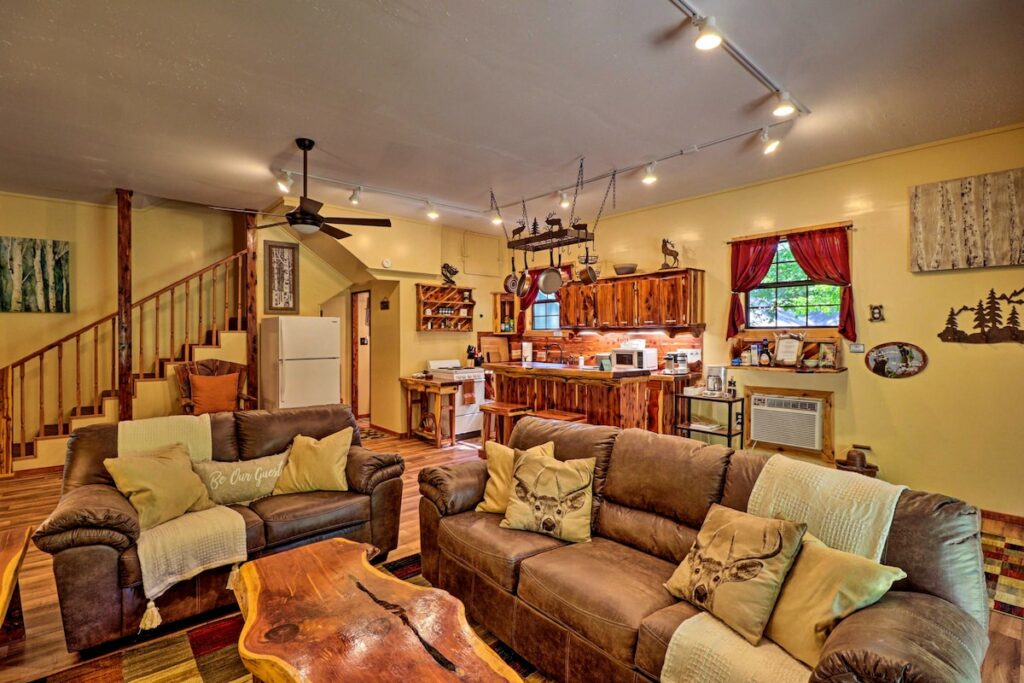 This restored A-frame cabin is located in the Upper Brazos Valley at a height of 7,800 feet and can comfortably accommodate up to five guests. It comes with all of the modern conveniences of home.It is meticulously cleaned and sterilized, and it offers two separate bedrooms for your convenience.
You'll be less than two hours away from Santa Fe when you rent this cabin, and it comes with a fully stocked kitchen, a bathroom, a wood burner, electric heat, a porch, and breathtaking views of the surrounding mountains.
It's a lot of fun to stay here since it's only eight blocks away from the river, so you can easily access it, and you can also have a relaxing retreat here by reading, writing, and practicing yoga on the deck.
You may go fishing, swimming, hiking, and mountain biking here throughout the summer months. Visit this area in the winter for activities like as snowshoeing, cross-country skiing, and the local hot springs.
If you want to understand more about the history of this region of New Mexico, there are also a number of museums and historic places in the area.
10. Pepper Sauce Camp Cabin – Eagle Nest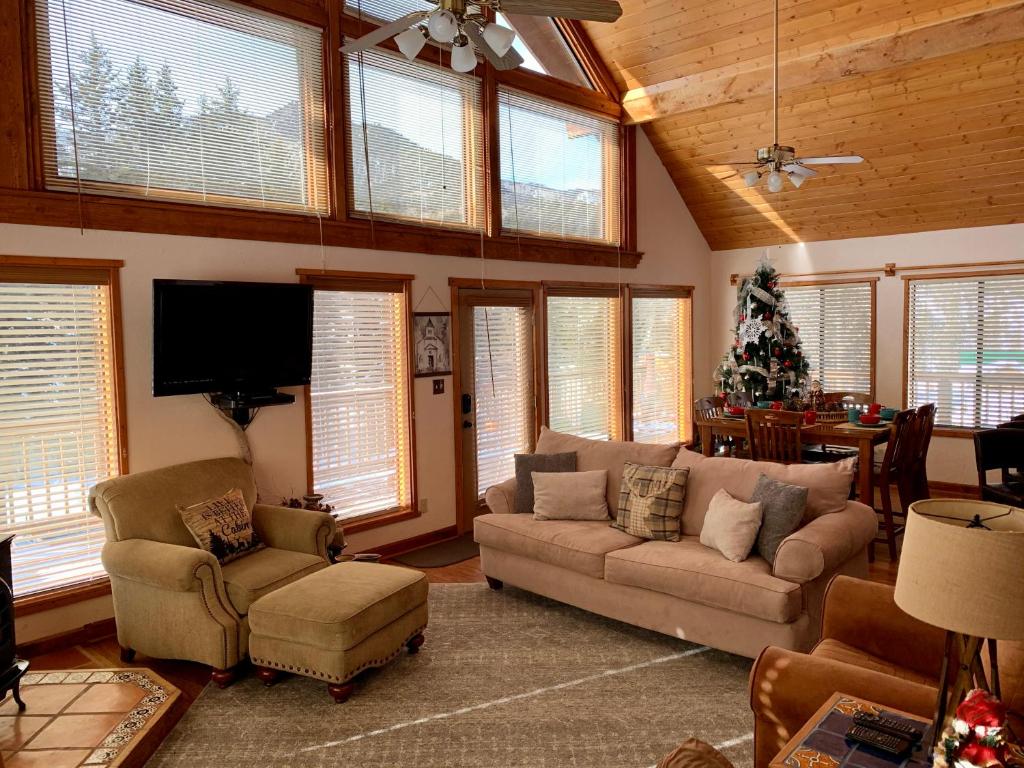 This modest Airbnb cottage in Northern New Mexico sleeps up to four people and is perfect for your next outdoor excursion.
It is a studio apartment with a fold-out sleeping sofa, a full-size bed, a kiva fireplace, and a bathroom that is only three quarters of the way finished.
The cabin features both gas and electric heating, and it is available to you throughout the year for all of your outdoor recreation needs, including fishing, hunting, and skiing.
Other enjoyable activities that may be enjoyed while vacationing in this region include whitewater rafting, golfing, hiking, riding in hot air balloons, seeing wineries and pueblos, and jeeping.
There is a convenience store on the premises where guests may buy presents and personal care supplies.
11. Cabin Nestled in the Sacramento Mountains – Timberon
This little cabin on five woodland acres offers a hideaway from the hustle and bustle of city life, and it can accommodate a total of four vacationers.
There is one bedroom, a half bathroom, and a lovely veranda where you may take in the fresh mountain air.
This place features a barbecue and a fire pit in the backyard, while the living room contains a 55-inch television and board games.
This Vrbo cabin rental is equipped with a washer and dryer, a fireplace that burns wood, and access to a community swimming pool.
There are options for skiing and snowshoeing at Cloudcroft, which is only 36 miles distant. This New Mexico cabin rental is suitable for those traveling with their pets.
12. El Vado Lake Cabin with Jacuzzi – Rutheron
This Vrbo cabin is located adjacent to Heron and El Vado lakes, and it can comfortably accommodate large parties of up to 12 guests.
It is situated around 25 minutes to the south of Chama and is home to a rich variety of native animals. You will be staying in a property that is 3,200 square feet in size and has four bedrooms as well as three bathrooms.
The Jacuzzi hot tub, the play room with a ping-pong table, the outside barbecue, and the modern kitchen appliances are some of the reasons why families like staying here.
Both a huge carport and a garage are available for use as parking spaces here.
13. Cabin in the Land of Enchantment – Gila
This is a reasonably priced cabin that sleeps up to four people and is located close to the Gila River. At Bearpaw Ranch, there is a handcrafted log cabin that features a sleeping loft, a fenced yard, and four ponds within a short walking distance from the cabin.
Staying here puts you in close proximity to places to fish, hike, and hunt. Because there is a huge barn and a field that is enclosed by fencing, you may even bring your horses with you.
It is a fantastic location for birding and is located 30 kilometers away from Silver City. Due to the lack of light pollution in the night sky, stargazing in this location is truly out of this world.
14. Cozy Cabin – Silver City
This warm and friendly studio cottage is a favorite among couples because of its quaint atmosphere. This modest refuge, which has a very good rating on Airbnb, is happy to accommodate guests for stays of any length, whether short or long term.
The cabin features a kitchen, free parking, a queen-size bed, Wi-Fi, cable TV, and breakfast. There is also cable TV.
It is in a secluded natural location that is soothing, and the hosts have added personal touches to make it more memorable.