The 11 Top-Rated Beachfront RV Campsites in Florida 2023: Envision yourself dozing off to the soothing sound of the ocean and waking up to the sight of the glistening blue water.
It may seem like something out of a love novel, but there are campsites along the beach in Florida that are accessible by recreational vehicles.
Because beach camping is not permitted in many areas of Florida, the locations in which it is permitted have attracted a large number of visitors.
However, you won't need to worry about having to discover the finest ones since we've compiled a list of the oceanfront RV parks in Florida that have received the highest ratings.
11 Top-Rated Beachfront RV Campsites in Florida 2023
1. Bahia Honda State Park – Big Pine Key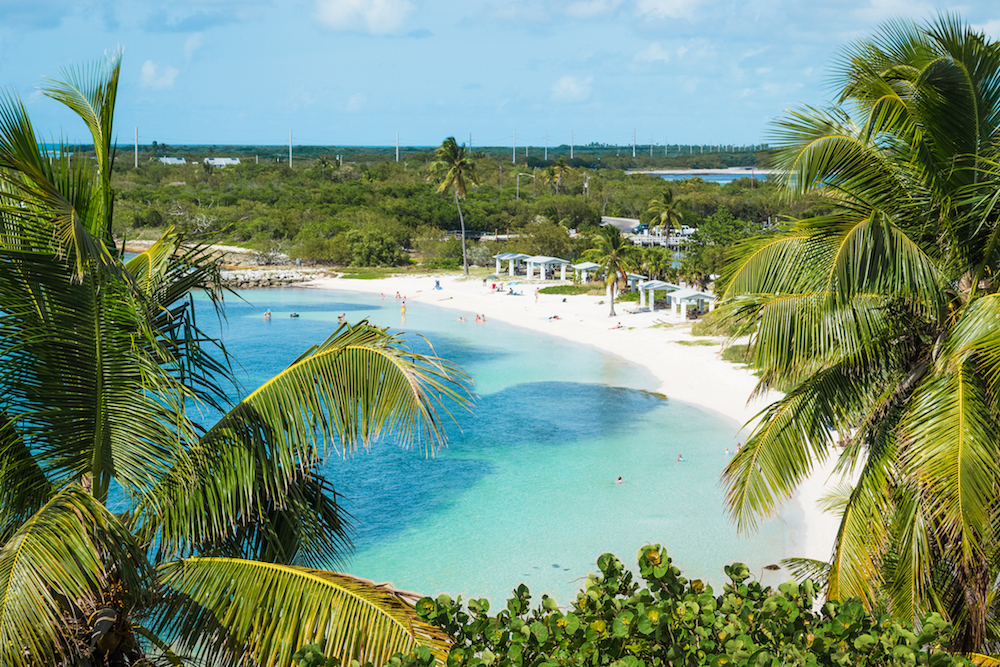 Bahia Honda State Park may be found one hour to the north of Key West. Swimming, fishing, snorkeling, and kayaking may all be enjoyed in the gin-clear waters of the Atlantic Ocean and Gulf of Mexico at the historical site known as Bahia Honda, which is also an important part of Florida's past.
A trek to the top of the Old Bahia Honda Bridge, which was previously a part of the Flagler railroad system, is also an option for those interested in exploring the area.
If the skies are clear at night, this is the ideal place to go stargazing or watch the sunset. There are RV sites at the park that are equipped with power, water, and charcoal grills; however, the park does not permit campfires of any kind.
Thirteen of the RV sites are placed right on the water.
2. Fort De Soto Park – St. Petersburg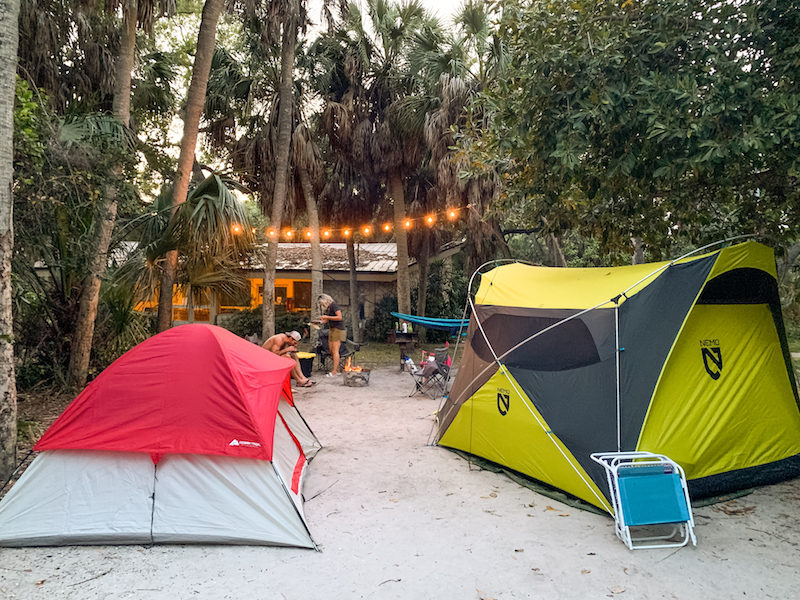 Fort De Soto Park, situated on more than a thousand acres at St. Petersburg's southernmost point, has been named one of the best beaches in the country on multiple occasions.
It is simple to spend days camping and not see the same thing since there are over 300 different types of birds to watch, clean waterways, big beaches with white sand, a historic fort, bike routes, and fishing piers.
All of these things make it possible. There are several RV parking spots available on the water, however the mangroves may obscure some of the views to some degree.
The campsites are equipped with water, power, barbecues, and picnic tables. The visit to this lovely park is sure to be high on your list of things to do in St. Petersburg.
3. Fort Pickens Campground – Pensacola
Fort Pickens, which was constructed in the 1800s for the purpose of providing security for the surrounding region of Pensacola, is now a part of the Gulf Islands National Seashore.
Campers will find a variety of things to do and see inside the park, including live oaks, hiking paths, beaches with access to the Gulf of Mexico, a nature education center, and a fishing pier.
Campsites are equipped with water and electrical hookups, as well as fire rings and grills.
4. Gamble Rogers Memorial State Park – Flagler Beach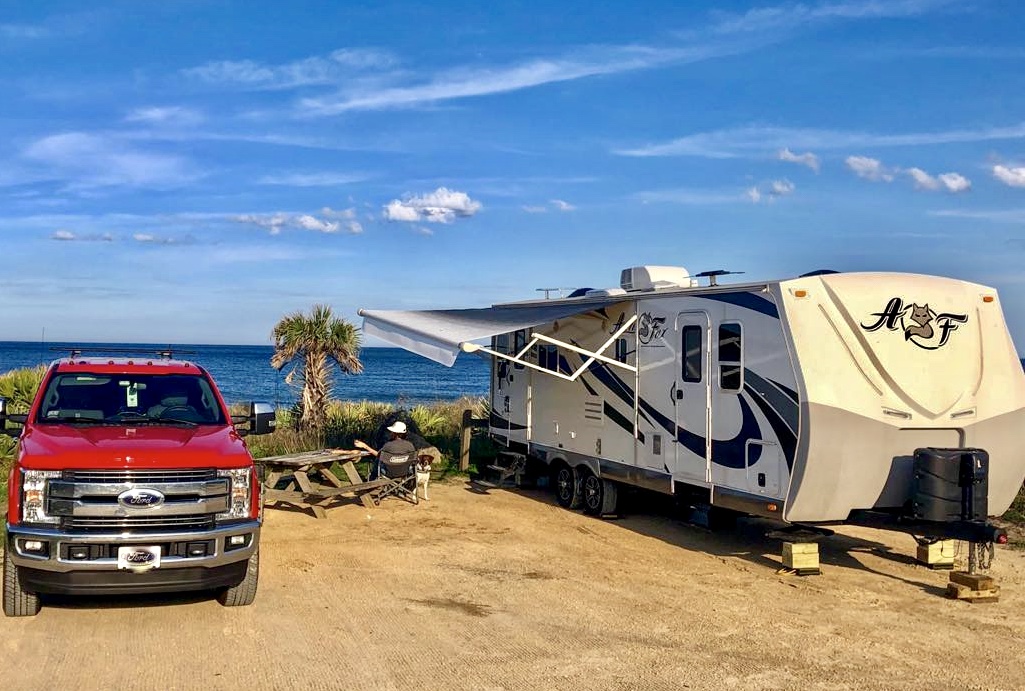 Gamble Rogers State Park is a tiny state park located on the northeast coast, and it features 34 camping spots directly on the beach.
It is a barrier island that is situated between the Atlantic Ocean and the Intercoastal Waterway, and it is a fantastic location for fishing and swimming.
Each of the campsites is equipped with a water fountain, electricity, and a fire ring.
5. Red Coconut RV Park – Fort Myers Beach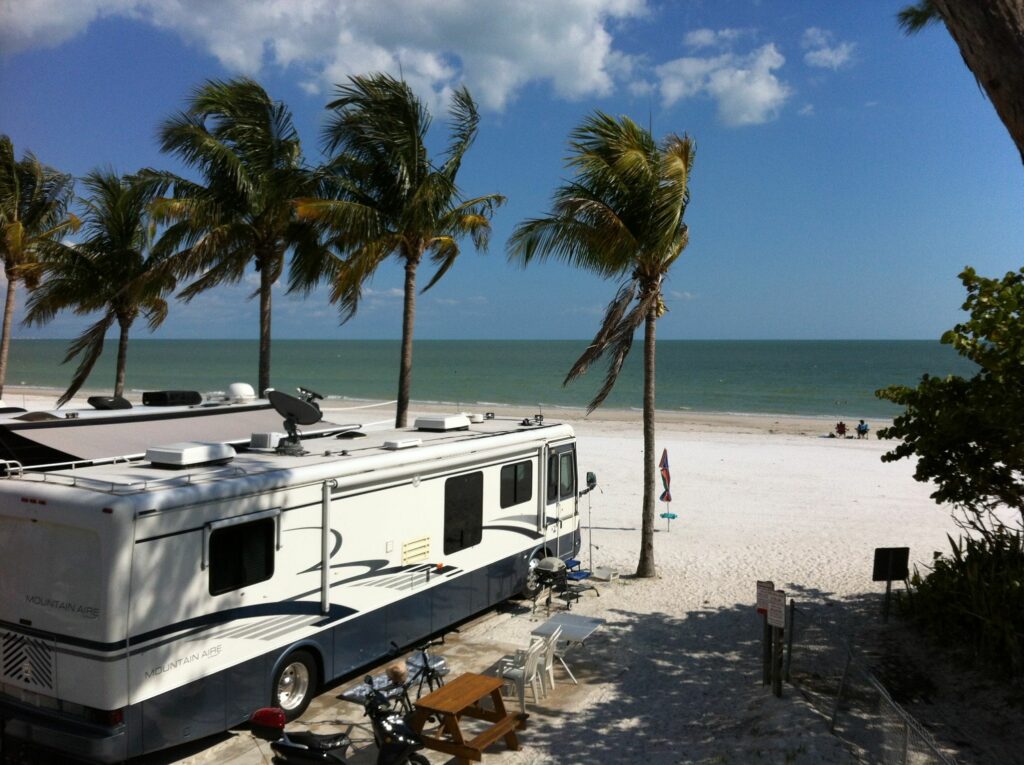 After spending the day seeing the winter houses of Thomas Edison and Henry Ford, there is no better way to wind down than by sitting back in your RV home on Fort Myers Beach and watching the sun go down.
There are parking slabs, full hookups, and internet services available at the Red Coconut RV Park, which is located on 450 feet of coastline.
In addition to easy access to swimming and fishing, the campground features on-site shuffleboard courts and coin-operated laundry facilities.
6. Turtle Beach Campground – Siesta Key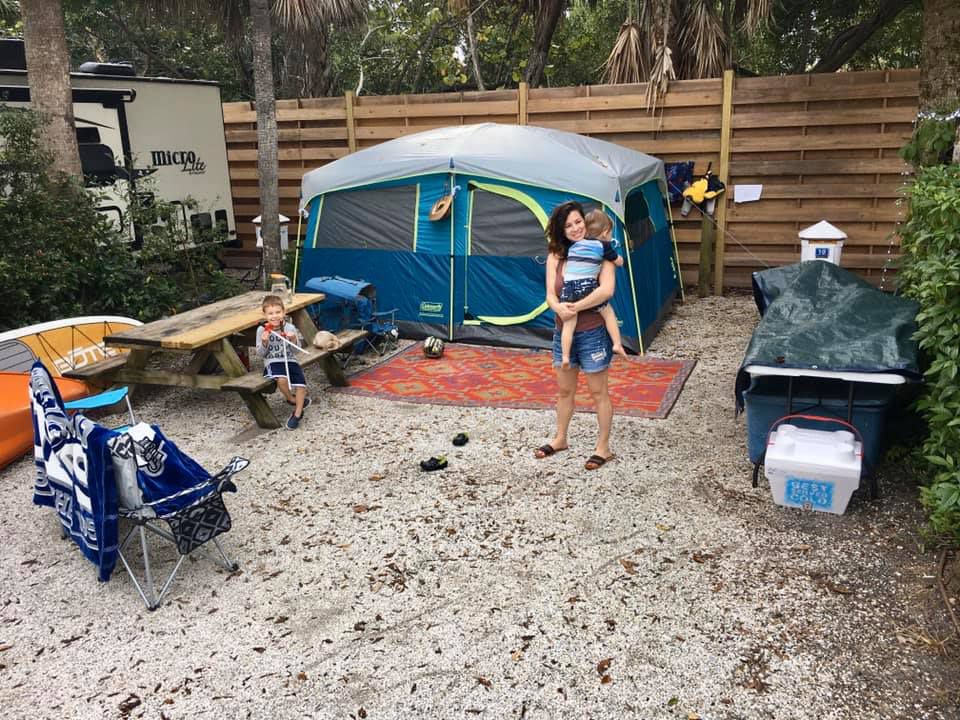 Camping directly on the beach on Siesta Key gives visitors the opportunity to feel as though they are in an older part of Florida while still being in close proximity to modern activities.
The location offers the best of both worlds, as it is close to a variety of stores, restaurants, and water rental options. The crushed shell pads and full hookups are offered at the Turtle Beach Campground, which also has direct beach access.
7. St. George Island State Park – St. George Island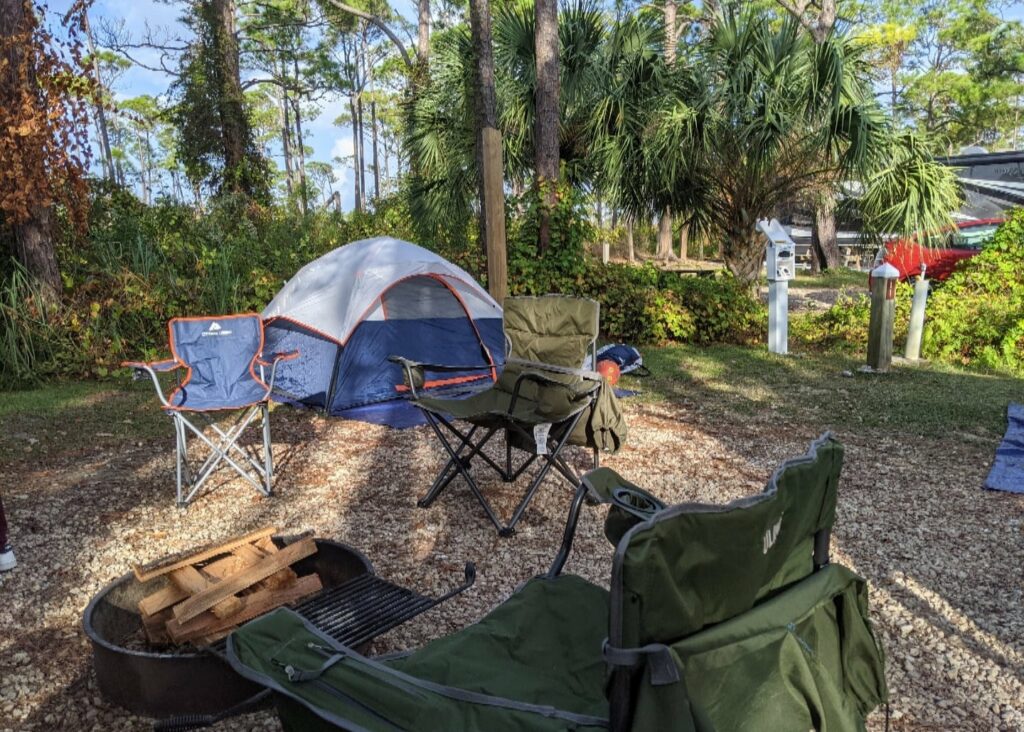 St. George Island is a barrier island situated between Apalachicola Bay and the Gulf of Mexico. It is home to one of the most beautiful beaches in the Panhandle region of Florida and provides visitors with the opportunity to swim, fish, and see the local wildlife.
In addition to being a haven for marine life such as dolphins, sea turtles, and shorebirds, this is an excellent location for scavenging for shells.
There are no direct views of the lake from the campgrounds; nevertheless, they are located less than a quarter mile from the beach and provide connections for power and water.
8. Key Palms RV Resort – Key Largo
In Key Largo, which is located one hour to the south of Miami and two hours to the north of Key West, you will find some of the most stunning sunrises and sunsets as well as excellent diving opportunities.
You may enjoy water views as you sleep at the Keys Palms Luxury RV Resort, which also features a private beach, full hookups, wifi, a heated pool and spa, and other facilities that will help your family feel more at ease and at home.
9. Jetty Park – Port Canaveral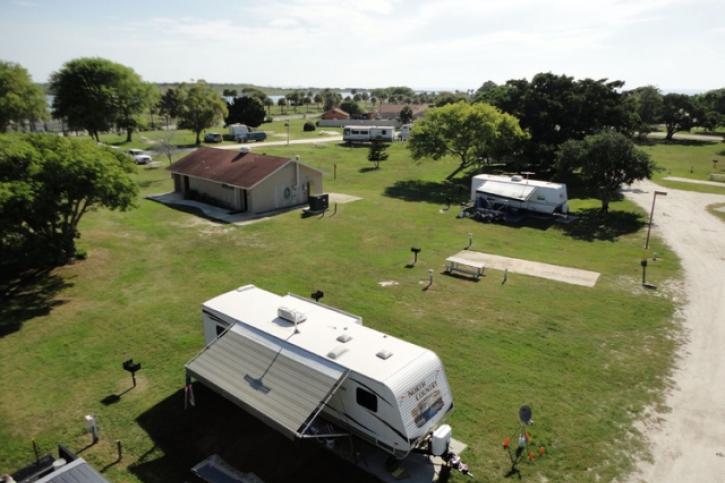 Jetty Park in Port Canaveral is a county-run campsite, and it is located close enough to NASA that campers there have a chance of witnessing a rocket launch.
The location, which is between the port and the ocean, affords visitors the opportunity to view an abundance of ships, marine life, and other forms of nature.
In addition to a fishing pier, this park features volleyball and shuffleboard courts, as well as a washing facility. Camping spots with inlet access should be reserved in advance to ensure a spot.
10. Grayton Beach State Park – Santa Rosa Beach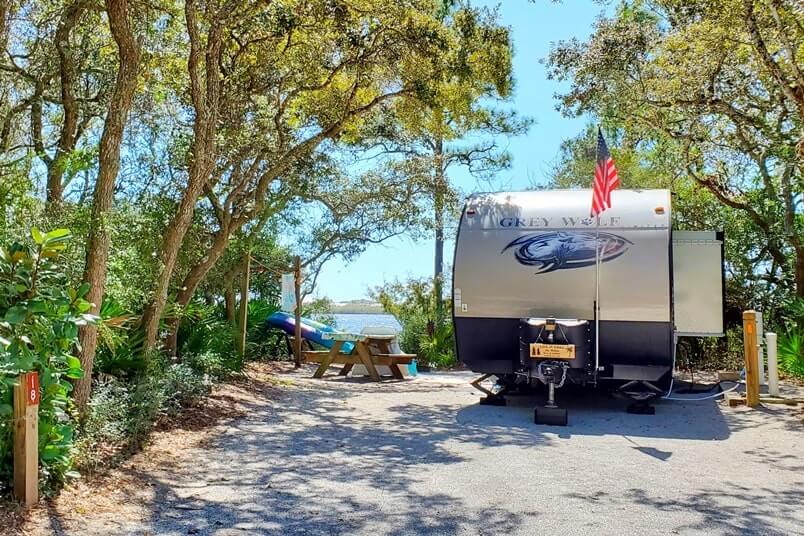 When camping in Grayton Beach State Park, which is considered to be one of the top state parks in Florida, guests will have the opportunity to engage in a variety of activities, including bird watching, cycling, hiking, canoeing, and swimming.
A campsite with water views, power, and water hookups can be found in Grayton Beach, which is located on the Emerald Coast just off of the famous route 30A in the Panhandle.
11. Emerald Beach RV Park – Navarre
Navarre, which is located between Pensacola and Destin, offers a convenient location to park your RV and find a spot to rest your head.
The Emerald Beach RV Park is located on the Santa Rosa Sound, providing you with stunning vistas as well as access to a private sandy beach.
A fishing pier, kayak and paddleboard rentals, and a pool that is heated during the winter months are just some of the amenities that are offered at this resort. RV slots are equipped with full hookups, Wi-Fi, and digital TV.
11 Top-Rated Beachfront RV Campsites in Florida 2023 – Newshub360.net
Related Post

Credit : www.Newshub360.net