The 11 Capsule Hotels in Japan 2023: There are few things that advertise Japanese culture as loudly as a capsule hotel does. The socialization that comes with staying in a hostel is present in capsule hotels, but guests get a bit more personal space to themselves.
Capsule hotels offer an affordable choice between hostels and hotels that are both inexpensive and efficient.
You'll find these capsule hotels generally established around the many things to do in Tokyo and the areas that surround it. Space is at a cost, and lodging rates have been kept high because of this.
These hotels typically include private rooms in addition to bigger shared areas, making them an excellent choice for tourists who are traveling around the nation on a limited budget.
While some are on the more simple end of the range, others come complete with amenities including spas, restaurants, and balconies.
In any case, you can bet on getting the most important thing out of any of them, which is a restful night's sleep each day before you venture out to learn more about the local history and culture.
11 Capsule Hotels in Japan 2023
1. The Millennials Shibuya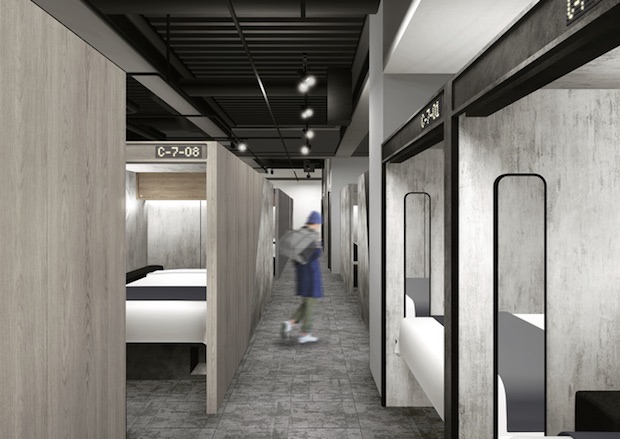 The Millennials Shibuya takes the concept of a regular capsule hotel and transforms it into something much more modern, while maintaining the pricing point that makes it accessible to those on a limited budget.
This hip hotel in Japan bills itself as being on "the edge of the future" and provides all of the essentials for a relaxing and productive stay in an area that is convenient for walking.
It's possible that the pods themselves are on the smaller side. In contrast, the remainder of the hotel is filled with vast, open common rooms that feature a variety of working booths, extended tables, oversized sofas, and strange lighting.
You may find these places wherever in the hotel. The Millennials also includes a number of other benefits, including a free beer during the daily happy hour, free breakfast, and free coffee available around the clock.
Because of the abundance of young people in its society, it is quite likely that you will find new friends while you are here.
Key Amenities:
Large, spacious communal areas
Located in a walkable area of town
Daily happy hour with free beer and 24-hour free coffee
Complimentary breakfast included
2. Book and Bed Tokyo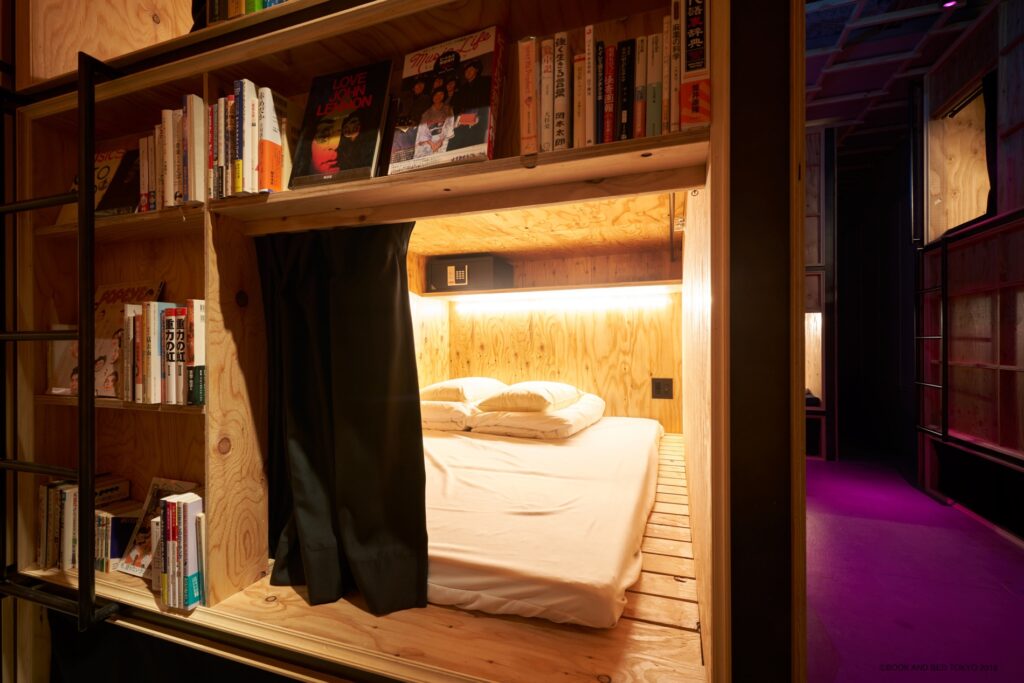 Book and Bed in Tokyo is unquestionably one of Japan's trendiest hotels. This hotel has a continuing book pattern throughout the entire structure, as suggested by the hotel's name, with each capsule being divided by a bookshelf and more books appearing throughout the building.
Book and Bed is located in Shinjuku, which is Tokyo's entertainment area, and comes with a bar, a lounge, a snack bar and deli, as well as a coffee shop.
The atmosphere at Book and Bed is similar to that of a hostel, and it also features all of the amenities that are common of capsule hotels.
During your time here, neither hunger nor boredom will be a problem for you. Want the appearance of Book and Bed but with a little more space?
In addition to the capsules, there are additional bedrooms of a more traditional size. Although reserving one of these will cost more than simply renting a pod, it will also provide you with some more room that you would otherwise be missing.
Key Amenities:
Every capsule is separated by a bookshelf
Bar, lounge, snack bar, deli, and coffee shop on-site
Option to book a standard-size bedroom or a capsule
3. do-c Ebisu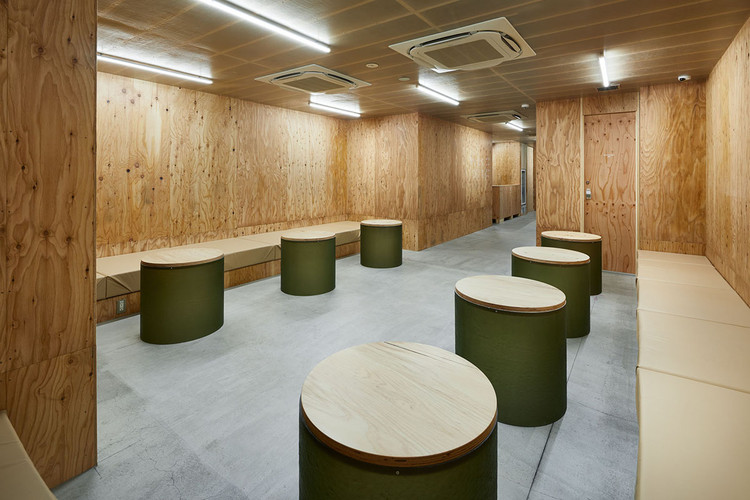 do-c Ebisu is located in the middle of Tokyo, so you'll never be far from exciting excursions and will always be close to your room after the day is done.
This hotel's capsules are equipped with all of the necessities as well as a few extras, like as complimentary WiFi throughout the property.
Because of the free towels and even free pajamas that are provided in each room, this is an excellent option for an affordable place to stay when you are trying to travel simply.
The free spa at do-c Ebisu, which includes a 'loyly' sauna and showers in the traditional Finnish manner and which you are welcome to use as many as you like during your stay, is the very finest feature of this hotel.
It will only take you twenty minutes to stroll to Shibuya Center Town from the capsule hotel, so you will never be far from the fun.
Key Amenities:
Amazing location in the heart of Tokyo
Free towels and pajamas included with your stay
Unlimited access to the spa with a Finnish-style 'loyly' sauna and showers
4. nine hours Akasaka sleep lab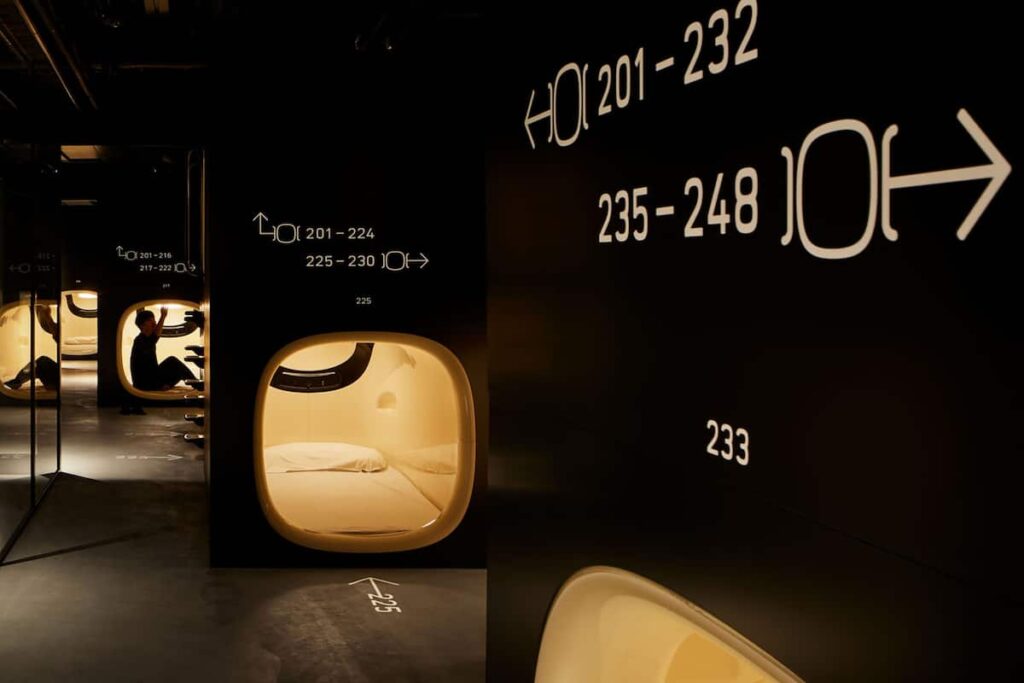 The one-of-a-kind architecture and blocky layout of the nine hours Akasaka Sleep Lab makes it easy to notice from a distance, well before you arrive at the establishment's entrance.
This hotel's name gives away the fact that its primary purpose is to serve as a place for people to sleep; yet, you can be confident that you will have an excellent night's sleep here.
It is one of the most well-liked capsule hotels in Tokyo since it offers a convenient layout for tourists and packs a large number of services into a very compact area.
Each accommodation features air conditioning, and in the morning, you can take advantage of the free continental breakfast.
You may choose a pod based on the sleep report that is delivered to you in the morning, and each room has access to a common bathroom with a shower, slippers, and a hairdryer.
In addition, well-known tourist destinations like as the Okamura Chair Museum, Sanpun-zaka Monument, and Tokyu Plaza Akasaka are located in close proximity to the hotel.
Key Amenities:
Air conditioning in every room
Free continental breakfast included
Option to book a pod with a sleep report
Capsule Hotels in Japan
5. Nadeshiko Hotel Shibuya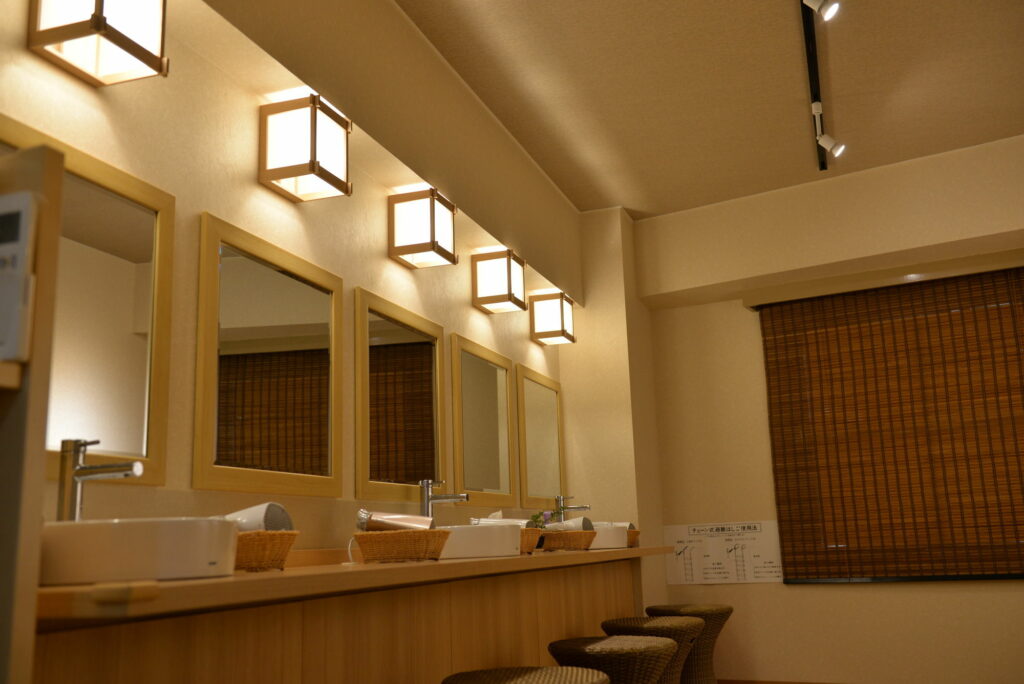 Since the Nadeshiko Hotel Shibuya is a capsule hotel that is exclusive to women, it is an excellent option for lone female travelers as well as those who are searching for some additional safety reassurance while spending the night.
Although this is a capsule hotel, the pods are slightly bigger than the typical capsule hotel room and are equipped with both air conditioning and a closet.
If you would like to relax at the hotel without the sense of being squished up within your own unique pod, there is also a community hot tub that you may use.
Check into the Nadeshiko Hotel Shibuya if you want to stay near to the center without spending much money, since you'll be within easy reach of major sites in Japan such as the Kamimeguro Hikawa Shrine, Nabeshima Shoto Park, and Shibuya Mark City.
During your stay, you will enjoy a variety of thoughtful little touches, such as Japanese slippers, yukata pajamas, and a gift bag filled with free bathroom amenities.
Key Amenities:
Air conditioning and wardrobe in every pod
Japanese slippers, yukata pajamas, and a gift bag of amenities included
Access to the communal hot tub
6. First Cabin Atagoyama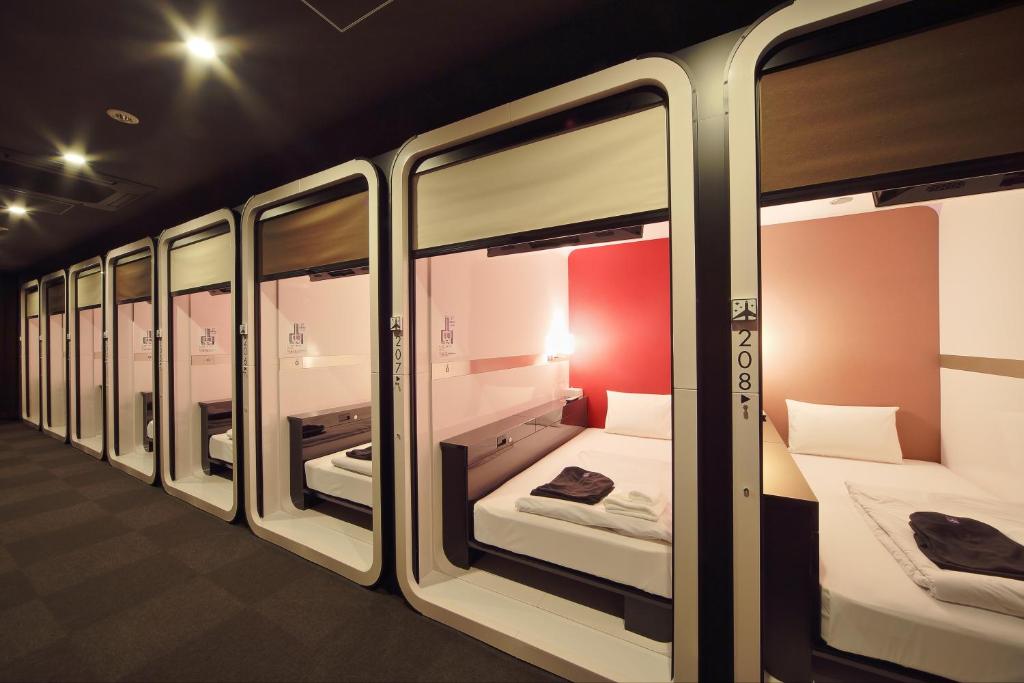 If you were to recommend First Cabin Atagoyama to a friend, you might find it more accurate to say that its rooms are "smaller than a hotel but bigger than a capsule."
Despite the fact that First Cabin Atagoyama markets itself as a capsule hotel, it is more accurate to say that its rooms are "smaller than a hotel but bigger than a capsule."
What's the catch? Its rates are on the higher end of the range for hotels in general, but its facilities are more in line with those found in budget hotels or capsule hotels.
If you are going to be in this part of Tokyo for any length of time, a fantastic place to pitch a tent is just here. Because First Cabin is only a five-minute walk from Onarimon Station on the Mita Line, you will be at an ideal location from which to embark on daytime adventures of discovery.
Each capsule is furnished with its own bed, a flat-screen TV, free WiFi, basic amenities, and a towel. Outside of the pods, there is a common area with a lounge, an on-site cafe and bar, as well as shower stalls and a shared bathroom.
Key Amenities:
Central location within walking distance of Onarimon Station and the Mita Line
Hotel-like amenities, including a standard-size bed and a flat-screen TV
Access to the lounge, on-site cafe and bar, and bath and shower booths
7. Capsule Hotel Anshin Oyado Akihabara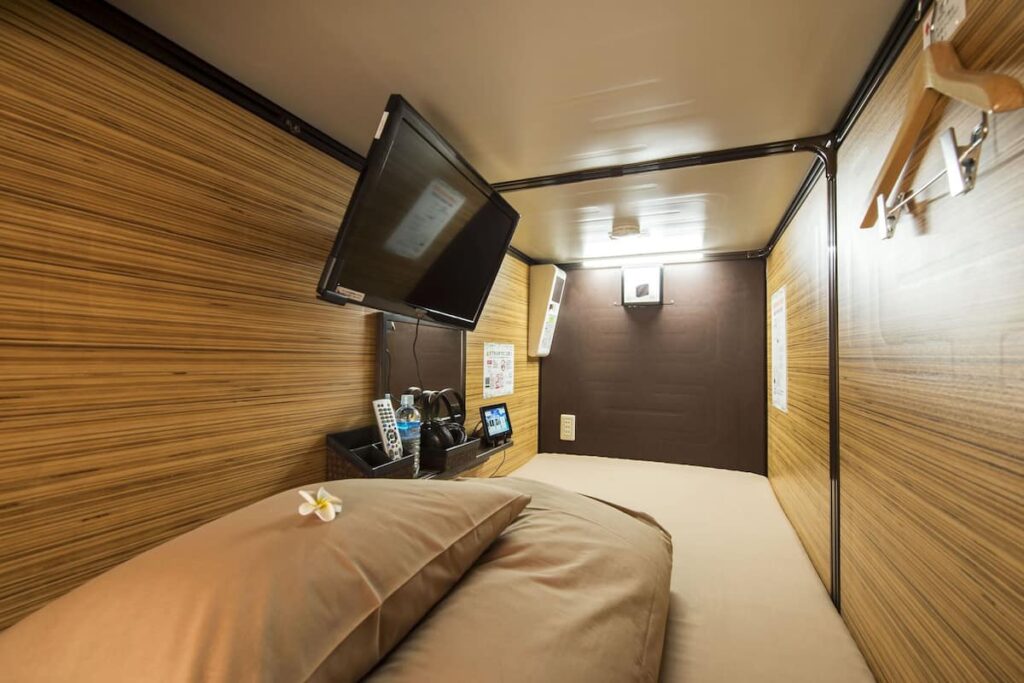 It is important to remember that the Capsule Hotel Anshin Oyado Akihabara is a men-only capsule hotel if you are making plans to stay there, since this is something you should take into consideration.
If you're searching for somewhere comfy to crash for the night and want to save a few bucks at the same time, it's hard to beat this budget-friendly spot, which is located within 100 yards of Nikkei Hall and 200 yards of Yamada Denki LABI Akihabara.
If you're looking for somewhere pleasant to crash for the night, this place is hard to beat. Even though it is functional, it nevertheless provides all of the amenities necessary for a restful night's sleep, such as comfy mattresses, air conditioning, separate televisions, free wireless internet access, and a hairdryer.
Outside, there is a common restroom as well as a large public space where you and your friends may gather up in the morning to plan the next exciting day you will all spend together seeing Japan's various attractions and activities.
Key Amenities:
Men-only capsule hotel at budget-friendly prices
Air conditioning and a TV in every pod
Location just 100 yards from Nikkei Hall
8. Ueno Station Hostel Oriental 1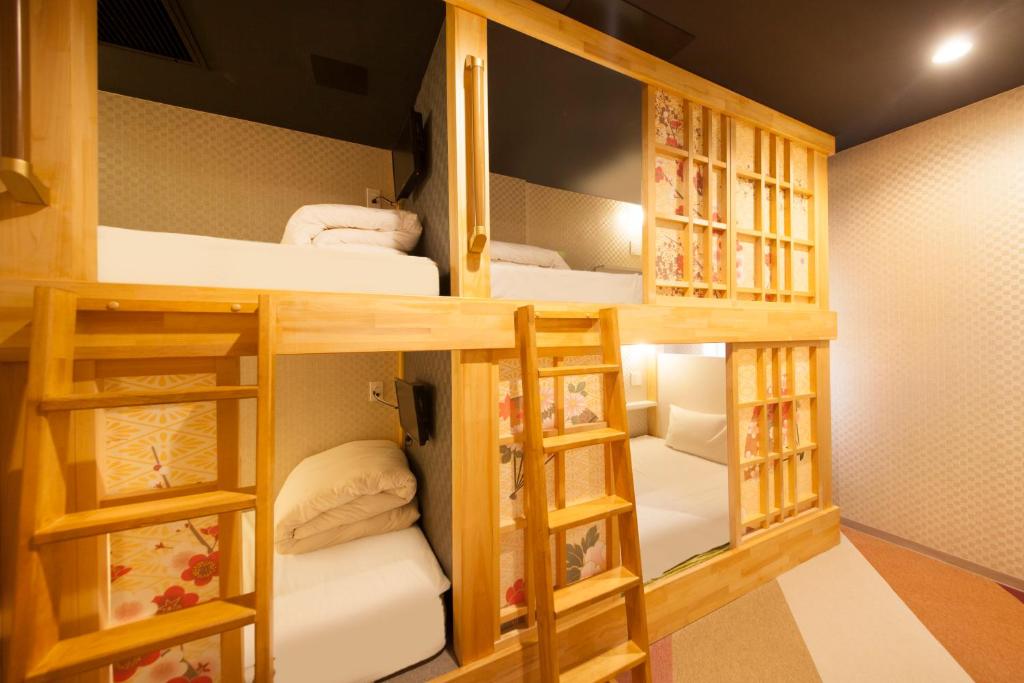 The Ueno Station Hostel Oriental 1 is a place that balances the line between a capsule hotel and a hostel. It is a place that is welcoming to backpackers and offers private pods within common guestrooms.
These pods are great for anybody who is traveling on a limited budget. In a location that is only a three-minute walk from the JR Okachimachi Station and a five-minute walk from the JR Ueno Station, you will have convenient access to travel around greater Tokyo without having to travel too far.
This creative hotel also has an ideal location only a ten-minute walk away from Ueno Park, where attractions like as the Tokyo National Museum, the National Museum of Western Art, and the Ueno Zoo can be found.
During your stay at the hostel, you will have access to free WiFi throughout the entire facility as well as hot tubs. You are welcome to bring your own food, however the only facility for cooking that is available here is a microwave.
This will allow you to save some money while you are here.
Key Amenities:
Prime location near two metro stations
Within walking distance of Ueno Park
Access to property-wide WiFi, a microwave, and hot tubs
Capsule Hotels in Japan
9. Manga Art Hotel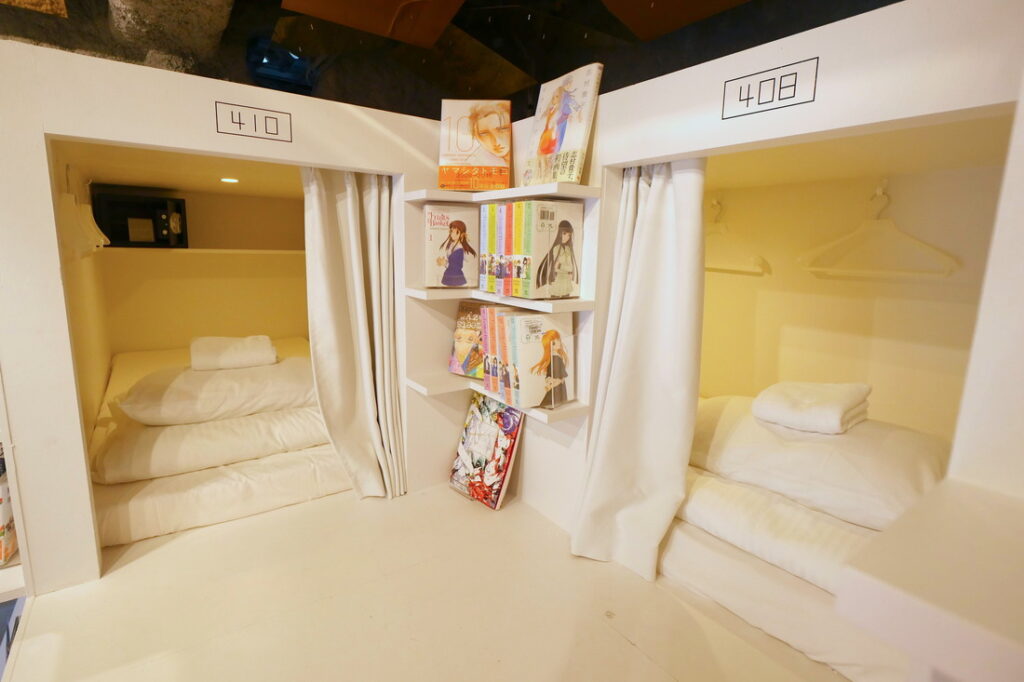 Even though it is on the smaller side, Manga Art Hotel has a shot at becoming the hippest hotel in all of Japan.
The Manga Art Hotel takes things to an extreme by covering practically every surface in manga comics, in contrast to the neutral aesthetic that may be found in numerous capsule hotels around the country.
Manga enthusiasts from all over the world should make it a point to check out this very popular capsule hotel. It packs a lot of information into a relatively tiny area and is a must-see attraction.
The entire hotel is decorated in a futuristic style with black metal panels and neon lighting placed strategically throughout.
Each capsule features a comfortable bed that has received a lot of recognition, a pair of slippers, pajamas, and an electrical outlet.
If you're seeking to unwind with a new book after a hard day of taking in the sights of the city, there are plenty of manga comics in the area for you to choose from. This one-of-a-kind stay represents the pinnacle of Japanese cultural excellence.
Key Amenities:
Manga comics on nearly every surface
Comfy bed, slippers, pajamas, and electrical outlet in every pod
Access to manga comics throughout your stay
10. The Global Hotel Tokyo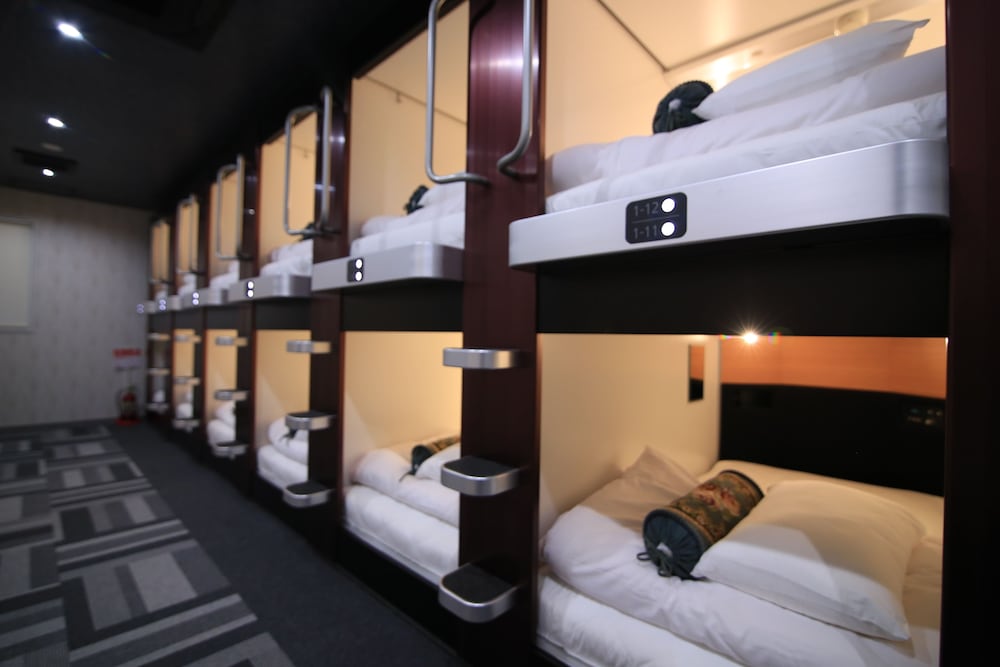 The Global Hotel Tokyo provides guests with a selection of unique pods from which they may choose the one that best meets their requirements in terms of comfort.
In the event that you are only interested in the fundamentals, you will be provided with a comfortable bed, free WiFi, free earplugs, and toilets that are fully supplied.
You have the option of staying in a capsule that has its very own television if you want something a bit more luxurious.
The convenient location of this capsule hotel in the Shinjuku Ward neighborhood of Tokyo puts a number of the most popular tourist destinations within a short distance on foot. This is the hotel's most appealing feature.
Because the pods here are known for being on the larger side, you won't have to worry about feeling crowded even on the busiest of nights because you'll have plenty of space to move about in.
If you feel like you need a bit more fresh air, you can always stroll upstairs to the rooftop garden, which offers stunning views of the metropolitan skyline.
Key Amenities:
Excellent location within walking distance of the best sights in the city
Extra spacious pods with a range of pod options that include free earplugs, WiFi, and televisions
Rooftop garden with skyline views of Tokyo
11. Shinjuku Kuyakusho-mae Capsule Hotel
Shinjuku Kuyakusho-mae Capsule Hotel is perfect for you if you're the type of person who has trouble getting up on time, which is made even more difficult by the fact that many capsule hotels don't have windows that let in natural light.
This hotel offers a private TV and alarm clock in each of its rooms, despite its capsule accommodations and prime location in the heart of Tokyo.
At the Shinjuku Kuyakusho-mae Capsule Hotel, the one-of-a-kind capsule rooms are lined up next to one another in the expansive common space, and shared restrooms and showers are located just a few feet away.
During your stay, you will have access to free WiFi throughout the entire hotel as well as a sauna. Because of the nature of these compact pods, they are cleaned thoroughly every day.
This ensures that if you stay for more than one night at the property, you will always return to clean linens. Even better, some of the rooms in the capsules are separated into separate areas for males and females.
Key Amenities:
Capsule split into male and female rooms
Private TV and alarm clock in every room
Large common area with communal bathrooms and toilets
Access to a sauna during your stay
11 Capsule Hotels in Japan 2023 – Newshub360.net
Related Post
Credit : www.Newshub360.net