The World's 13 Best Overwater Bungalow Resorts 2023: It's challenging to resist the draw of opulent overwater bungalows, from the Maldives to Bora Bora.
These floating accommodations are truly a once-in-a-lifetime, bucket list event; everything about them screams off-the-grid and romantic.
These opulent resorts are the definition of paradise with their traditional thatched roofs, outdoor bathrooms, and breathtaking panoramic views of the glistening, crystal-clear waters.
With overwater bungalows, you can be sure that you'll be surrounded by the ideal vacation paradise and only a few feet from sparkling waters.
There are plenty to be found all across the South Pacific and the Maldives, but they sometimes appear in unexpected areas like Switzerland.
Whatever the ideal overwater cottage is in your mind, it's sure to be on this list. Read on to learn about the most opulent overwater bungalows in the world if you've ever fantasized of living in a tropical ocean home off the shore of a far-off island.
World's 13 Best Overwater Bungalow Resorts 2023
1. Likuliku Lagoon Resort – Mamanuca Archipelago, Fiji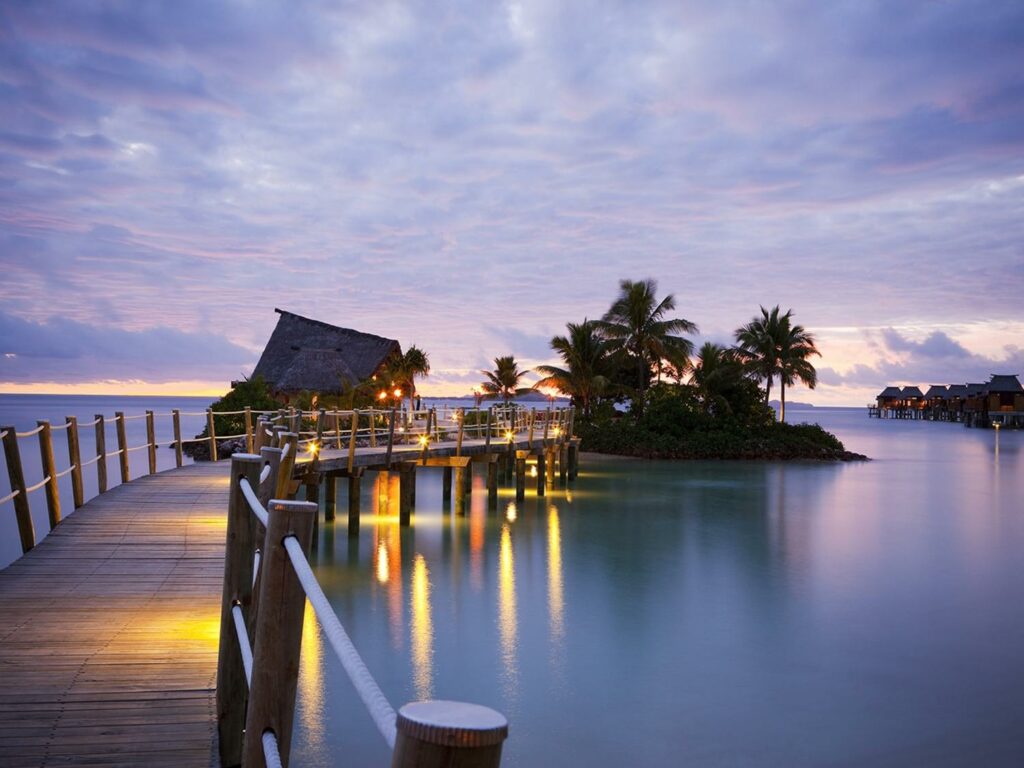 Likuliku Lagoon Resort, one of the top resorts in Fiji, is a 5-star, adults-only establishment that is located on a small private island. With its pristine white sand beaches and turquoise lagoon, the resort perfectly captures the romance of the South Pacific.
Its luxurious overwater bungalows, known as "bures," all created utilizing traditional Fijian architecture and constructed from local materials, retain the distinctively Fijian culture.
From your private balcony, which is located on top of the vivid coral reef, you may enter the water right away. This resort is a luxurious 5-star haven for couples, with soaring ceilings and a blend of natural and modern elements.
Numerous romantic amenities are also available, such as outdoor showers and private plunge pools. You may unwind in the idyllic setting while also taking advantage of the excellent windsurfing, snorkeling, and sailing opportunities.
The calm spa is the ideal place for a Fijian-style massage and cosmetic treatments.
Key Amenities:
Adults-only property on private island
Bungalows in Fijian architecture with balconies
Outdoor showers and private plunge pools
2. Four Seasons Resort Bora Bora, French Polynesia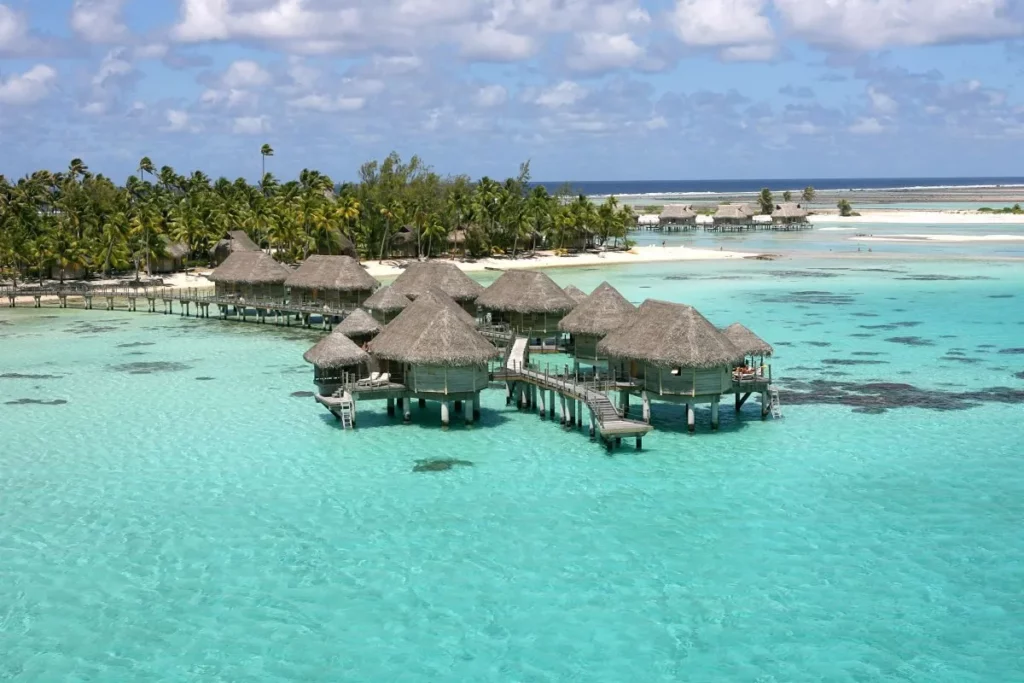 The Four Seasons Bora Bora is one of the best resorts in the world for couples and is situated on Bora Bora, the most well-known island in French Polynesia.
But a wide range of tourists come here to take in the breathtaking beauty of the island and its crystal-clear lagoon.
You may enjoy breathtaking views of Mt. Otemanu from one of the overwater or beachfront bungalows decorated in a Polynesian style at this remote and opulent resort.
Volcanic stone makes up the walls, and mother-of-pearl accents and teak and timber furniture are used to embellish the thatched-roof areas.
After relaxing in the elegant two-person tub with views of the mountains, you may retire to the room's king-size bed or wind down on your private balcony, which has a stairway leading to the water.
You have a ton of options for where to swim since there is a stunning infinity pool close to a lovely beach and protected lagoon.
If you can drag yourself away from your bungalow, you can go on excursions on the resort's catamaran or relax at the spa, where you can take in the stunning views of a lush tropical valley while indulging in treatments that use local products like vanilla.
Key Amenities:
Bungalows with volcanic stone walls and thatched roof
Protected crystalline lagoon and infinity pool
Catamaran outings and on-site spa
3. Gili Lankanfushi, Maldives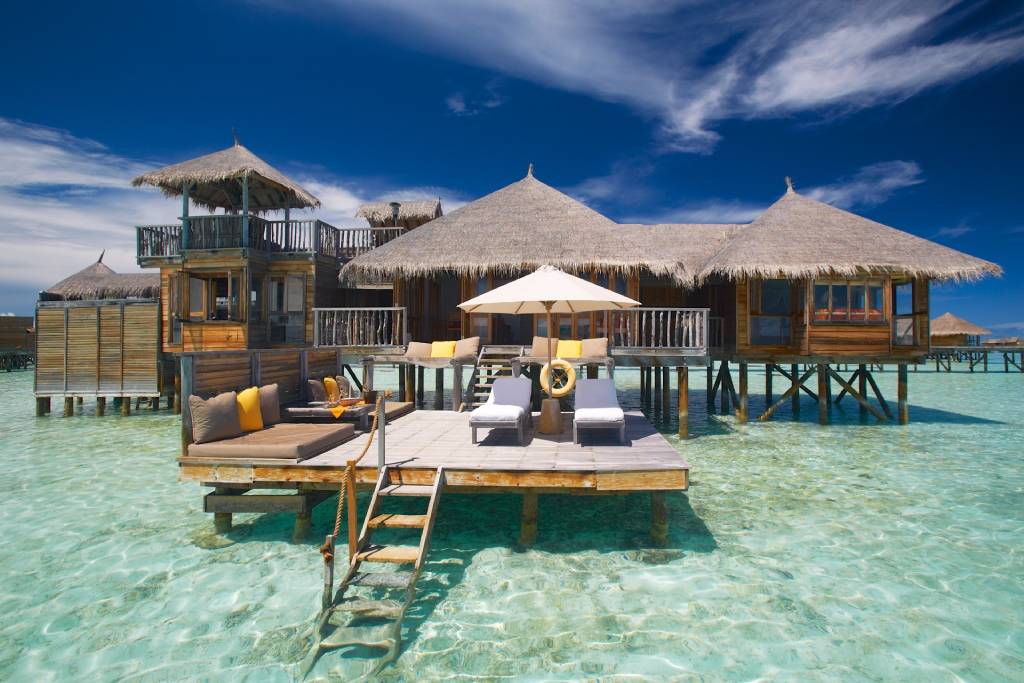 With overwater villas extending over a dazzling lagoon, Gili Lankanfushi is regarded as the best resort in the Maldives and among the best in the world.
Visitors are urged to enjoy it in bare feet by taking off their shoes as soon as they board the boat from the airport because it is known for its unadorned luxury.
Although the lodgings are basic, the roomy overwater bungalows have outside terraces that offer some of the most breathtaking vistas imaginable.
The key word here is relaxation, and you can be sure that stress will vanish as soon as you arrive thanks to your own personal butler who will attend to all of your needs.
There are many things available if you're seeking for adventure, such as amazing scuba diving, free yoga every day, bamboo bicycles, and a variety of other water sports.
Key Amenities:
Unpretentious luxurious bungalows with outdoor decks
Personal butler
Free daily yoga, bamboo bicycles and water sports
4. Tikehau Pearl Beach Resort, French Polynesia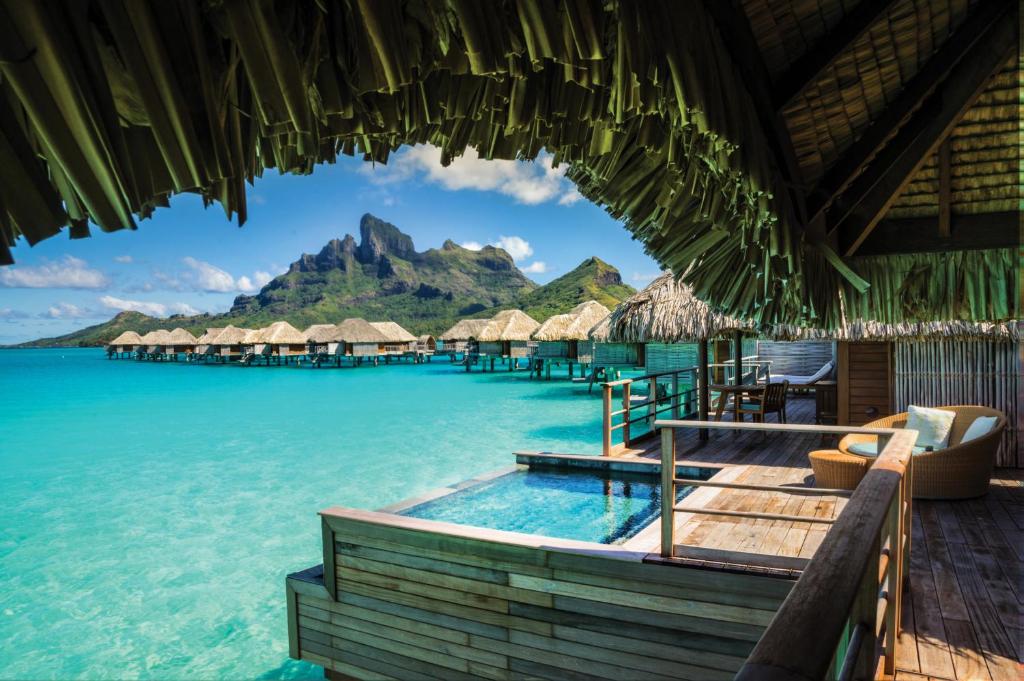 Luxury overwater bungalows are available at the Tikehau Pearl Beach Resort, which is located on a small island in the Tikehau Atoll to the northwest of Tahiti.
If you select a high-end overwater bungalow or suite, you'll have easy access to the water. All have thatched roofs constructed from coconut palms and other materials including teak, bamboo, and local wood that are built in the traditional Polynesian manner.
If you choose an overwater suite, you'll have the opportunity to observe the countless fish in the gorgeous lagoon through the glass floor.
While the opulent spa is housed in a stunning beach bungalow and offers signature treatments incorporating the use of only natural products, such as monoi oil massages, coconut pulp and sand powder body scrubs, and mineral-rich seaweed wraps, the resort's restaurant serves up fresh European and Polynesian cuisine.
Key Amenities:
Bungalows designed with thatched roofs made from coconut palms
Glass floors for fish-sighting in overwater suites
On-site spa with treatments using natural products
5. Aitutaki Lagoon Resort and Spa, Cook Islands
Aitutaki Lagoon Resort and Spa is the only resort in the Cook Islands with overwater bungalows that provide direct access to the gorgeous lagoon, where the panoramic panoramas are extraordinary.
It is located on a private island 400 miles southwest of Tahiti. You may enjoy some of the most magnificent sunsets at this top-tier luxury resort in the South Pacific, when the lagoon is turned into a blaze of yellows, reds, pinks, and oranges that dance across its surface.
A variety of outdoor activities are available, such as kayaking, snorkeling, and wading through the shallow, clear seas between the islets, in addition to the champagne-colored beaches for strolling.
A fun concert featuring dance, singing, and drumming from the Cook Islands is also available. The on-site restaurant offers delectable fare and stunning views of the lagoon.
Key Amenities:
Private island with direct access to Aitutaki Lagoon
Complimentary stand-up paddle board, kayak and bicycles
6. Ayada Maldives, Maldives
A luxurious 5-star resort with a lavish Turkish theme, Ayada Maldives is situated on a private island in the Maldives. Water villas and suites with thatched roofs come with a private splash pool on the terrace, a separate living area, and butler service.
Visitors to the Ayada Maldives, which is renowned for its lush surroundings, will be welcomed by tropical foliage and immaculate coral reefs, where they may encounter a dolphin pod or two.
While visitors may repose in the infinity beachside pool, Turkish Hammam with plunge pools, and a sizable spa treatment area with eight treatment villas, a steam room, and a sauna, several on-site restaurants dish up gourmet cuisine.
While there are many opportunities for water sports, the most popular outdoor pursuits in the region are diving and snorkeling.
Key Amenities:
Thatched roof water villas with private splash pool
Butler service
On-site spa, steam room and sauna
7. Constance Halaveli, Maldives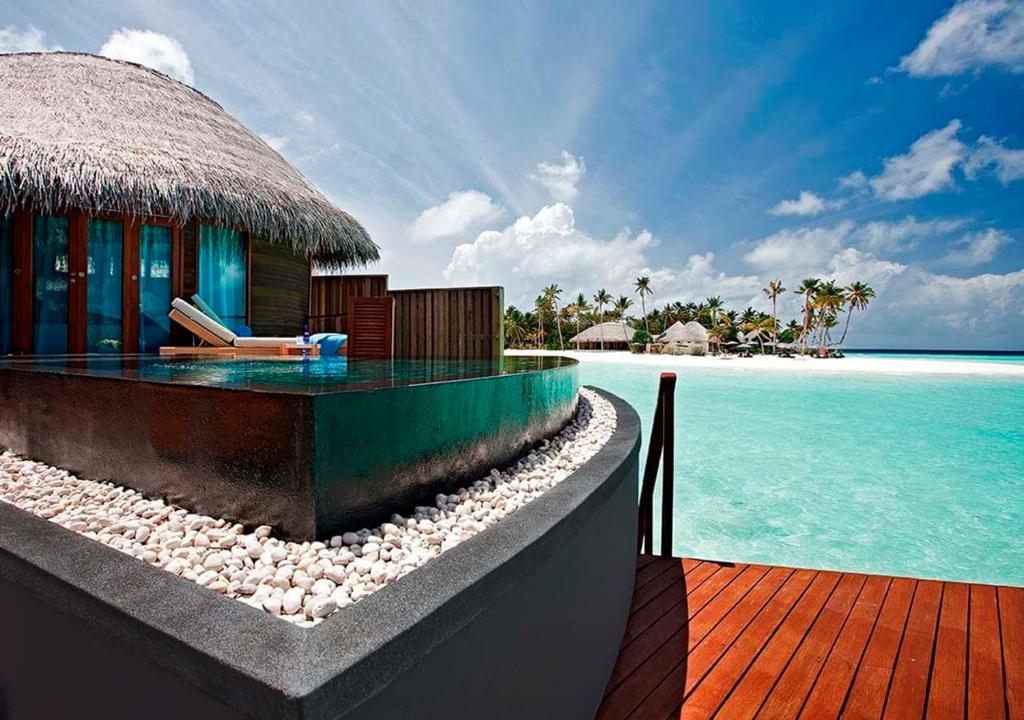 The Maldives' Constance Halaveli is a tropical haven tucked away in the Indian Ocean's North Ari Atoll. The lush background of this premium resort sets the tone with its combination of smooth sands and beautiful waterways.
Visitors will find opulent overwater bungalows with roomy interiors constructed here to blend in with the breathtaking surroundings.
While those who are more daring may enjoy swimming, snorkeling, or diving amid the diverse and colorful marine life surrounding the resort can enjoy peaceful treatments at a luxuriant spa that is perched on stilts over the lagoon.
Numerous eateries and pubs provide a variety of exquisite dining options and rare wine pairings to feed visitors for another day of exploration.
Key Amenities:
Overwater villas with private sun terrace and plunge pool
Spa on stilts in lagoon
Constance Kids Club
8. Taj Exotica Resort & Spa, Maldives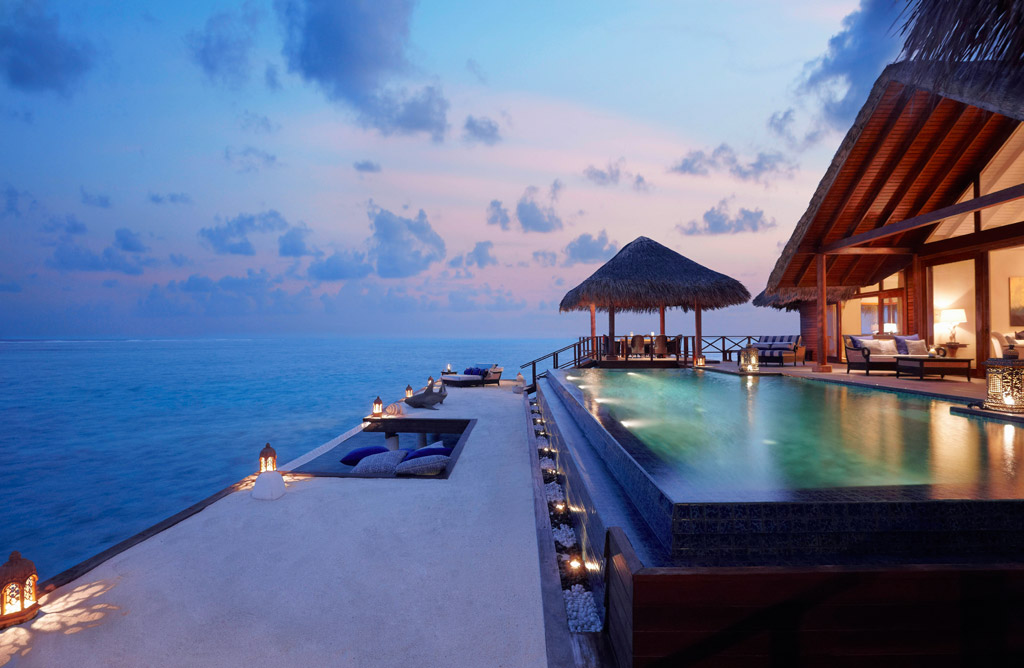 Taj Exotica Resort & Spa is one of the top honeymoon resorts in the Maldives, spread across the Emboodhu Finolhu Island on one of the largest lagoons in the archipelago.
Taj Exotica Resort & Spa offers thatched-roof overwater bungalows with personal butlers, private pools, and soaking tubs with ocean views, all in a romantic setting.
Enjoy a meal of fresh seafood at one of the several on-site eateries while taking in the stunning views of the Indian Ocean sunsets from the hotel's beachfront location.
Spend your days choose from one of the resort's regular excursions, such a seductive sunset cruise, and finish your days at the Taj Spa, where you can choose from a menu of reviving massages and body scrubs.
Key Amenities:
Overwater bungalows with personal butlers
Private pools and soaking tubs with ocean views
Outdoor infinity pools
9. InterContinental Bora Bora Resort Thalasso Spa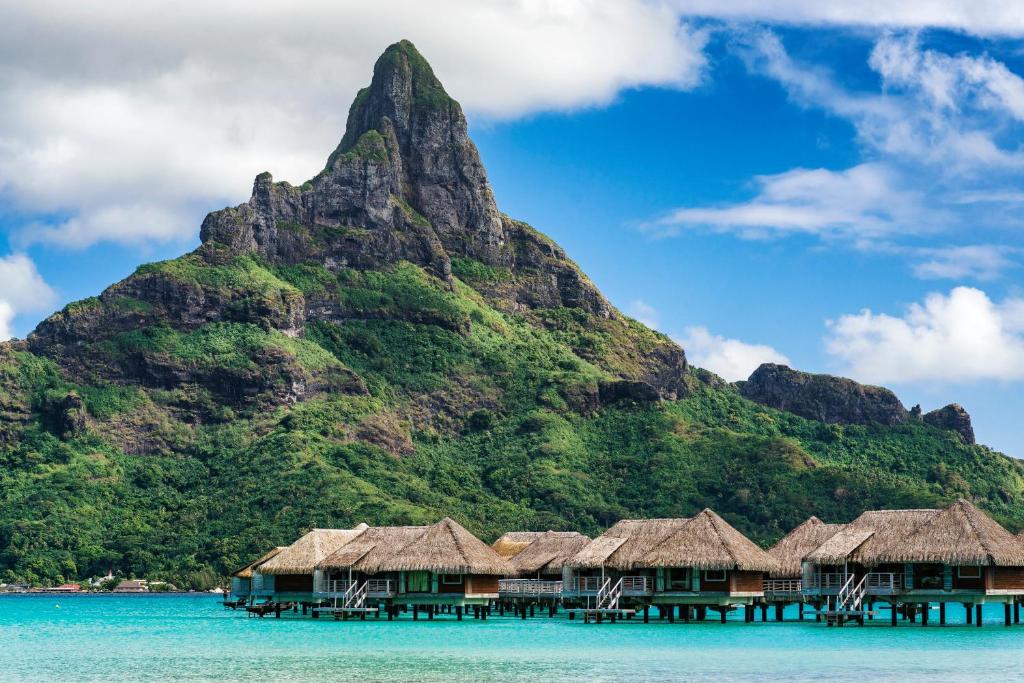 InterContinental Bora Bora Resort Thalasso Spa is a luxurious tropical retreat in French Polynesia that is tucked between a heavenly bright blue lagoon and the South Pacific.
Here, you'll find roomy overwater bungalows in the Tahitian style that provide guests with a 5-star experience.
The resort is well-known for its renowned spa, which offers 43,000 square feet of luxury, incorporates oceanic elements into each of its rituals, overlooks Mt.
Otemanu, and has hydrotherapy pools and private gardens in addition to its lovely accommodations. The resort's beautiful infinity pool and beach are perfect places to unwind, and visitors can also eat at one of the on-site restaurants to sample a range of international fare.
Key Amenities:
Bungalows with outdoor freshwater shower with deck
World-renowned spa with hydrotherapy pools
Direct lagoon access and infinity pool
10. Six Senses Laamu, Maldives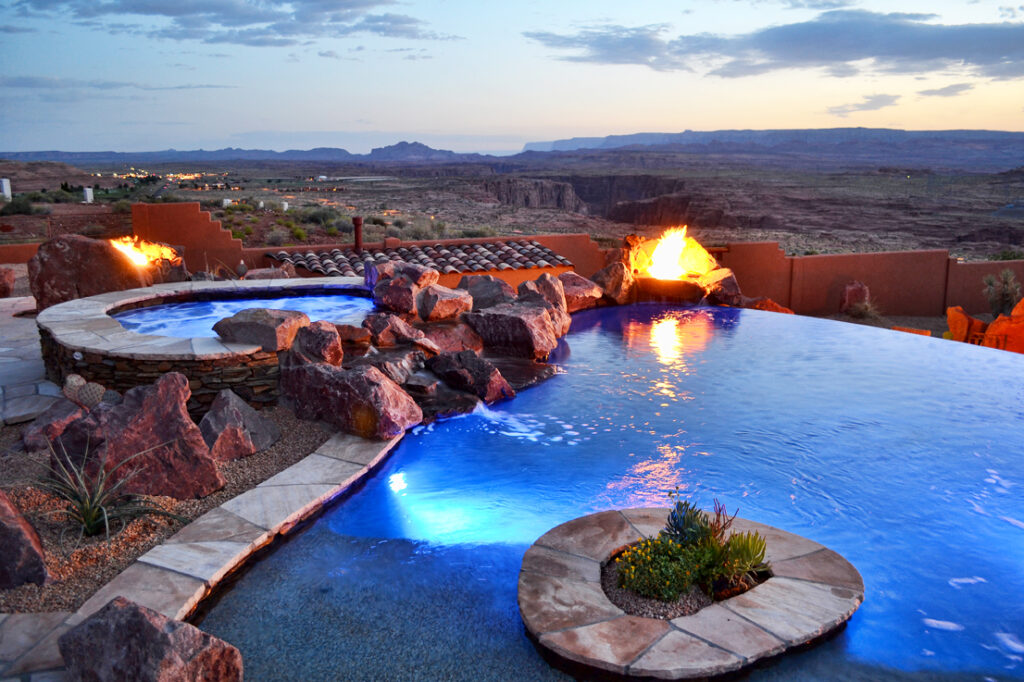 One of the most distant resorts in the Maldives is Six Senses Laamu, which is located in the Laamu Atoll deep in the Indian Ocean.
The resort's ideal backdrop of overwater villas and a paradise bordered with palm trees makes the journey there worthwhile.
Here, in addition to receiving opulent amenities and services, you are urged to unwind by taking advantage of a day that includes world-class snorkeling, catamaran sailing, and a picnic lunch on a remote island.
A butler is given to each guest to make sure they have a great stay, and many on-site restaurants and bars serve fresh seafood and cool cocktails that go well with the sunsets each evening.
Key Amenities:
Remote property on atoll
Personal butler assigned to guests
World-class snorkeling and picnic lunch on deserted island
11. Cayo Espanto, Belize
Cayo Espanto is located on this tiny, four-acre private island, which is easily reachable by boat from the Belizean mainland.
Only seven villas make up Casa Ventanas, which is built directly above the sea off a 150-foot-long dock and is surrounded by the Caribbean on all sides.
It even has a glass-paneled floor that allows guests to see the fish swimming just below it. Although there are so few accommodations that there is really no need to worry about crowds, the entire island can be hired if you want to have it all to yourself.
Prepare yourself for some serious pampering the moment you step foot on the island. Your butler, personal divemaster, and personal staff will all be waiting for you at the dock to welcome you.
Key Amenities:
Four-acre private island
Personal butler, divemaster and staff
Glass-paneled floor that reveals fish swim underneath
12. Misool Eco Resort, Indonesia
Divers who are serious about their sport need look no farther than Misool Eco Resort. It is tucked away in an archipelago of uninhabited islands within a 465 square mile Marine Protected Area that is encircled by an 18,000 square mile shark and manta sanctuary.
The distance to get there—more than 100 miles from the closest port and 12 miles by boat from the closest village—is well worth the effort.
The luxurious Water Cottages where guests stay in allow them to dive or snorkel right on to the pilings.
Each of the cottages has a hammock that was integrated into a cabana and steps that descend to the water. There are three guided dives available daily, including excursions after dark or after sunset, and even the resort's dive center is constructed on stilts.
Key Amenities:
Resort on 465-mile marine protected area
Dive or snorkel from overwater bungalows
Hammocks built into cabanas with steps down to sea
13. Pangkor Laut Resort, Malaysia
Three miles off the west coast of Malaysia, on a private island, is the Pangkor Laut Resort. It boasts coastal homes that are perched above the water on stilts. The sea is an especially vivid green color due to the amount of vegetation in the area.
Each has a balcony, loungers, and extra-large bathtubs that open onto the water. The magnificent beach of Emerald Bay, rocky outcrops, and the tropical jungle that covers 80% of the island help to complete this genuinely magical setting.
The resort can arrange trips to a rebuilt Dutch fort and the Chinese Taoist temple Fu Lin Kong Temple, which is carved into the hillside, if you want to explore the area.
After a long day of exploring, the resort's spa provides the best place to unwind with therapies focused on romance, detoxification, relaxation and stress relief, rejuvenation, and longevity.
Key Amenities:
Sea villas with balconies and oversized tubs
Tropical jungle and beach covers island
Spa on-site
World's 13 Best Overwater Bungalow Resorts 2023 – Newshub360.net
Related Post

Credit: www.Newshub360.net