The 19 Airbnbs in Myrtle Beach, South Carolina 2023: Due to its stunning coastline, reasonable prices, and abundance of activities suitable for the whole family, Myrtle Beach is a favorite vacation spot.
When traveling with your family, staying in a local Airbnb might prove to be more convenient and pleasant than staying in a hotel due to the conveniences of home, the close proximity to the beach, and the additional space that is provided for you to stretch out and relax.
In Myrtle Beach, South Carolina, oceanfront condos and cottages are among the most popular Airbnb rental options; with that in mind, here are ten of the best homes from which to select.
19 Airbnbs in Myrtle Beach, South Carolina 2023
1. Luxurious Upscale Condo with Fantastic Ocean Views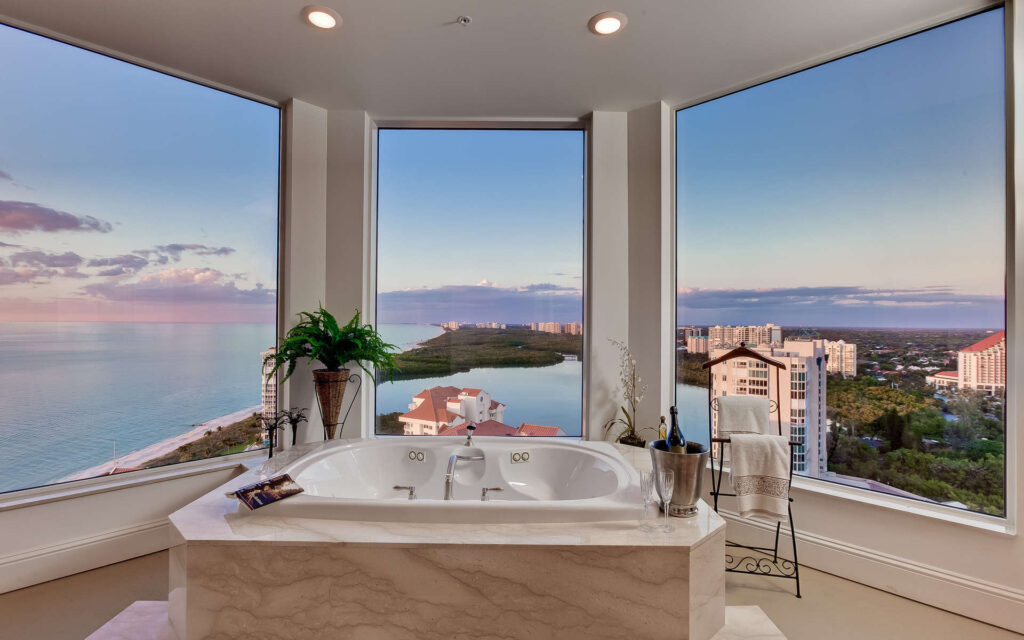 The one-bedroom luxury apartment has stunning views of the ocean, which can be enjoyed from the balcony.
It is situated on Cabana Row, which is located on the Golden Mile, which is a more serene portion of Myrtle Beach and is ideal for a relaxing beach vacation.
It will be difficult to tear yourself away from the private balcony with dawn views on the ninth floor of the resort, despite the fact that you are only a five-minute drive away from everything that Myrtle Beach has to offer.
In addition, there is an outdoor pool, an indoor pool, a jacuzzi, a lazy river, an arcade, and a restaurant that is located on the premises.
2. Luxurious Oceanfront King Suite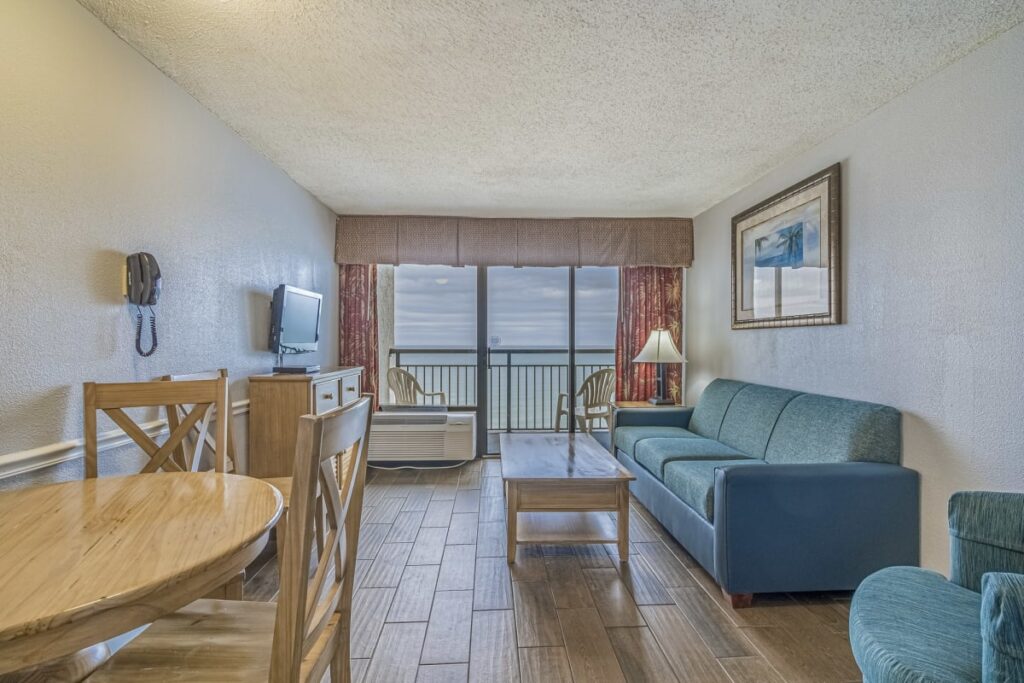 Even your fluffy four-legged buddy is allowed to stay with you in this beachfront king room in Myrtle Beach, which features a balcony overlooking the ocean.
It is located on the 14th level of the Patricia Grand Resort and includes windows that go from floor to ceiling, allowing guests to take in the breathtaking vistas of the ocean.
This vacation property is great for families since it offers a wide variety of on-site facilities, such as a restaurant, pools (both indoor and outdoor), multiple hot tubs, and lazy river rides.
3. Bed Nook Overlooking the Ocean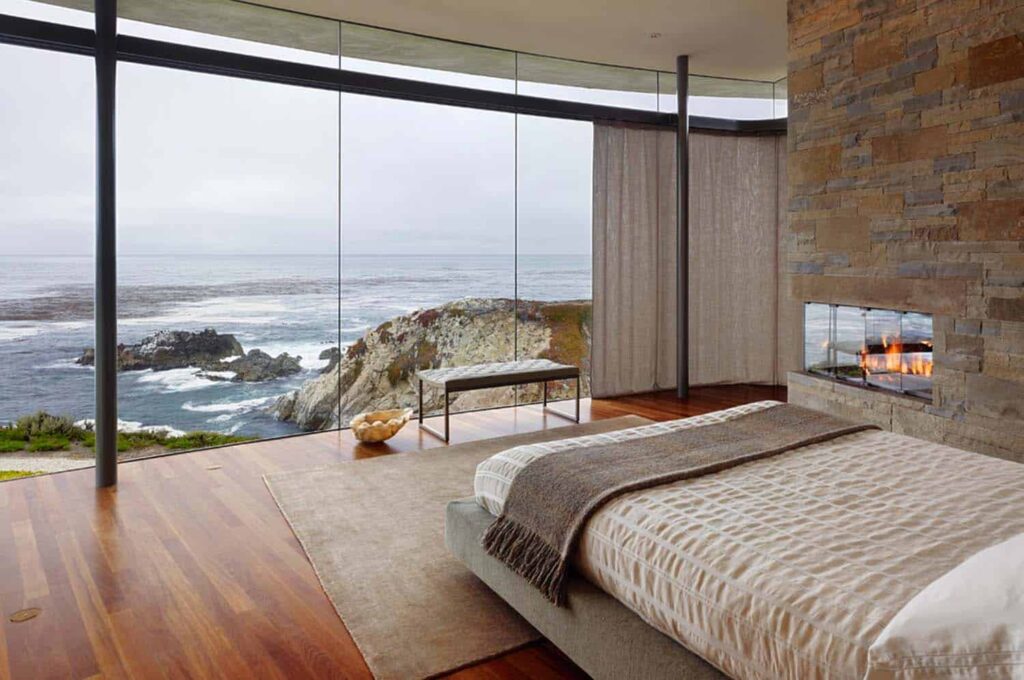 If you are searching for a one-of-a-kind place to stay in Myrtle Beach, you might consider reserving a vacation at this Airbnb.
Because it is situated in a nook in the corner directly next to the window that overlooks the ocean, your bed will provide you with one of the finest views of the beachfront.
From the 17th floor of The Palace Resort, you will get an unobstructed view of the coastline that stretches for kilometers.
In addition, guests have access to an on-site putt-putt course, swimming pools, and hot tubs, as well as a restaurant, a bar, and an arcade.
Airbnbs in Myrtle Beach, South Carolina
4. Adorable, Large Beach Cottage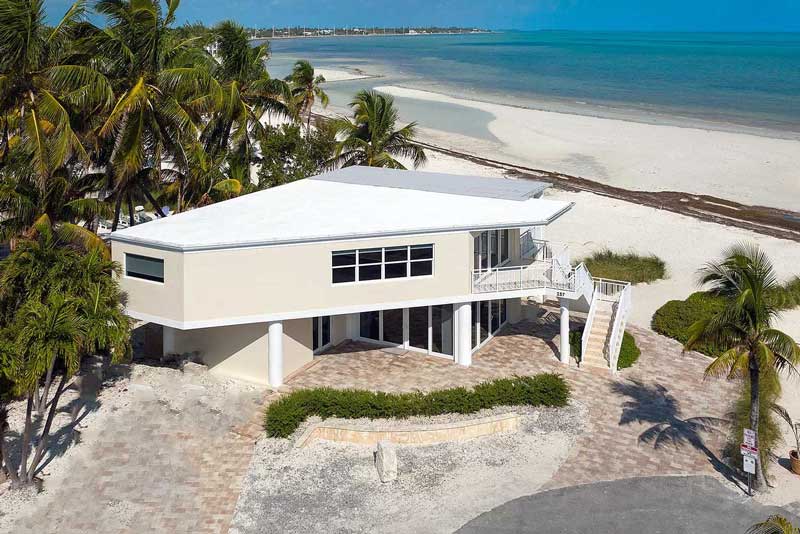 This enormous beach home can accommodate up to 11 guests among its three bedrooms, seven beds, and 2.5 bathrooms, making it an ideal choice for large families looking for a place to vacation together.
You will have the entire home to yourself, and it is located only one block from the beach. In addition, it is only a three-minute drive from the airport, has two parking places that are reserved exclusively for residents, parking for guests, and a private garden with a barbecue.
When you stay here, you won't even have to bother renting a car because the location is so accessible for getting about.
5. Two-Bedroom Oceanfront Penthouse Condo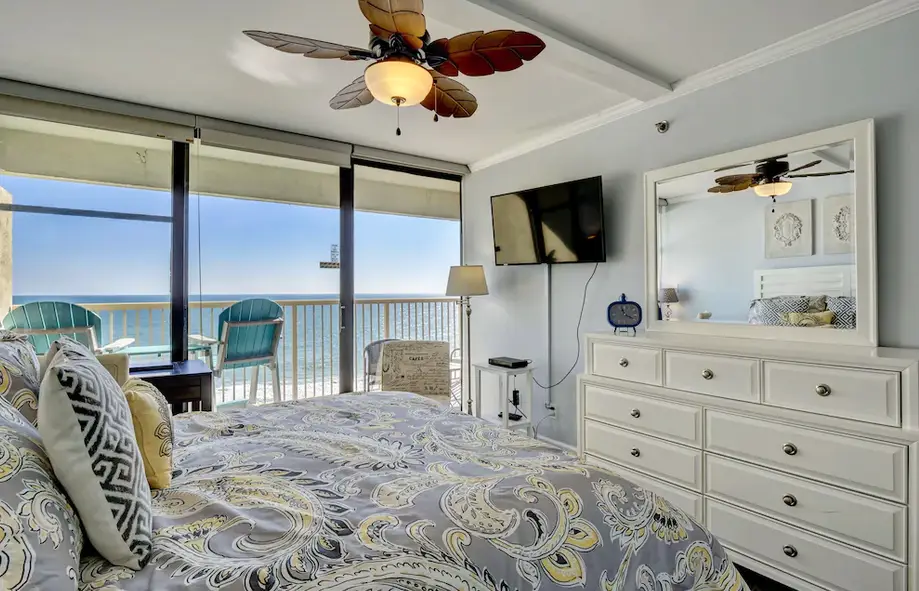 This beachfront penthouse apartment with two bedrooms can accommodate up to eight guests, and it features four beds spread throughout the two bedrooms, in addition to two full bathrooms.
You will have the entire condo to yourself, and the views of the ocean will be spectacular. The Grand Strand, Family Kingdom, and the airport are all within a few minutes' drive of the hotel.
You may easily stroll to the boardwalk, as well as the stores, restaurants, and bars along it, from here. Because it's on the top floor, or the penthouse, it will have a lot of windows for you to look out of.
This accommodation is suitable for families, since it features child-proof outlet covers, a kiddie pool, a lazy river, an indoor pool, a hot tub, and a poolside bar during the summer months.
6. Private Beach Paradise in Ocean Lakes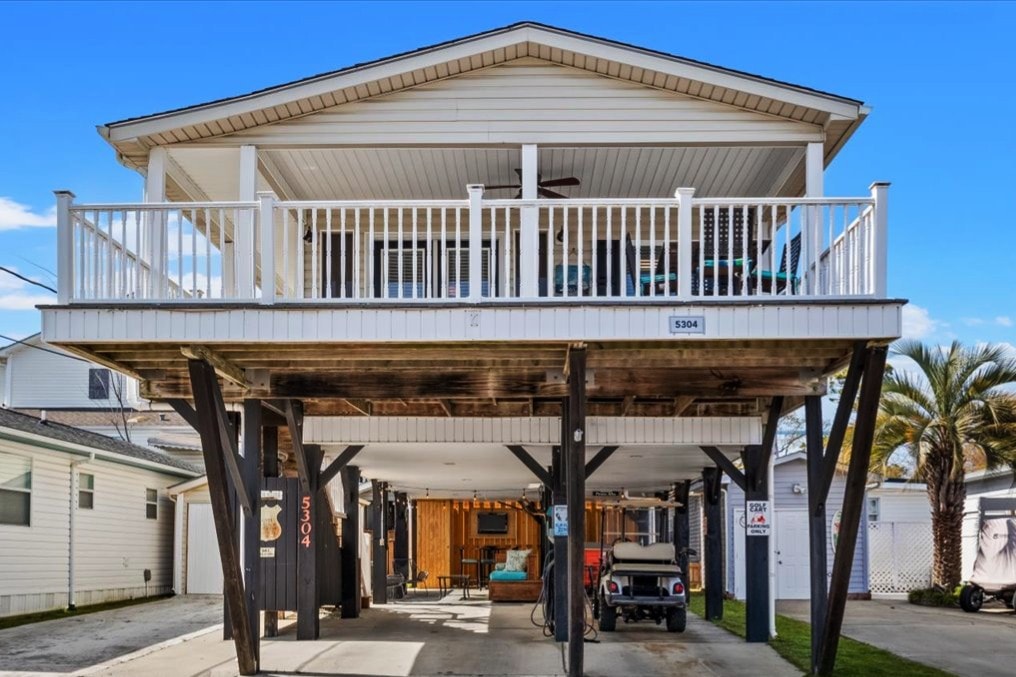 When planning a trip to Myrtle Beach that's both fun and restful, give this beach home in Ocean Lakes some serious consideration.
The living area, kitchen, two bedrooms, and one bathroom of this house are all open to one another, making it possible for up to eight people to stay here.
You are welcome to make use of one of the golf carts that are accessible to you during your stay if you would like to; this is something that a lot of other visitors do as well.
Access to the beach, the pool, the laundromat, the café, the sports court, the dog park, the activity center, and mini golf are some of the other benefits of vacationing at Ocean Lakes.
If you stay here at Halloween, Thanksgiving, or spring break, you will have the opportunity to participate in events that are planned here during the entire year.
Airbnbs in Myrtle Beach, South Carolina
7. Mermaid's Dream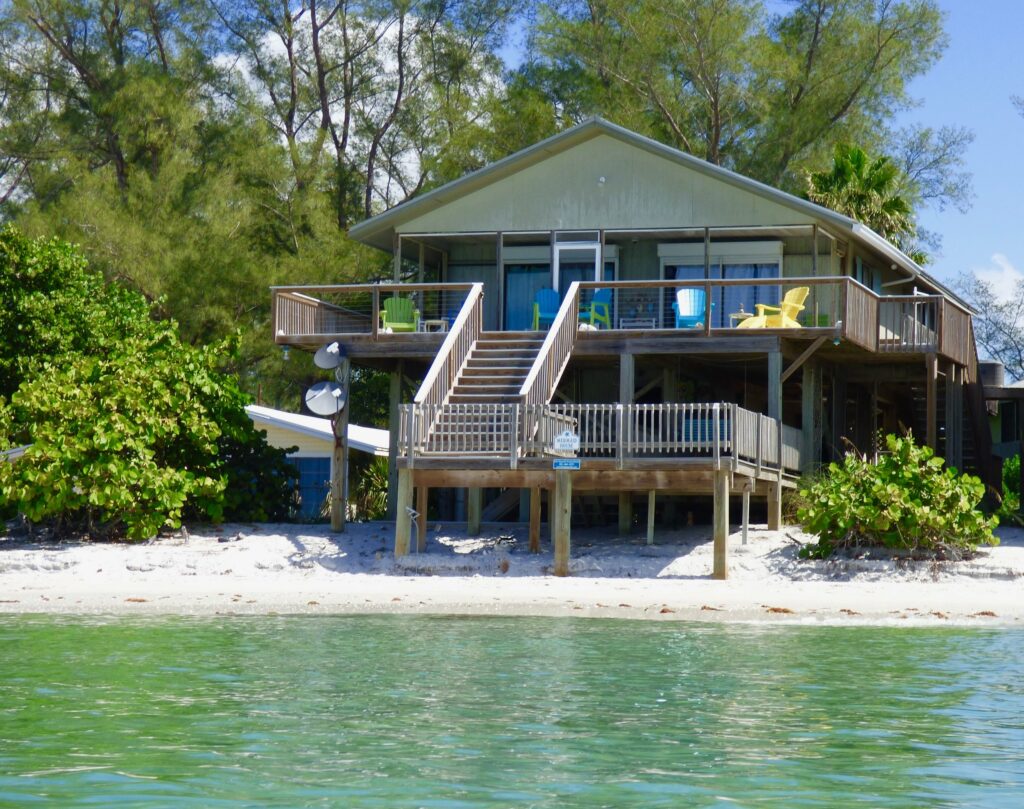 The villa known as Mermaid's Dream is available for rent through Airbnb and is just a short distance from the ocean. It is just 2.5 short blocks away, a three-minute walk from the beach, and it is also directly next to a pool that visitors may utilize.
The house has two bedrooms, two bathrooms, a full kitchen, a huge living room that can also be used as a dining room, and a back patio that is enclosed by fencing.
In addition to that, it offers high-speed internet, televisions, and two parking spaces. The beach access points that are located close to the house have ramps leading down to the sand, making it easy to drive your beach wagon onto the beach.
8. Coastal Getaway
When you go to Myrtle Beach, don't forget to look into this Airbnb apartment that has received many positive reviews and is priced affordably.
It is possible for up to three people to stay there thanks to its one bedroom and one bathroom. This rental is an apartment located above a garage, and visitors have access to an outdoor space that is located underneath the garage as well as a fire pit.
The apartment for rent features a combined kitchen and dining space that is completely stocked with appliances, an open floor plan, and a covered patio that is furnished with a television and a fire pit.
It is in a prime location for access to the state parks, Murrells Inlet Marsh, and downtown Conway, in addition to downtown Myrtle Beach.
9. A Pelican Paradise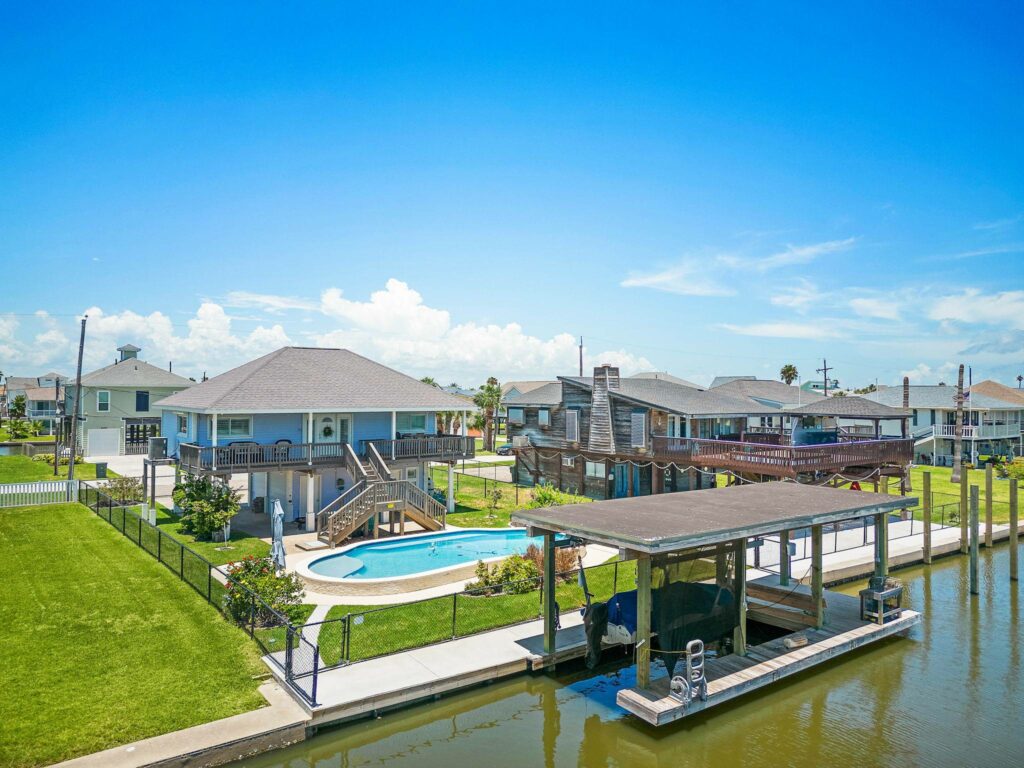 This Myrtle Beach vacation rental on Airbnb can accommodate large groups of travelers with its four bedrooms and 3.5 bathrooms, and it can accommodate a maximum of 12 guests.
This facility, which is also known as Pelican Paradise, is suitable for people with disabilities and allows small pets as long as a pet charge of $150 is paid.
Due to the laws of Ocean Lakes, you will be required to acquire a parking pass at a cost of $12 per day and per car. Because of the warm and inviting atmosphere of Ocean Lakes, this location is a favorite among families traveling with children.
If you would like to utilize a golf cart during your stay, the host of your Airbnb listing hires out customized carts on a separate basis.
Airbnbs in Myrtle Beach, South Carolina
10. Going Coastal, Pet-Friendly Home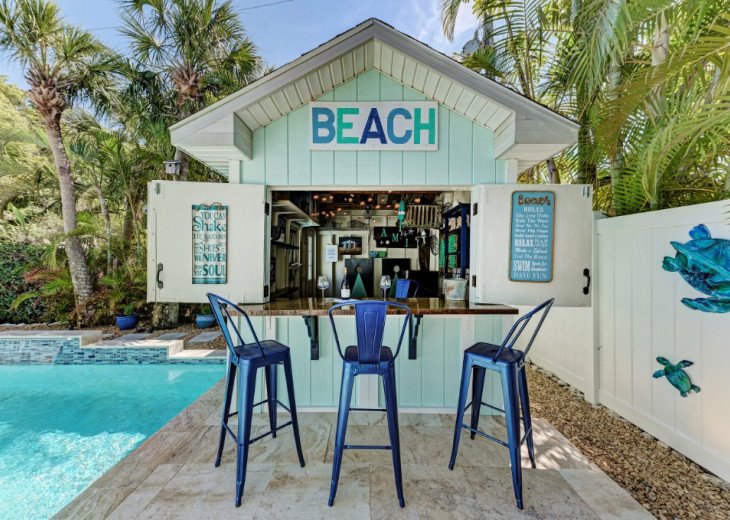 This Myrtle Beach property offers everything you could possibly need for a vacation, including space for up to eight guests among its three bedrooms and 2.5 bathrooms.
The property is located only a few miles away from Broadway at the Beach and other attractions in the area. This vacation home is not located directly on the beach, but it is less than a mile from a beach access point, so it is still a good option for beachgoers.
You may bring your pet on vacation with you while you stay in this property, and there are two parking places accessible in the garage for your use during your stay.
11. Beautiful, Rustic Beach Cottage
This pet-friendly cottage in Myrtle Beach is a wonderful alternative because of its location amid the live oak trees and its proximity to the beach, which is less than 100 steps away.
There is a one-time cost of $80 for each pet, but there are no limits on the sizes or kinds of dogs allowed. The house includes two bedrooms, but only one bathroom, so it can only sleep a total of four people.
This rental property comes with a brand-new kitchen, a backyard, an outdoor kitchen with a barbecue grill, a flat-screen television measuring 70 inches in the living room and a flat-screen television measuring 40 inches in the primary bedroom.
In addition to having games to play, high-speed Wi-Fi, air conditioning, and heating are all available in the house. This property is the starting point for the public beach access.
12. Beautiful Comfortable Cottage Within One Block of the Beach
This cozy home is just one block from the ocean in Myrtle ocean, and it has received a lot of positive reviews on Airbnb. It is definitely worth looking into. With two bedrooms, five beds, and two bathrooms, it has the capacity to sleep up to seven people at a time.
You will have the entire house to yourself, along with a kitchen that is completely stocked, a dining table, a high-definition smart television, and a laundry room that features a washing and dryer.
In close proximity to the condo is a communal swimming pool, as well as a covered porch, beach chairs, and an enclosed backyard with a barbecue. On-site parking is offered at no cost, should you need it.
In Myrtle Beach, between 19th Avenue South and 20th Avenue South is a location that puts you within minutes of a variety of shopping, dining, and attraction options.
13. Amazing Oceanfront Condo
There are two beds and one bathroom in this oceanfront property that can be rented through Airbnb in Myrtle Beach, and the condo can accommodate a maximum of four visitors.
The hotel provides its guests with access to an indoor and outdoor pool, a fitness center, and a spa tub. This apartment features a full kitchen with brand new equipment, a king-sized bed, and a sofa bed for additional guests.
The location is perfect for a beach escape since it is near to all of the attractions and the balcony offers beautiful views.
14. Four-Bedroom South Beach Cottage
This beach home with a balcony that overlooks Ocean Boulevard and four bedrooms that can sleep up to 10 people will quickly become one of your favorites. This home has a total of four bedrooms and three and a half bathrooms.
It is a fantastic option for large families, and it is conveniently located just a few feet away from both the pool and the ocean. There is parking provided onsite for a total of three automobiles.
If you book a stay at this well rated Airbnb, you'll be in close proximity to a number of activities, including the boardwalk, Splashes Waterpark, Tanger Outlets, and mini golf courses.
15. Beach View Apartment
This studio apartment with a beach view is one of the most popular listings on Airbnb. It has two beds and one bathroom, so it can comfortably accommodate up to four visitors.
The room features brand new furnishings and appliances, and it is located in close proximity to both the water park and the amusement park.
You have access to a total of 10 pools on the property, ten of which are outdoor pools and two of which are indoor pools.
16. Carolina Cottage
In the meanwhile, Ashlea's Carolina Cottage has three bedrooms, five beds, and 2.5 bathrooms, making it able to accommodate a total of eight people. This mansion is privately owned and can be found in the Myrtlewood Golf Community.
It is located one mile from the coast. If you want to get away from the hustle and bustle of the city, this quiet and secluded house is the perfect place for you to stay.
When you stay here, you'll be within a short driving distance of the Myrtle Beach Strip, Broadway at the Beach, ice cream stores, and miniature golf courses.
17. Sunny Guesthouse in Quiet Family Beach Community
This guesthouse, which can accommodate up to six people, is one of the vacation rentals on Airbnb that you may book for your trip to Myrtle Beach. The house has three bedrooms and three bathrooms, and the beach can be reached on foot in only five minutes.
You will have access to a wide variety of community facilities and will live in a gated community that is located close to the attractions of Myrtle Beach. These include a number of lakes as well as indoor swimming pools.
The house has a spacious living area with a living room and dining space, a full kitchen, free Wi-Fi, cable TV, washing machines, and various terraces both inside and outside the residence.
In order for visitors of an Airbnb to have the full beach experience, the owner supplies guests with a golf cart as well as beach chairs. Step outdoors just as the sun is about to drop so you can take in the breathtaking sights of the lake.
18. Three Bedroom, Two Bathroom Private Beach House
This beach home in Myrtle Beach, South Carolina, has enough sleeping space for eight vacationers thanks to its three bedrooms and two bathrooms.
The beach can be reached in a little over a minute on foot from the house, and although it is nestled away on a quiet street, it is also within easy walking distance of other area attractions.
This property for rent features not one but three distinct living areas, in addition to a huge deck, a yard that is enclosed, a hammock, a gas grill, and a fire pit.
Both the driveway and the enclosed space in the backyard are available to guests for parking. This vacation property is also pet-friendly, and guests are welcome to bring up to two pets when they pay an additional cost of $150 per pet, per stay.
19. Tranquility Cabin
Consider reserving this tranquillity cabin for your vacation in Myrtle Beach, which can accommodate up to three visitors, for an experience that is distinctive and one-of-a-kind.
It is a one-bedroom earth home with a single bathroom and two beds in the area that serves as the master bedroom. It is a tranquil area perfect for practicing yoga and meditation, as it is encircled by oak trees and has a brick wall made of Himalayan salt.
In addition, there is a greenhouse on the property that is stocked with fresh herbs and vegetables, and the host gives complimentary green smoothies and almond milk on a regular basis.
Tents placed in the spacious yard are available for use in order to accommodate any more members of your party. The house is a peaceful option that is located away from the hustle and bustle of hotels and can be reached by foot in approximately five minutes.