The 10 Best Places to Vacation in Mexico 2023: It is not surprising that Mexico is a top holiday destination all year round given its ideal blend of rich cultural heritage, breathtaking scenery, unending sunlight, and gorgeous sandy beaches.
Mexico offers visitors an enticing blend of Mesoamerican cultures, where authentic Spanish traditions, delectable cuisine, and shimmering blue coastline are just a few of the fascinating cultural aspects to explore.
Mexico is home to a variety of UNESCO World Heritage Sites, luxury resorts, and traditional beach vacation spots.
Visitors will find a variety of outdoor activities in addition to miles of serene beaches, which are ideal for either a day of leisure or taking part in exhilarating water-based adventures.
This location is ideal for nature enthusiasts. Find the greatest holiday spots in Mexico, from cities with snow-capped mountain backdrops to coastal getaways with vibrant underwater marine life.
10 Best Places to Vacation in Mexico 2023
1. Playa Del Carmen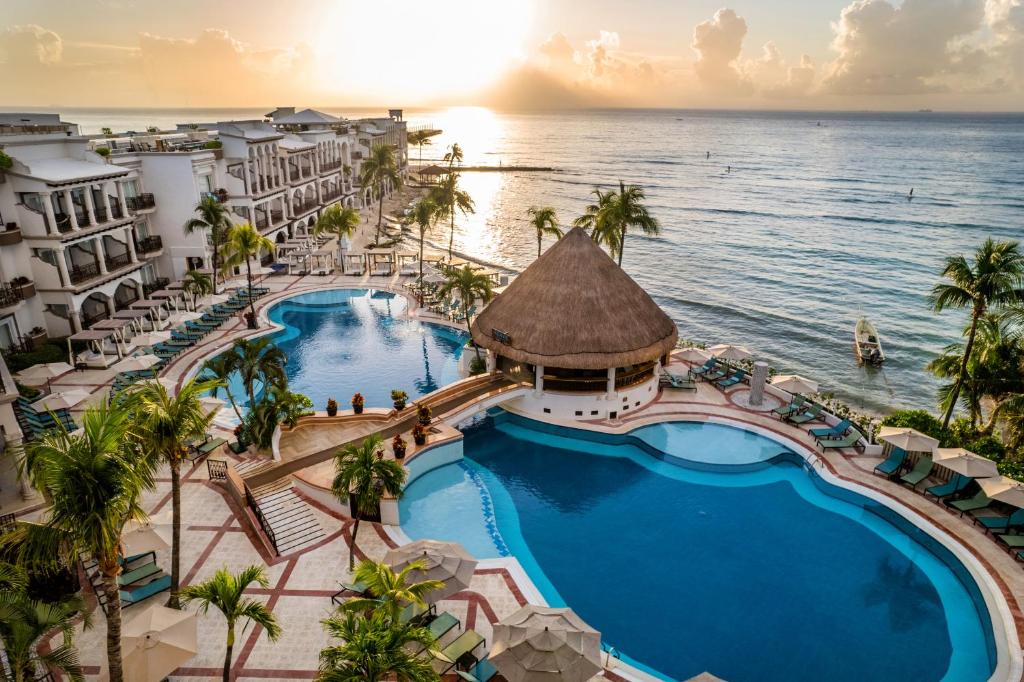 One of Mexico's most stunning beach destinations is Playa Del Carmen, which is situated on the scenic Yucatan Peninsula.
Visitors are welcomed to this vibrant resort city in the state of Quintana Roo by a combination of soft sand beaches and bustling entertainment places.
It is a former fishing community with European influences. With a laid-back attitude, Playa Del Carmen attracts tourists who want to unwind, take advantage of the unending sunlight, and participate in one of the many accessible outdoor activities.
The beaches and crystal clear waters are crowded with locals and tourists alike throughout the day as people enjoy water sports like scuba diving and snorkeling, and in the evening, revelers pack the bars and nightclubs on La Quinta Avenida.
2. Mexico City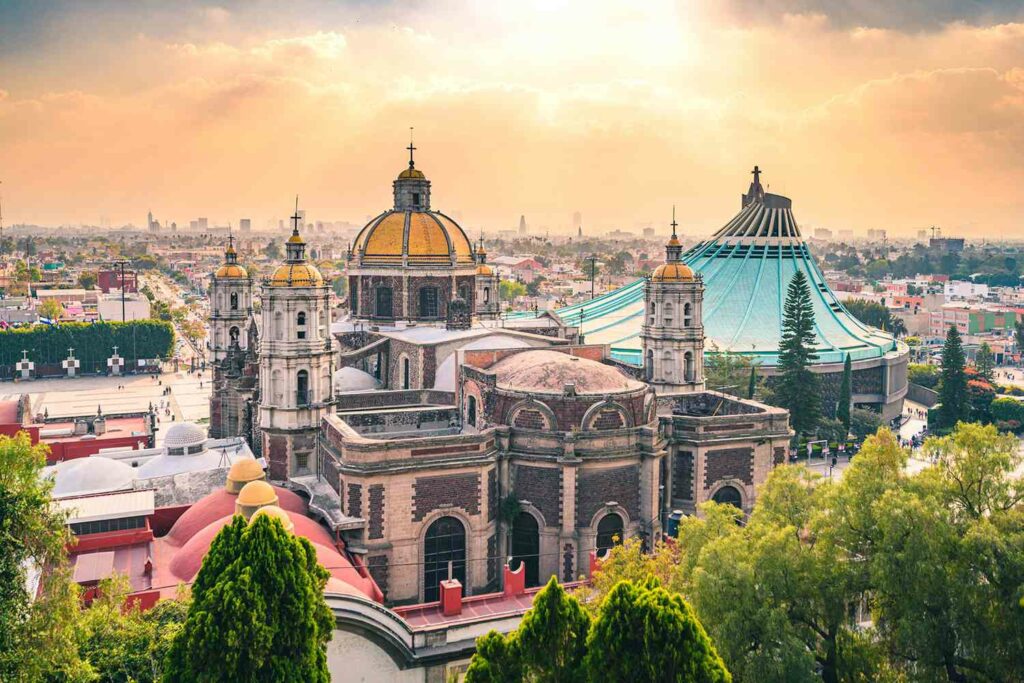 Mexico City is one of the most well-liked travel destinations in the world in addition to being the nation's capital.
Mexico City, which is surrounded by striking volcanic mountains, has an abundance of world-class museums, art galleries, and attractions that can accommodate the itineraries of the majority of visitors.
The area's historic city center serves as its focal point and invites guests to explore the streets lined with eateries, bars, and attractions.
Visitors can see more than 1,400 noteworthy colonial-style buildings that date back to the 16th century at this 5-square-mile UNESCO World Heritage Site.
Discover the National Palace, the Metropolitan Cathedral, and the Templo Mayor with its Aztec artifacts by taking a stroll around the busy Constitution Square. Then retire to one of Mexico City's top hotels.
3. Tulum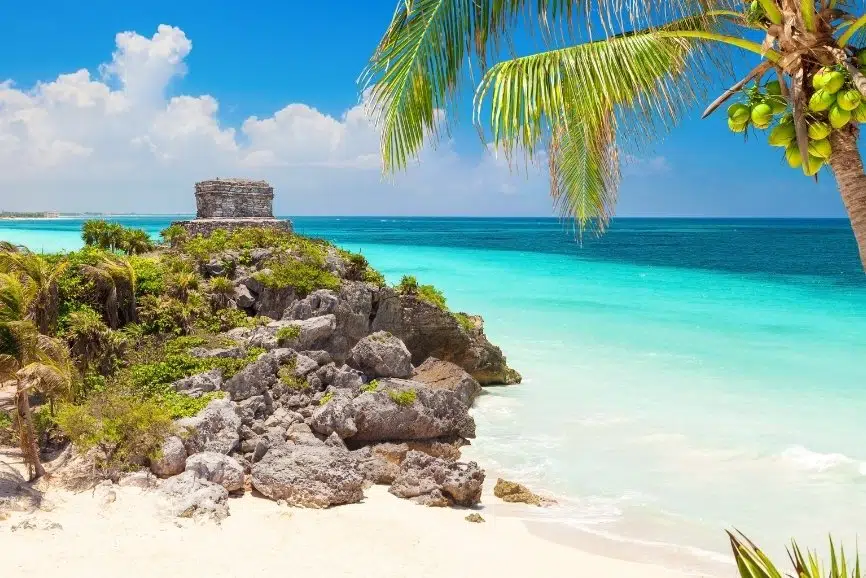 Originally a hidden paradise on Mexico's east coast, Tulum has grown to become a popular beach resort for affluent tourists. Tulum is also well-known for its intact Mayan ruins and outdoor attractions.
While tourists rush to Tulum to discover one of the last Mayan cities, the region is also a spectacular site to take in the breathtaking splendors of the Caribbean Sea due to its picture-perfect location sitting on a cliff.
Visitors won't soon forget a day spent exploring Tulum's craft markets, dining at one of the city's many fine dining establishments, or swimming and snorkeling in its crystal-clear waters.
4. Puerto Vallarta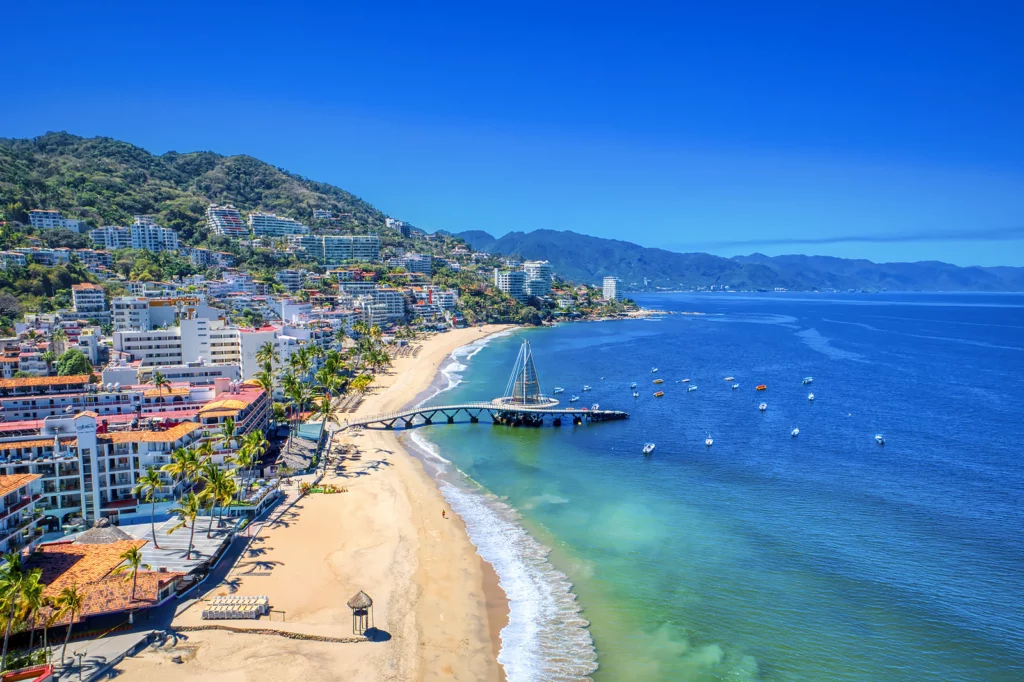 Puerto Vallarta is a beach resort that attracts a wide range of tourists since it offers a small town ambiance and a wide choice of outdoor activities.
The Pacific coastal city has attracted a lot of attention over the years as adventurers have flocked to the region to partake in thrilling water-based sports like paragliding, jet skiing, and swimming with dolphins.
Visitors can tour colonial landmarks during the day and rest their heads in top-notch resorts at night, or spend their days spotting enormous manta rays on one of the region's pristine beaches, all against the backdrop of a lush jungle and mountains.
If you're seeking for things to do on land, you can eat at fine dining establishments, buy at upscale stores, or dance until dawn in one of the numerous hopping nightclubs.
5. Cabo San Lucas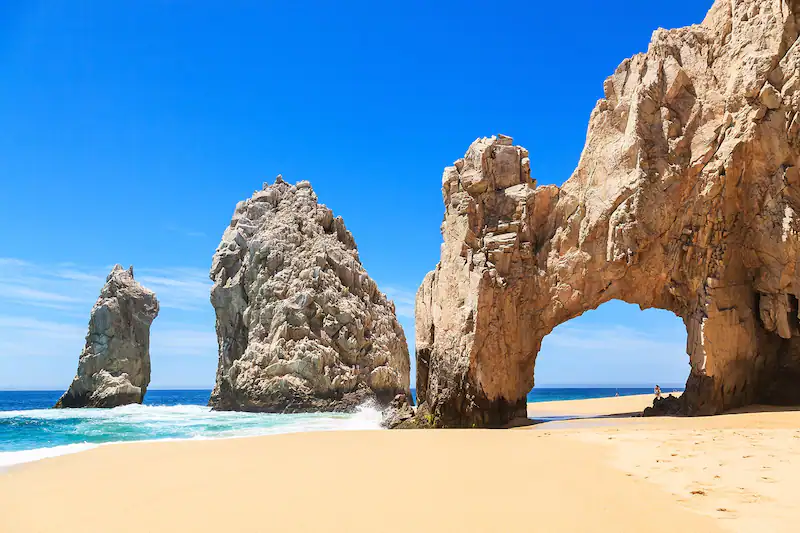 Cabo San Lucas is well known as the world's marlin sports fishing capital, but it's also known for its buzzing party scene, where visitors go to enjoy the vibrant nightlife scene in addition to the sun-kissed beaches.
This neighborhood, which is lined with opulent resorts and fine dining establishments, will appeal to those seeking a glamorous party atmosphere because it is constantly packed with revelers.
Visitors can also spend the day swimming and snorkeling where the water of Cortez meets the Pacific Ocean at El Arco de Cabo San Lucas, which is a collection of rock formations sculpted by the water.
6. San Miguel de Allende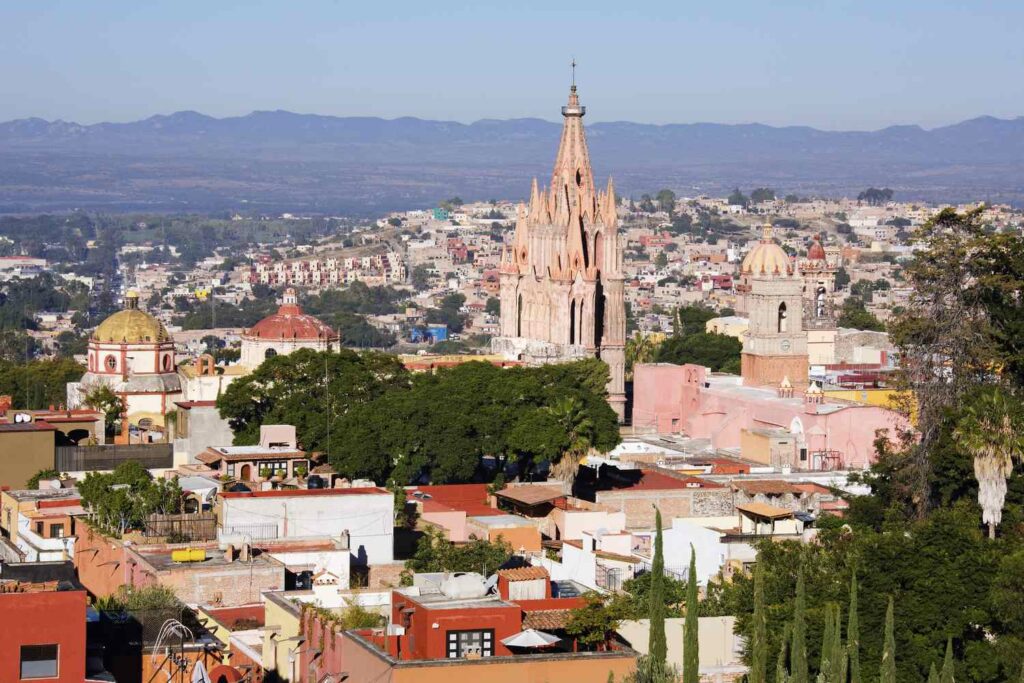 San Miguel de Allende, located about 170 miles northwest of Mexico City, was formerly wealthy due to adjacent silver mining, but it is now a charming town with handicraft stores, 17th-century cathedrals, and botanical gardens.
Travelers who wish to experience Mexico's rich music, gastronomy, and arts culture frequently visit this picturesque city and can be found strolling around the charming cobblestone streets and admiring the vibrantly colored structures.
Shopping fans will be delighted to discover a range of artisan stores with unique treasures, such as crafts, jewelry, and handmade accessories, among the 500-year-old colonial pathways and Baroque buildings.
7. Zihuatanejo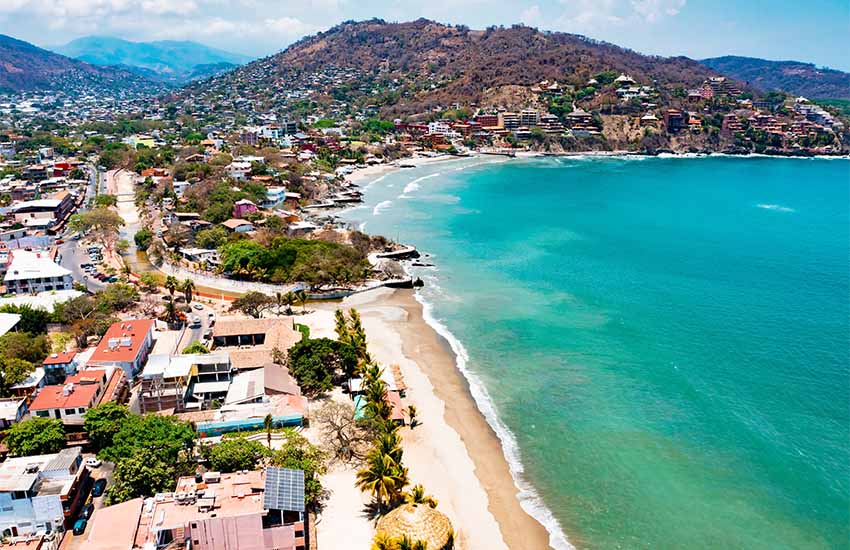 Zihuatanejo works hard to preserve its quaint small-town atmosphere, boasting a combination of hidden beaches, vibrant sunsets, and a laid-back mentality.
Zihuatanejo is well-liked by divers and snorkelers because it provides a more authentic experience than other Mexican Riviera destinations.
These travelers can choose from more than 30 sites to enjoy a variety of underwater marine life. Food lovers will find Zihuatanejo to be a welcome change of pace, with its variety of fresh fish tacos and ceviche along the picture-perfect coastline.
Visitors adore this city, which is located in a bay that is well-protected, for its thriving fish markets, excellent restaurants, and stunning beaches.
8. Cancun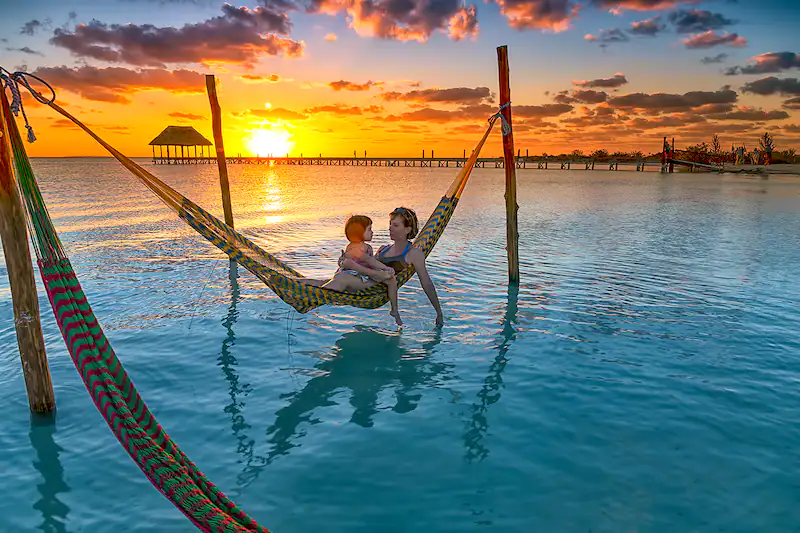 Famous for its beautiful beaches, Cancun is the ideal place to practice a variety of water activities, such as jet skiing and parasailing. Cancun is renowned for its glistening beaches, all-inclusive resorts, and vibrant nightlife and offers tourists a complete vacation package.
Cancun maintains its standing as one of the most well-liked Mexican vacation spots because to year-round weather that is perfect for lounging in the sun.
Visitors to Cancun are spoilt for choice in terms of how they spend their days and nights because there are restaurants, bars, and clubs around every corner.
Visitors shouldn't skip out on seeing Chichen Itza, a sizable Mayan archaeological site that is regarded as one of the new Seven Wonders of the World, despite the fact that the area's after-hours activities are some of the most well-liked in all of Mexico.
9. Oaxaca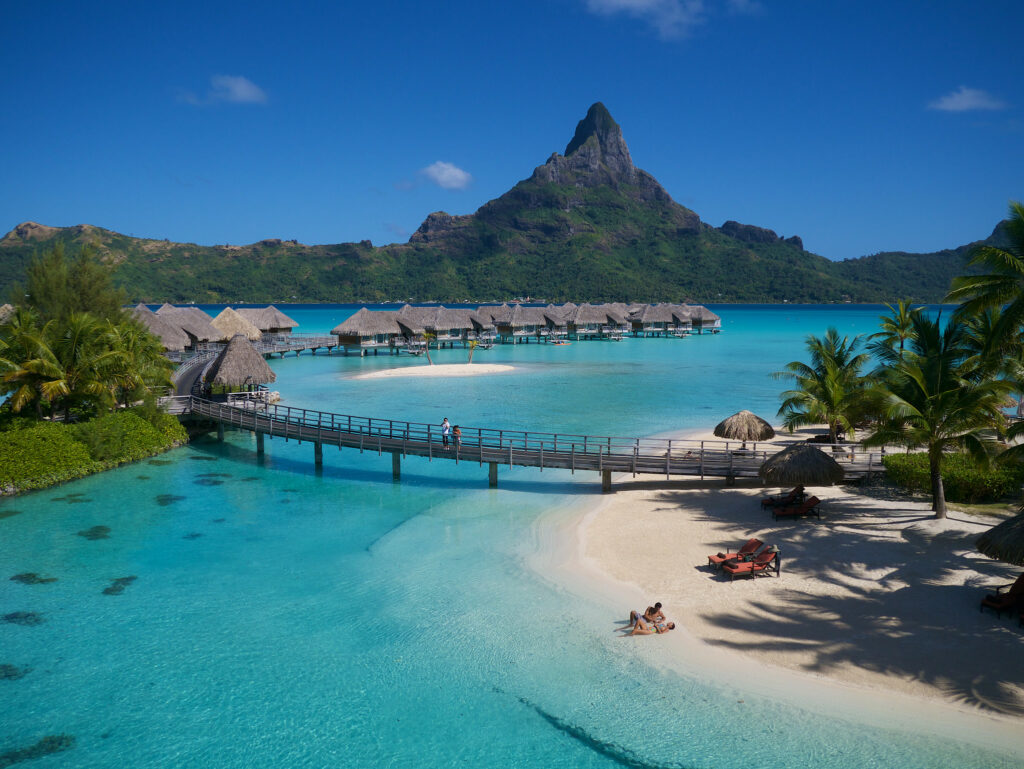 Oaxaca, the capital of the same-named state, is the ideal destination for those who wish to fully immerse themselves in the culture of Mexico.
This mostly unexplored region of Mexico, which blends native Indian and Spanish elements, has been named a UNESCO World Heritage Site.
The city, which is well known for its exuberant celebrations like the Guelaguetza, is a great place to learn about regional food, lively marketplaces, and indigenous traditions.
Foodies and history aficionados alike admire the region's cultural treasures and architectural wonders, which are located 5,000 feet above sea level.
This charming village, encircled by the Sierra Madre del Sur mountain range, is worth seeing.
10. Cozumel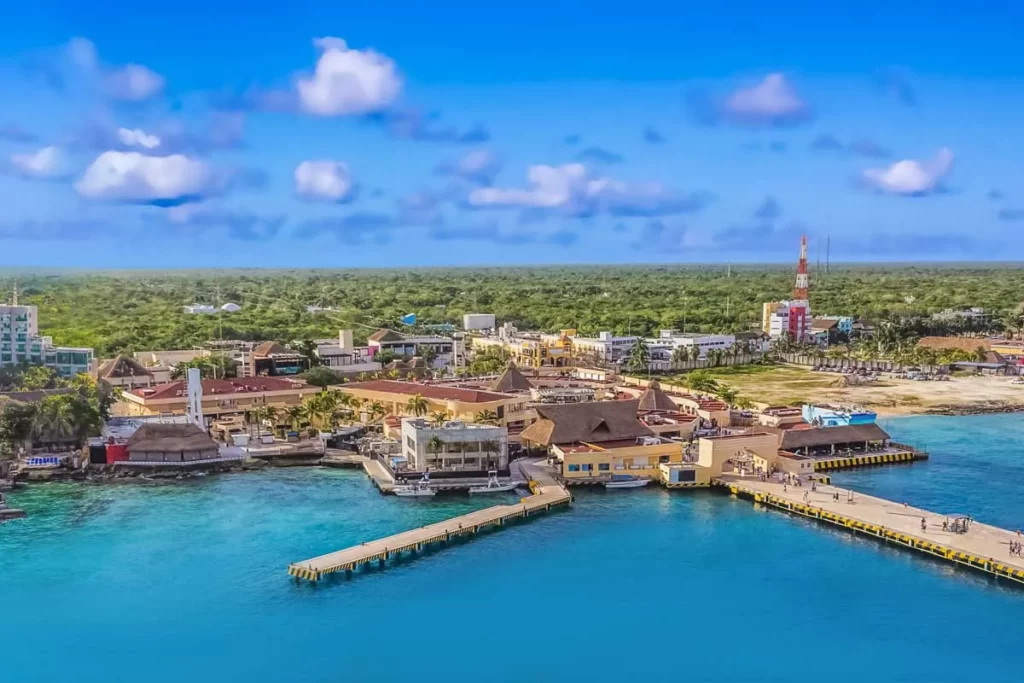 Cozumel, which is well-known for its coral reefs and crystal-clear waters throughout the world, dazzles even the most discriminating beachgoer with its breathtaking beauty.
Visitors can spend their days participating in a variety of water-related activities, including as diving, deep-sea fishing, kayaking, and snorkeling.
Visitors are welcomed by a 30-mile island that is well known for its year-round cruise ports of call, which are crowded with local vendors selling a variety of items to tourists.
It is situated in the Caribbean Sea on the Yucatan Peninsula. Go beyond the popular tourist destinations to discover what makes this region so enticing.
Take a glass-bottom boat tour or a local diving charter boat to truly discover the island's best-kept secrets and natural treasures.
10 Best Places to Vacation in Mexico 2023 – Newshub360.net
Related Post

Credit: www.Newshub360.net